Welcome to the Community View section of the website. This area is dedicated to articles of interest, community information and local topics that are submitted by members of the public or guest writers. It is also the main section dedicated to the Youth Media Group Project.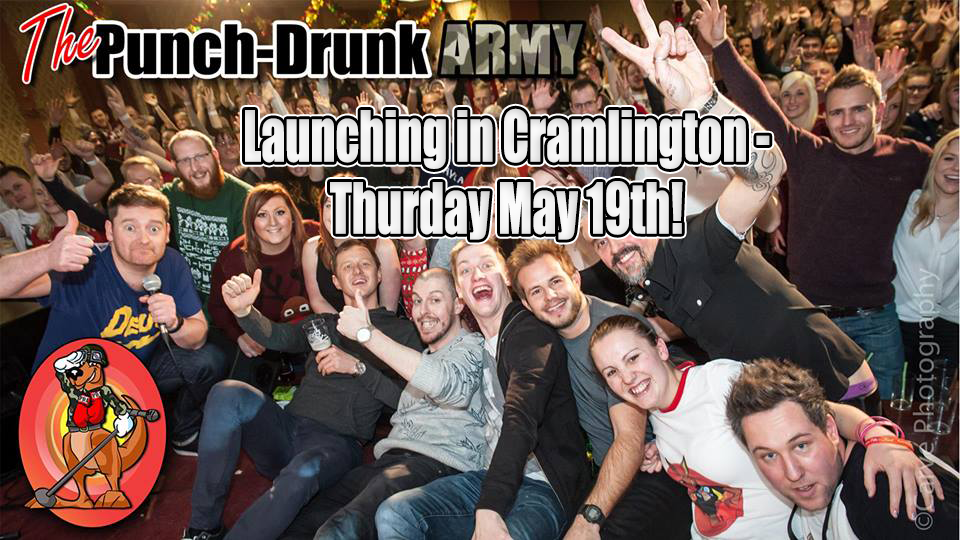 After making a huge splash in Blyth, Bedlington & Ashington over the last 16 months, Punch-Drunk Comedy are finally launching their fourth monthly venue in Cramlington!
Starting out in Blyth in January 2015 with the first of the regular events - after years of sporadic gigs at Cramlington's Concordia Leisure Centre, where host & compere Kai Humphries then worked - they've built a devoted following for their monthly gigs which bring the very best TV and circuit comedians to South East Northumberland against a backdrop of community togetherness and charity fundraising.
Having added venues in Bedlington & Ashington early last year, by popular demand it's now time to assemble the Cramlington battalion of The Punch-Drunk Army.
Where is it? You can find the Cramlington gig at The Village Club on Thursday of the 3rd week of every month - with the launch gig taking place on May 19th.
What can you expect? This isn't just any old stand-up gig. With 10% of ticket sales donated to local causes and more fundraising on the night; a focus on socialising and enjoying time with your community; a food-bank collection and all sorts of unexpected goings on - the Punch-Drunk events are mini weekday-carnivals that never fail to deliver on fun stuff and goodness!
Who's taking to the stage? As is the way of Punch-Drunk Comedy, these guys aren't messing around with the launch of their all new venue, offering up TV comedy superstar The Boy with Tape on his Face for a special one-off hour-long set, with compere duties as always undertaken by Blyth's very own Kai Humphries. It's a huge coup for the guys to have gotten Tape Face to Cramlington and it's set to be a complete sell-out - so get your tickets today!
How to get tickets? It's easy - just grab tickets online now to print at home (at www.ticketsource.co.uk/punchdrunkcomedy) or you can reserve your seats by texting/calling Gav on 07738663379. Give your full name and amount of tickets required, then just show up and pay on the door on the night.
Who will you be fundraising for? The cause to be supported by the gigs will change each month and the first slot is still open! Team Punch-Drunk want to support a cause close to Cramlington's heart - this could be a charitable cause or a local team/project that needs some financial support in a venture to provide something positive for the area - so keep an eye out here for opportunities to nominate a cause that you would like to see supported: https://www.facebook.com/groups/579700808850936/)
All the Info:
Sunday 15th May - Kids Club
Where Newsham Side Club (NE24 4NH)
When Doors 3pm; Show 4-5pm
Who Chris Henry & Friends; Compere - Kai Humphries
Monday 16th May - BLYTH
Where Newsham Side Club (NE24 4NH)
When Doors 7pm; Show 8-11pm
Who Nathan Caton, Paul Myrehaug, Glenn Wool; Compere - Kai Humphries
Tuesday 17th May - BEDLINGTON
Where The Netherton Club (NE22 6DP)
When Doors 7pm; Show 8-11pm
Who Nathan Caton, Paul Myrehaug, Glenn Wool; Compere - Kai Humphries
Wednesday 18th May - ASHINGTON
Where The Whitehouse (NE63 8PD)
When Doors 7pm; Show 8-11pm
Who Nathan Caton, Paul Myrehaug, Glenn Wool; Compere - Kai Humphries
Thursday 19th May - CRAMLINGTON
Where The Village Club (NE23 6QJ)
When Doors 7pm; Show 8-11pm
Who The Boy with Tape on his Face; Compere - Kai Humphries