Dave Stephens Centre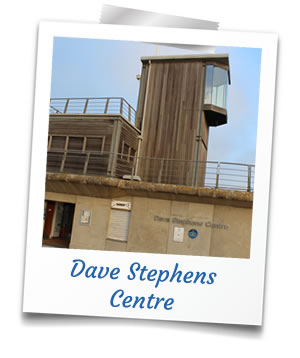 The Dave Stephens centre, like the lifeguards housed there, watches over the ocean at South Beach. The building gained its name in honour of Dave Stephens, a prominent figure in Blyth politics during the turn of the twenty-first century.
Dave Stephens was the leader of Blyth Valley Borough Council for over twelve years and was responsible for pushing forward the regeneration of Blyth Quayside and South Beach promenade, including the Beach Huts and the Life Guard base.
Although his vision to link the Quayside to the Beach unfortunately never came to fruition due to Blyth Valley Council becoming part of a broader Unitary authority (Northumberland County Council) in 2009, large parts of the plan are in evidence along the Quayside and South Beach promenade today.
The centre itself houses the Sea View Café which has beautiful views of the shore-line. It is also home to the Blyth Lifeguard and Swimming Club. As well as helping countless people learn to swim the club has in previous years taken the safety-conscious lead in organising a "Safe time to dip" event for anyone wishing to take part in charity co-ordinated sea dips on boxing day.
Facilities in and around the Dave Stephen's Centre include:
The Sea View Cafe
Toilets and changing facilities
A large Car Park with disabled and electric vehicle charge stations
Meeting Room hosting up to 30 people
Two children play areas
An outdoor ampitheatre
The Dave Stephens Centre has an excellent meeting space with a fabulous view of Blyth's coastline.The community room is perfect for meetings, seminars training sessions or workshops.
The room can host up to 30 people theatre style and up to 24 people board room style.
A flip chart and white board are available for use plus access to tea and coffee making facilities.


Contact Details
Dave Stephens Centre
Links Road
Blyth
Northumberland
NE24 3PL
Beach Huts & Dave Stephens Centre Telephone: 01670 620 200
Beach Huts & Dave Stephens Centre Website: Active Northumberland
---
Credits - Copy and Photos by Steve Bradley.