Friends of Ridley Park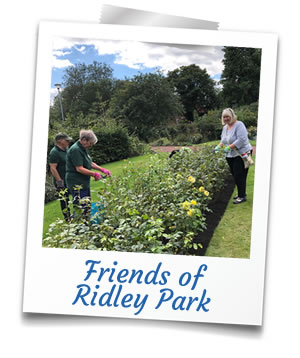 Ridley Park was established in 1904 on land donated by Viscount Matthew White Ridley next to the docks in the eastern area of Blyth. It is ideally located less than five minutes' walk from the town centre and there is a small on site car park together with limited on street parking nearby.
Since its formation in 2012 Friends of Ridley Park (FORP) has won Love Northumberland awards in 2013, 2018 and 2019 as well as being a regular winner of the Northumbria in Bloom awards for best park. The activities and community involvement of the Friends group complement the work of Northumberland County Council and to date Ridley Park has gained Green Flag status three times. The group became a registered charity in 2018.
Friends of Ridley Park work with Northumberland County Council and Blyth Town Council to improve facilities for park visitors, including:
Wild flower area
Wild bird feeding station
Bench painting
Bird boxes
Big Garden Birdwatch
Tree trail
Trees (planting and labelling)
Play area roundabout designed for disabled and able children and a basketball hoop
Drinking water fountain
Replacement bust of Viscount Ridley
Litter picking and Green Dog Walker promotion
Park noticeboard
Friends of Ridley Park have two mascots, Bill and Ben. They have been a feature of the park for many years and many Blyth residents remember them from their childhood. Two Friends make sure Bill and Ben are dressed for season and many children and families enjoy looking at our mascots sitting in the door of the pavilion.
The pavilion will be available to hire for parties, meetings and exhibitions when the Covid pandemic is over.
Friends of Ridley Park also works with local schools and groups on projects to improve the park and share information and good practice with other Friends groups across the North East.

---
Membership
FORP has 25 active members.
How to Join
FORP has 25 active members. We welcome everyone and meetings are held on the first Wednesday of the month at 6pm. Annual subscription of £1 is payable at the AGM in November or when you join. Please contact our Secretary for details.
Operating Area
Ridley Park, Blyth.
Contact Us
 Secretary: Claire Young
  Claire.forp@yahoo.com
  www.facebook.com/FriendsOfRidleyPark



Credits - Copy and Photos kindly supplied by Friends of Ridley Park.