Blyth Battery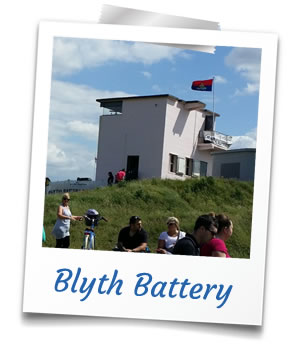 Blyth Battery is the remnants of a World War One coastal artillery battery that was upgraded and re-fitted for use in World War Two. It is the most intact and accessible coastal defence battery left on the North East and Yorkshire coastline. The World War I battery at Blyth is in excellent condition and retains the full range of features that are characteristic of a "Defended Port Battery".
Created in response to the December 1914 German bombardment of Hartlepool, and concerns of further attacks against the eastern coastline - it was erected in August 1916, by the Durham Fortress Engineers RE.
Its original purpose was to prevent landings by the German High Seas Fleet and to engage motor torpedo boats, but by the time of completion, it was also given responsibility for protecting the submarine depot ship Titania.
During World War I, the Battery was manned by seventy-five men and four officers, who oversaw the operation of two six-inch quick-firing guns and two searchlights.
Originally named Seaton Battery, it spanned the length of what is now the promenade at Blyth Beach and included several temporary and permanent enclosures, two of which post-war were converted to public toilets.
In February 1940, the Battery was re-excavated, renamed Blyth Battery and within a month it was ready to protect the coast with two gun emplacements fitted with two six-inch BL MK.7 guns. Manned by 110 men and five officers from the 510 Coast Regiment (T.A.) and later the Home Guard, the 23 foot long guns had a range of 7 miles. It was placed in care and maintenance in November 1944. Seaward facing, each emplacement is fronted by a sloping apron of reinforced concrete.
Several names have been used to reference the site throughout the century, including "Link House Battery" due to its location, and "Coulson Battery" after the RE Officer responsible for its construction. Since 1940, thankfully, it has affectionally retained its official title of Blyth Battery and fortunately today due to the dedication of countless volunteers it lives on as a historical monument and a carefully run museum.
Today the two gun emplacements, the engine house, its outbuilding and enclosing walls are listed Grade II.
This Battery has been identified as one of only 28 examples of its type in England which have survived in a complete state. The fact that it was reused during World War II when some alterations were made, and a new Battery Observation post was constructed, adds to the importance of the monument as a whole.
Blyth Battery is a volunteer run museum with 30 members. The museum includes:
WW1 Battery Observation Post
WW2 Battery Observation Post
Searchlight building
1st World War Officers Dugout
Royal Observer Corps monitoring post recreation behind the gun emplacements
Two replica Mark VII 6" naval guns (23 feet long)
Memorabilia from both world wars
Tea, coffee, sandwiches and cake available from a restored war shelter
Blyth Battery also runs several family and open day events throughout the year including re-enactment events.
The Battery will re-open when the Covid pandemic is over.
Blyth Battery offers a range of educational services, including site visits with guided tours, practical activities and handling collections. Explore military buildings, and discover how the north-east coast was defended.


---
Credits - Copy by Steve Bradley. Photos thanks to Tony Hodge and Blyth Battery. Video by Blyth Town Media Group.