Blyth Tall Ship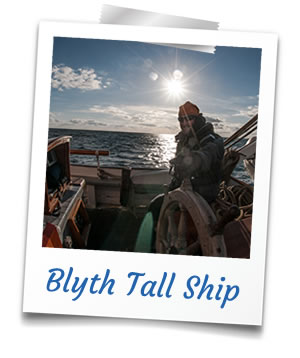 Williams II is a one-hundred-year-old wooden Baltic Trader tall ship. Typically berthed at the southern end of Blyth Quayside it is a stunning piece of history that has been restored to its former glory by the Blyth Tall Project team.
Their mission is "to recreate the original voyage and conduct an expedition to celebrate the discovery of Antarctica in 1820 by restoring and refitting a tall ship and repeating the original voyage with young people from Blyth, the North East and around the UK."
In 1820, the original Williams, a tall ship from Blyth travelled to Antarctica. The story inspired the team to restore Williams II and to combine it as part of their training programme. The Ship has since sailed around the coasts of the UK with Blyth young people on board. A diary of the journey can is available here - Captain Clive Gray's Log.
This unique project grew from humble beginnings as an attempt to see if training could be sort for young people that weren't in education, employment or training. The idea was to encourage them to work on a small traditional sailing boat to help give them the practical skills they couldn't get elsewhere. Today the organisation has extended the project with an apprenticeship scheme that has seen 40% of the trainees go into further learning, and 20% gain employment with local engineering and offshore sector firms.
The organisation operates from a boathouse they refurbished next to the Ship. They run courses in carpentry, boat building and marine engineering. Occasionally they offer additional training in forklift driving, welding, abrasive wheels and other safety relating training. They have worked with many organisations across Blyth including Tharsus Engineering, the Port of Blyth and Newcastle University who also have a base at the port.
The Ship itself is a Danish Baltic Sea Trader – very similar to the original Williams tall ship. It has a thick twin skinned hull designed to withstand harsh conditions. It is a 36m gaff-rigged ketch built from oak with pine decking. The team have replaced 40% of the planking below the waterline, serviced and rebuilt the engine, upgraded the rigging, and rewired the electrical systems.
Blyth's Tall Ship, The Williams II can be viewed on Blyth Quayside. The project includes;
A 36m gaff-rigged ketch Baltic Trader Tall Ship
A refurbished boathouse and traditional boatyard
Traditional boat building training facilities for young, unemployed and marginalised people
Regular open days
Community events
Opportunities for volunteers to get involved
Blyth Tall Ship is also developing a museum and visitor attraction alongside their partners on the quayside at Blyth. Planned activities from their base include Gansey Knitting and Archiving.


---
Contact Details
Blyth Tall Ship
Apprenticeship Workshop
Quayside
South Harbour
Blyth
Northumberland
NE24 3PA
Telephone: 01670 352227
Website: www.blythtallship.co.uk Facebook:Friends of Blyth Tall Ship
Credits - Copy by Steve Bradley. Photos thanks to Tony Flisher, and Blyth Tall Ship.