Silx Teen Bar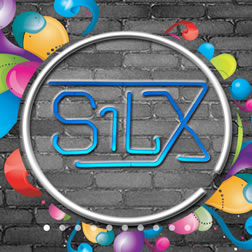 SILX ARE STILL SUPPORTING THE YOUTH OF BLYTH

In the light of recent events relating to COVID-19 we had to close the doors to the project on 23rd March 2020. Although youth sessions inside the building have been suspended until we are allowed to fully re-open we are very much still working from the office and from home and providing a service to the young people of Blyth.

Can you Contact Staff?

Yes of course, our staff are working from Silx and from home and are available 7 days a week. The staff are keeping in touch with young people via phone call, text, email, Facebook, Twitter and Instagram.

Contact numbers: 07487535980 or 07950502919.

Email: silxteen@aol.com


TEEN BAR
Silx Teen Bar is the most popular participation youth project in Northumberland, and for four evenings a week offers young people aged 11 – 19 with a range of recreational, educational, and fun activities.

Teen Bar is open:
Monday 5 -8pm
Tuesday 5 -8pm
Wednesday 5 -8pm
Thursday 5 -8pm

Our activities are free to young people in order to encourage them to participate in the large range of facilities that are available within the sessions.
Our sessions include health awareness projects, involving young people in creative art projects, and encouraging participation in community based events and activities.
We endeavour to raise awareness, encourage the development of transferable skills and to always ensure that the participants have a fun time.
SILX EMPLOYABILITY PROJECT

Silx Employability Project was created specifically to meet the needs of hard to reach and marginalised young people aged 16 -25 living in the Blyth area.

The drop in is open:
Monday, Wednesday and Friday 12-3pm

Young people who are not in employment, education, or training are encouraged to use our employability sessions in order to access support on any issue of employability or to access support and advice on personal issues that may be a barrier to progressing in life.

Our qualified youth workers and dedicated information, advice and guidance worker provide young people with the necessary support that will encourage them to access employment, participate in training or undertake a qualification. We also offer:

- Free use of telephone, laptops, & printers
- Support in creating and updating CVs and covering letters
- Help completing application forms
- Interview preparation
- Free Online courses and accreditations funded by the organisation
- A jobs board with all the latest training and employment opportunities
- Support on benefits, debt,housing, health and personal issues
- Free cups of tea, coffee, fruit and toasties
- Refer to other organisations
- Support with Travel and clothing
- Individual, bespoke action plans suited to each individual we work with

Additionally the project works in partnership with careers advisors, training providers, Housing organisations and the job centre and their support is available when required. We also operate an outreach programme during the day that reaches out and encourages young people to utilise the free facilities.

Silx Employability Project has recently become an AQA Accredited centre, which means we can now deliver accreditations from their Unit Award Scheme. Young people that use our sessions can now gain nationally recognised accreditations in all aspects of employability as well as other subject areas.
Detached

Our detached team work on the streets every Wednesday and Friday evenings between 5pm-9pm with the aim of building positive relationships with young people who may choose not to access any centre based youth provision. The areas of Blyth they cover are:

- Blyth Town Centre
- Blyth Sports Centre/Skate Park
- Ridley Park
- Newsham
- South Beach Park
- Briardale Centre Area
- Isabella Centre Area
- McDonalds

Our regular detached sessions have been running since Summer 2015 and already the team have made contact with over 300 young people and encouraged them to come into Silx, have given advice and guidance and even arranged trips. We work very closely with police and the anti social behaviour team in finding solutions to problems of youth disorder in the Blyth area and our work has been recommended for the practice and positive interventions with young people and situations

Car Parking: N/A
Facilities: Pool table, Xbox, Wii, DVDs, Laptops, Telephone, Printers, Cooking Facilities
Accessibility: Access is up stairs, no lift.
Equipment Hire: N/A
Guide price: Free
---
Contact Details
Silx Teen Bar
5 Church Street
Blyth
Northumberland
NE24 1BG
Telephone: 01670 351356
Email: silxteen@aol.com
Website: www.silxteen.com
Credits - Copy and Photos from Silx Teen Bar website with permission kindly given by Jackie Long.