Empire School of Boxing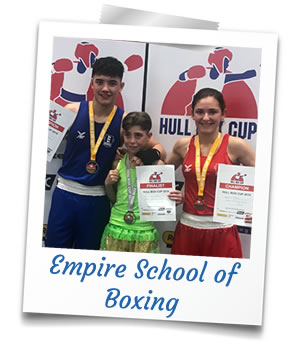 We are on Cowpen Road, Blyth Our sign says Empire School of Boxing and we produce good people first and good boxers second. I have installed this ethos in our club now for 30 years that Empire has been going. Our coaching team is very experienced and highly qualified. I have worked with England boxing for a number of years taking in vital international experience along the way. One of our coaches Ritchie Stoneham has a PhD, all of our coaches are vetted and are qualified to ABAE standards, and we have ten coaches in total.
Our boxers come to the club once they are five on a Saturday for one hour, beginner classes are Tuesday's and Thursday's and run from 6-7 pm. Boxers class is Tuesday's and Thursday's and Sunday's, also boxers are invited to train with coach Carl on a Wednesday.
We have senior keep fit Saturday and Sunday, Neil Turnbul and his barn burner boxing train on a Monday night and Coach David run a class on Fridays for mixed get fit people.
Engage use our facilities with head coach Les and David and Gordon. Our welfare officer is Margaret Welsh.
We are a progressive club who can teach to national and international levels. We travel throughout Britain for bouts and indeed Europe as well. Our boxers are well schooled and whatever they need to fulfil their goals. We all work together and try our best to develop our students, keeping them well away from crime and keeping them on the straight and narrow. Giving them all skills that can and do transfer into life skills. Our students will gain confidence through experience and learn to stand on their own two feet.
Thank you for reading this Les Welsh, Head Coach.


---
Contact Details
Empire School of Boxing
339 Cowpen Road
Blyth
Northumberland
NE24 5JW
Facebook: Click here
Credits - Copy and Photos thanks to Les Welsh of Empire School of Boxing.