Ruled By Raptors
Ruled By Raptors are:
Chris Bradley – Lead Vox / Guitars Matt Dewar – Lead Guitars / Vox Nick Oliver – Bass / B-vox Will Robson – Drums / Percussion
Press Biography
Bursting onto the scene at the end of 2018, Ruled By Raptors follows in the footsteps of acts such as Biffy Clyro, Reuben (Jamie Lenman) and Million Dead (Frank Turner); boldly mashing gritty, intricate, heavy-laden rock with soaring choruses that keep one ear firmly on the melody. Borne of the foursome's previous 2 years together in now defunct Post Hardcore outfit 'Digits'; Ruled By Raptors continues to push the boundaries of each member's previous associations, mixing elements of Punk, Metal, Pop & Ambient to achieve their sound.
"We probably should have drawn a line with Digits when the band split in 2015″ vocalist Chris Bradley explains, "however, Will & Nick had already joined and work had already begun on a third EP".
This EP would go on to form the basis of Ruled By Raptors' forthcoming debut EP, due out in April 2019 via Pulse Music Productions. Bradley continues "Things stuttered along the following year and we played our last show as Craig left. At that point I made it clear to the other two that I was done. We then did a few practices together, then a couple months later Matt got in touch and we just picked up where Digits left off. I guess our intention was always to end up where we are now, but we just never really discussed it at length. By the time we sat down to record the EP, which has a couple of unreleased Digits tracks on it, we realised the sound of it had developed into a different direction than either of Digits' previous CDs. I think it was then that we realised it was time to recognise that we are a different band."
The move has already proven to be a popular one for the four piece, finding themselves less restricted creatively by what came before, with writing for the follow up EP already well underway.
"I guess we'd been working so hard to just carry on what went on before, that we didn't really see the forest for the trees. Now we're able to sculpt our own sound, using these 4 songs as the framework for the new stuff we're working on."
Ruled By Raptors are due to go out on a 14 date tour with MC Lars, MegaRan & Koo Koo Kanga Roo from March 30th 2019 until April 13th 2019. Ruled By Raptors will also be performing as MC Lars' backing band on this tour.

View more videos on the Musicians Video page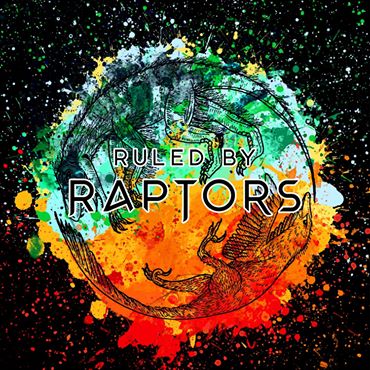 ---
Contact Details
Email:
Click here
Website:
Click here
Facebook
Twitter
Instagram
Youtube
Credits - Thanks to Georgine Robson / Ruled By Raptors for allowing us to use their videos and photos showcasing their talent.