Blyth Beach Huts
A trip to the beautiful beach at Blyth has always been a great day out, but you can now make the most of your surroundings by renting a fabulous brand new beach hut on the promenade!
The Northumberland coast is famed for its long stretches of sandy beaches, and Blyth's south beach is no exception. The beach huts in Blyth are the only huts in Northumberland, and as well as the stunning views across the sand and sea, they are perfectly situated for access to a brand new children's play area, walks, cycle paths and a very popular fish and chip restaurant and take-away!
Blyth town itself has an attractive park with a fantastic children's water play area, a thriving market place, and of course, Blyth Sports Centre – a large leisure facility with a swimming pool and other great sport, leisure and catering facilities.
The beach huts are situated on the main promenade in Blyth, Northumberland. They overlook a long strip of golden sand – popular with walkers, surfers, canoeists, sea anglers and families alike.
There are 20 beach huts altogether - 2 rows of 10. Each hut has a 'green' living roof and sits on a timber deck. The timber huts themselves are stained and painted in a variety of bright colours.

To further enhance their individuality, each beach hut has its own name. Children from the local primary school named the huts, and youngsters made their own piece of artwork to go with the names which are displayed inside each hut There is also a new amenity building called the Dave Stephens Centre a short distance from the beach huts where there are public toilets and some external showers.

If you would like to rent a beach hut:
Hire per day will cost you £21.50. You will get £5 back when you hand in the keys. Collect the keys between 8 and 10am from the Dave Stephens Centre and hand them back in at 7pm. Huts will have 4 deckchairs and 4 hooks for hanging your bits and bobs. A built in kettle will be provided, however there are no electrical sockets in the huts.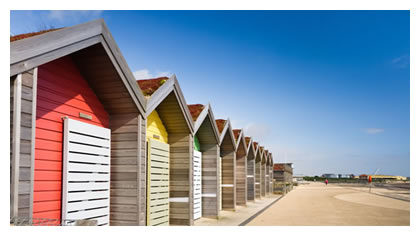 No hours listed
Contact Details
Phone:
01670 620 200
Website:
Click Here
Location and Address
---
Blyth Beach Huts
Blyth
Northumberland
NE24 3PQ
Are you the owner? To claim this listing, please contact us at
info@blythtown.net