Pieces of My Jigsaw
27 January 2020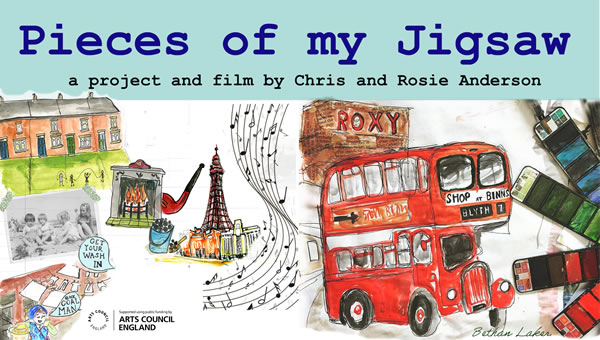 A reminiscence project and film by Chris and Rosie Anderson.

In 2018 Rosie Anderson's father was diagnosed with Alzheimer's disease. Like most people living with dementia he would lose his place in conversation and become frustrated trying to find his lost words. Rosie noticed that he would look around for clues and often found them in the form of photographs, pictures or objects that were in his home. As a result of this she came up with the idea of a personalised memory book which her father could keep to hand, where the clues for his favourite stories would all be in one place.

As a 'Singing for the Brain' facilitator for the Alzheimer's Society in Blyth, Rosie knew lots of families who she thought might also be interested in this idea. So in July 2019 she invited them to take part in conversations accompanied by an artist, who made sketches while they talked. These drawings were then given to a book maker who made them into beautiful books, while Rosie wrote a song for each person in the project, using their words verbatim where possible.
In September the families were presented with their books and songs, which they took home to share and enjoy.
Rosie's husband Chris received a grant from the Arts Council England, to make a film about the project, mentored by Trai Anfield, with the intention of encouraging families who have a loved one living with dementia to record their memories creatively in order to continuing sharing them for as long as possible.