New funding bid for Blyth's transformation submitted
07 August 2020
A major funding bid which could unlock up to £40m investment to transform Blyth town centre has been submitted to government.

It's the latest step in major plans to regenerate the town centre and the culmination of months of work and engagement with the community, partners and businesses to develop new projects which could help the town centre to be more attractive, welcoming and safe in the future.

Blyth is one of 50 towns shortlisted to benefit from the Government's £1 billion Future High Streets Fund (FHSF). The County Council has been working as part of the Blyth Town Forum over the last year with public, private and community sector partners working together to back the 'Energising Blyth' vision.

The Forum has engaged local users of the town centre with consultation carried out with businesses, the local community and schools including two drop-in events in the town centre which attracted thousands of visitors.

A full business case for the scheme has now been submitted to the government and, subject to approval, the FHSF programme would be delivered over three years from April 2021. The town is also set to benefit from the national Town Fund with further details on this to be unveiled later in 2020.

The funding, if approved, will support a programme which delivers a revitalised Blyth Market Place and Bridge Street with new culture and leisure facilities in the heart of the town centre.

The town's established reputation as a centre for the Energy and offshore wind industry will be bolstered by the development of a new research and education Energy Institute.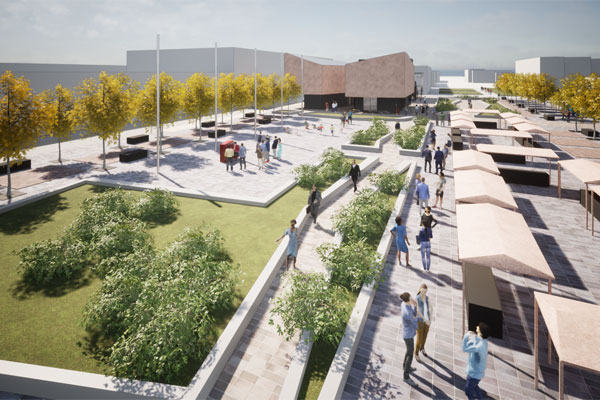 The programme also includes projects which focus on improving green space, cycling and walking improvements to better connect the town centre to the quayside.

Later this year there will be further detailed engagement with the community, businesses and partners on the town wide Energising Blyth programme including plans for the town centre and wider opportunities through the Town Deal to help Blyth develop in the future.

Councillor Richard Wearmouth, Cabinet Member for Economic Development, said: "I'm delighted we've reached this key milestone on what is a hugely ambitious programme to transform the town centre.

"We want to attract more people to the town centre and help the town recover from the impact of Covid19. Whether that's to live, work or visit, the Future High Streets Fund will be a key driver to do this.

"The bid is the culmination of many months of work from a range of partners and we all hope for positive news later this year."