Blue Plaque Commemoration Scheme - Cowpen Hall
22 February 2023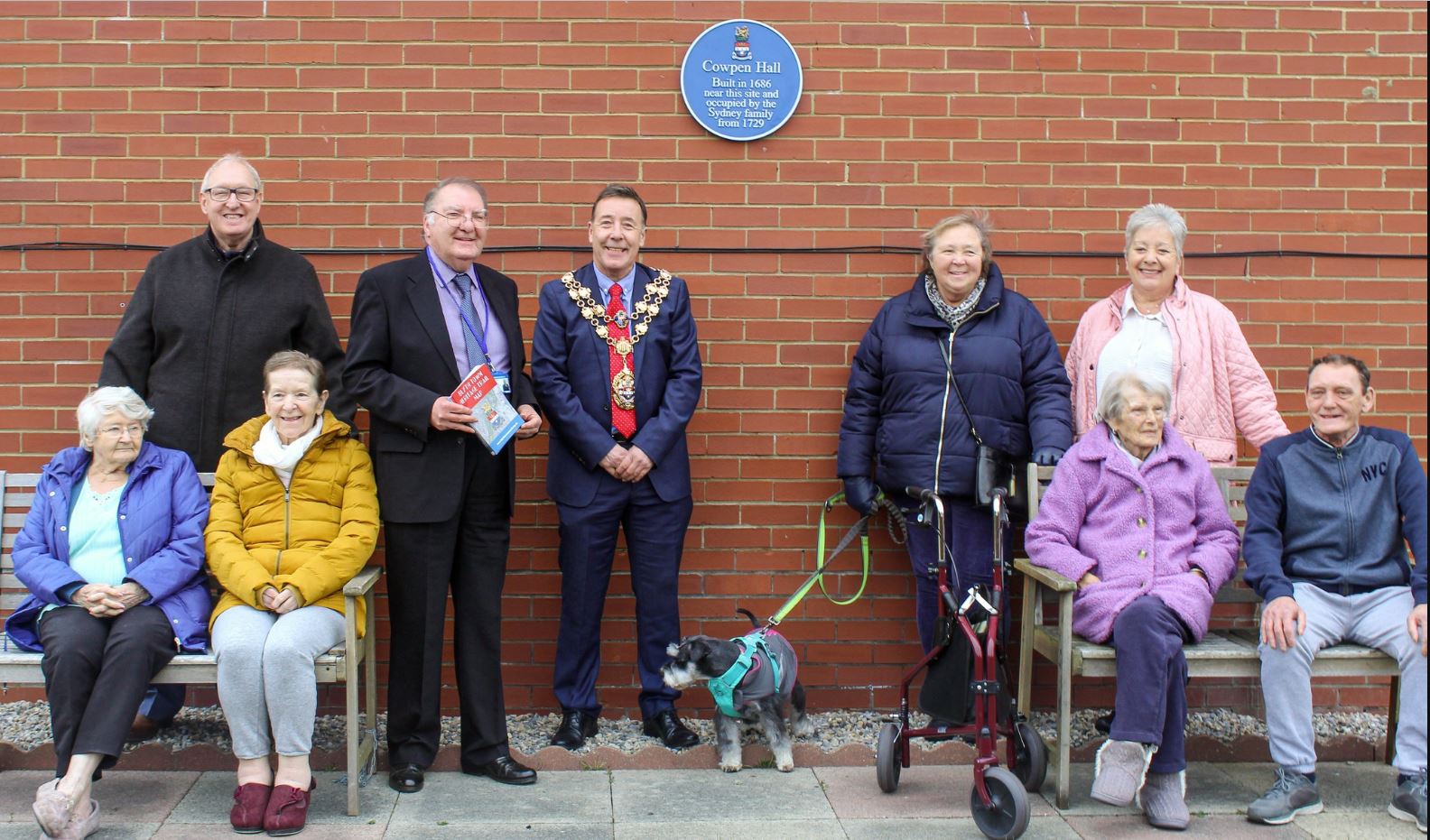 (located on South Bebside Care Home, Patterdale Road - NE24 5JU)
On Thursday, 16th February, the latest Blue Plaque for the Blyth Heritage Trail was unveiled at South Bebside Care Home by Cllr John Potts (Chair of the Planning & Development Sub Committee), Mayor Warren Taylor, and Kitty Brewster Ward Councillors Grant Davey and Susan Davey.

The Blue Plaque commemorates Cowpen Hall and its significance to Blyth's past.

Cowpen Hall became part of the Sidney family estate in 1729 when Henry Sidney purchased it from Stephen Mitford. However, it wasn't until a relative, Marlow John Francis Sidney, a solicitor, inherited the estate in 1839 that the dilapidated hall was renovated into anything worthy of residence.
Marlow JF Sidney was responsible for arranging the building of the local Catholic church and several schools before playing a prominent role in local affairs as Justice of the Peace, especially during the miners' strike of 1844.
Cowpen Hall has since been replaced by South Bebside Care Home, a CQC "Good" rated facility for local residents of Blyth.
Before the plaque's unveiling, the Councillors were introduced to residents Iris, Joan, Pauline, and Chris. Cllr Potts then delivered a speech on Cowpen Hall, the Sidney family, and the significance of its inclusion on the Blyth Heritage Trail.
Cowpen Hall is the twentieth addition to the Blyth Heritage Trail, shortly to appear alongside two upcoming additions on the interactive Heritage Trail Map, which can be found here - https://www.blythtowncouncil.org.uk/blyth-heritage-trail-map
Blyth Town Council would like to thank South Bebside Care Home Manager Vicki Rees, Sandra Ward (Roseberry Care Centres Regional Operations Manager), and Dawn Parr (South Bebside Care Home Activities Coordinator) for their hospitality and agreeing to help highlight further the history of Blyth.
For more information on South Bebside care home, please visit https://roseberrycarecentres.co.uk/south-bebside/