Welcome to the Community View section of the website. This area is dedicated to articles of interest, community information and local topics that are submitted by members of the public or guest writers. It is also the main section dedicated to the Youth Media Group Project.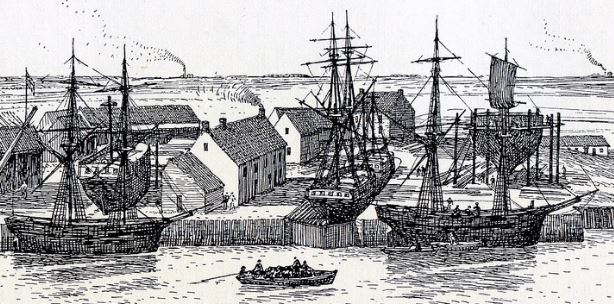 Edmund Hannay is famous as the first shipbuilder in Blyth, starting his trade in 1750 at a yard located opposite where the orange hoppers are today. He bought the Malvin's Close farm in neighbouring Cowpen and his descendants were one of the major landholders and residents in this district for many years. This is from Welford's "Men of Mark 'Twixt Tyne and Tweed" written in the late 19th century.
"Claiming to be descended from the ancient family of Hannay of Sorbie, in Galloway — to one of whose members, Hannay of Mochrum, Charles I, in 1629, granted a Nova Scotia baronetcy — the Hannays of Blyth traced their immediate ancestry to the banks of the Tweed.
Edmund Hannay, the shipbuilder, was a son of David Hannay of Bothal, elder brother of Captain William Hannay of "the New Granada Frigat" The marriage of his father and mother is recorded in the Bothal Register thus: — "1715, Oct. 13, David Hannay of Bothal and Mary Bell of Wellheads married. That day the Rebels entered and lodged in Morpeth (Jacobite rebels tring to overturn the Hanoverian king and restore Stuart rule). Edmund was a younger son of this marriage, born about 1727, and serving his time, it is said, to a shipbuilder at Leith. Wallace, in the " History of Blyth," tells an apocryphal story about his return from Leith during the rebellion of 1 745, when he would be about eighteen years of age, his being mistaken for a Scotch rebel, and having to secrete himself in the ruins of Bothal Castle. Then the story proceeds to describe how, venturing out of his concealment, " he encountered Justice Watson of North Seaton, who supposing him to be a fugitive rebel, made an attempt to apprehend him.'' But "Hannay fled across the river; the Justice, who was mounted on a pony, in attempting to follow him stuck fast in the mud. The Justice shouted to the fugitive to stop and help him out of the river. Hannay, seeing his pursuer incapable of following him, ceased to flee, and, after some parley, ventured to return and help to extricate the horseman." This act, according to Wallace, ''won the good opinion of Watson, who became his friend," set him to work to build a boat, and being pleased with the result, employed him to build a sloop.
Dismissing this story as " local gossip," with perhaps a thin substratum of truth to rest upon, we find from the Custom House books that, in 1750, Edmund Hannay, at the age of twenty-three, settled at Blyth as a shipbuilder. He was the first to carry on the business at that place, and, writes Wallace: — "The vessels he built were highly prized, their sea-going qualities were excellent, the materials out of which they were constructed were of the best description, and the workmanship was attended to with the utmost care. One man did all the caulking, another drove all the tree-nails, and marvellous were the tales about the length of time some of his crack ships went without needing to be pumped ; in some cases as much as seven years elapsed before they required caulking." Prospering in business as a shipbuilder, he became a shipowner, and in 1780 purchased the estate of Malvin Close, in Cowpen, but continued to reside in the large three-storied, many-windowed house near the Custom-house at Blyth, facing river and sea, and there died in February, 1800, aged 73. He survived his wife and two sons, and left two daughters and co-heiresses, the elder of whom, Mary, "a fine-mannered woman and an excellent musician," became in 1782 the second wife of Edward Watts, of South Blyth. Margaret, the other daughter, who succeeded to her father's personalty, was wife of Robert Jobling, of Newton Hall, near Bywell, J.P. and D.L., and became mother to John Cresswell Jobling, of Newton Hall, sometime chairman of the Hexham bench of magistrates, and of Robert Jobling, Captain H.E.I.C.S., afterwards shipping-master at Newcastle.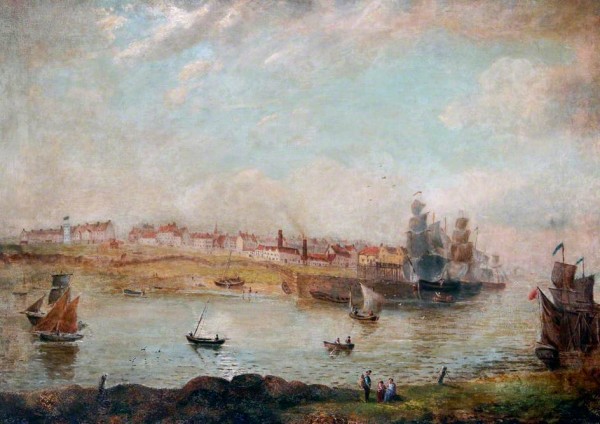 In 1674, John Watts, of Newbiggin, yeoman, was owner of a burgage in Warkworth, in the possession of which he was succeeded by his son, Robert Watts. The latter, in 1732, settled the same upon the marriage of his son Robert Watts the younger. Edward Watts, who married Miss Hannay, was a son of this marriage. He too had a good reputation as a shipbuilder and shipowner, and was a man of substance. Among the Delaval papers is a cancelled bond of John, Lord Delaval, dated 1798 with Mr. Edwd. Watts, gent, of Blythe." Of the numerous issue which he had by two marriages, all died childless save Edmund, who was baptised in 1784, and succeeded to the real estate of his maternal grandfather, Hannay. He, in 1805, married Alice, eldest daughter of Richard Hodgson, of Plessy and Cowpen (who built Hodgson Mill and who the present day Hodgsons Road is named after). Their fifth son, Thomas Hodgson Watts, was by the generosity of his mother's sister, Mrs. Appleby, educated for the medical profession, and after studying in London, Paris, and Padua, and taking a degree at Vienna, and his M.D. at Edinburgh, settled in practice at Manchester, where he immediately took a leading position. He was physician to the Ardwick and Ancoats Dispensary, to the Manchester Royal Infirmary, to the Fever Hospital, and to Cheadle Lunatic Asylum, and in 1848 took part in the founding of the Chatham Street School of Medicine at Manchester, now merged in the Victoria University. Linguist and scientist of high repute, with a special knowledge and experience in diseases of the chest, he died unmarried in 1881.
Dr. Watts' eldest brother, Edmund Hannay Watts (i), succeeded to the Malvin Close estate, and married Sarah, youngest daughter of Edward Adshead, of Staley, in Cheshire. The eldest son of this marriage is Edmund Hannay Watts (2), of Devonhirst, Chiswick, J.P., head of the great shipping firm of Watts, Ward, & Company, a member of the committee of Lloyds, an extensive coal-owner in the South Wales coal-field, and father of Edmund Hannay Watts (3), J.P. for Monmouthshire, County Councillor for Newport, Major in the South Wales Borderer Volunteers, and a Fellow of the Royal Geographical Society. [Two villages in South Wales are named in his honour: Wattsville and Wattstown.]"
Further details of this Watts family have been researched and can be read here... https://www.hiddennorthumberland.co.uk/blog/the-watts-of-blyth/