Fantastic Friday:
On a sunny afternoon on Friday 17th September we made our way to one of the last local Festivals in the area just opposite Morpeth Town Football Ground (Craik Park). After half an hour of sweat and technical know-how with large rods, the tent was set up – overlooking the rolling hills of Northumberland with The Cheviot peaks visible in the background. Surrounded by Max n' Paddy style luxurious Motorhomes, we were part of the 'slumming it in the tents' crew. The most luxurious we got all weekend was a foldy camping chair with a can-holder option for our Red Stripe!… As teatime approached and more friends and festival-goers arrived, we made our way over to the Main stage inside the Marquee where local original band Clippah were entertaining the crowd, just like they did when they won 'Battle of The Bands' at The Tavern on Sunday nights a few years ago.
At 6.30pm it was time for a younger Elton John to grace the stage and his opening track "I'm still Standing" really got the crowd singing and set the tone for the rest of his excellent gig. Donning his trademark big glasses, bow-tie and bowler hat, he had all of the stage persona of Elton himself, bringing us all of the classic hits including "Your Song" "Daniel" "Crocodile Rock" "Rocket Man" "Goodbye Yellow Brick Road" "Saturday Nights alright for fighting" and "Tiny Dancer"…Everyone I spoke to afterwards were hugely impressed and hoping to see him again sometime soon.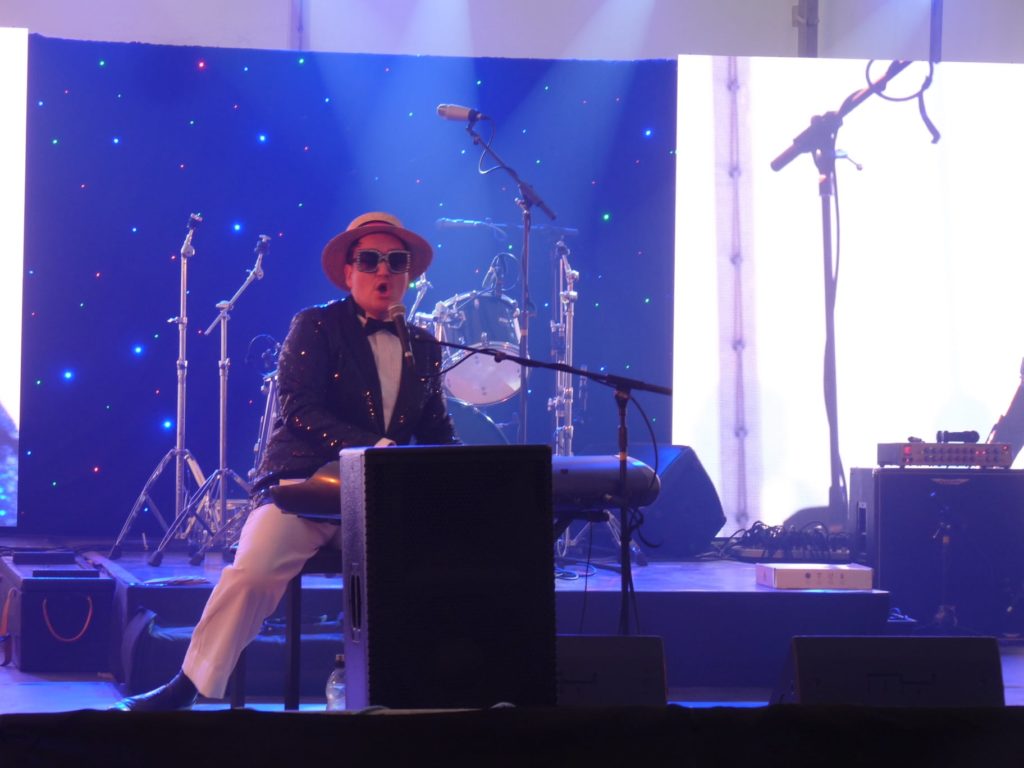 Over on the Outdoor Stage at 7pm was the excellent Amy Winehouse tribute, belting out all of her beautiful soulful songs including "You know I'm no good" "Tears dry on their own" "Back to Black" "Love is a losing game" "Rehab" and "Valerie". It's not easy trying to replicate the unique Amy but this performance came very close to the real deal. She returned on Sunday afternoon as Jess Glynne too!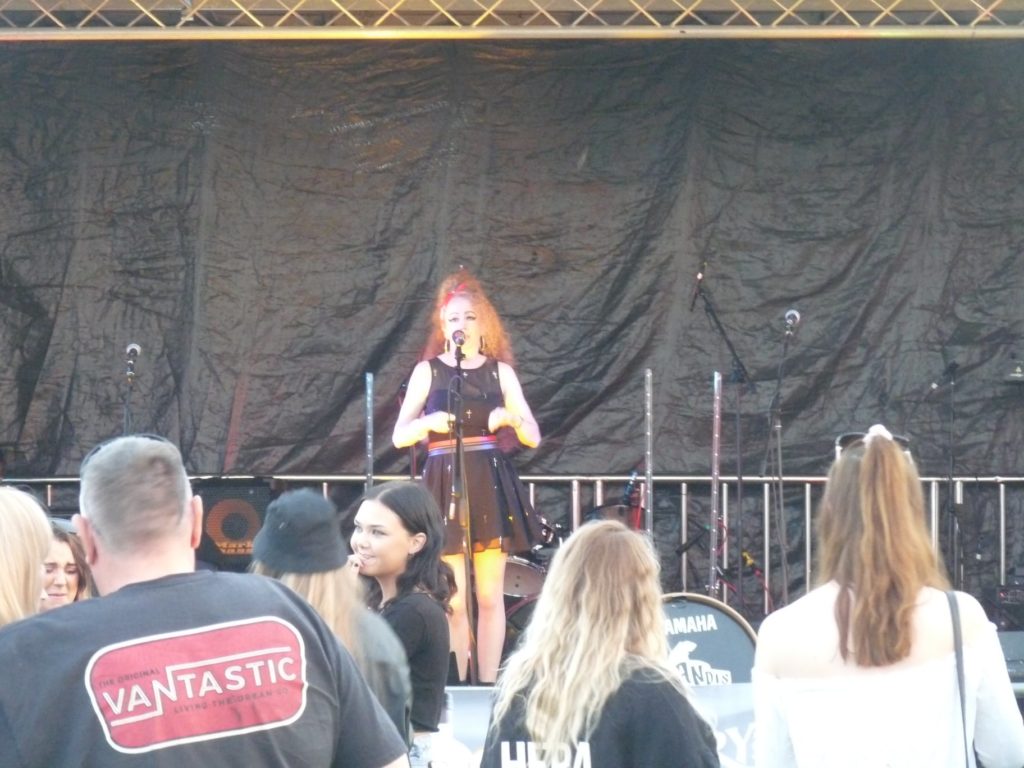 Over in the Marquee at 8pm it was time for Howaysis to swagger on stage to deliver their set of classic Oasis tune after tune after glorious tune! Jordan Digby (Liam) in his green parka and shades, had the crowd mesmerised and singing along to every word, as Koast Radio broadcast live with a microphone being shoved near our faces at the front as we sung our hearts out. No voice-box left at the end – just like an actual Oasis gig. Brilliant. Biblical atmosphere.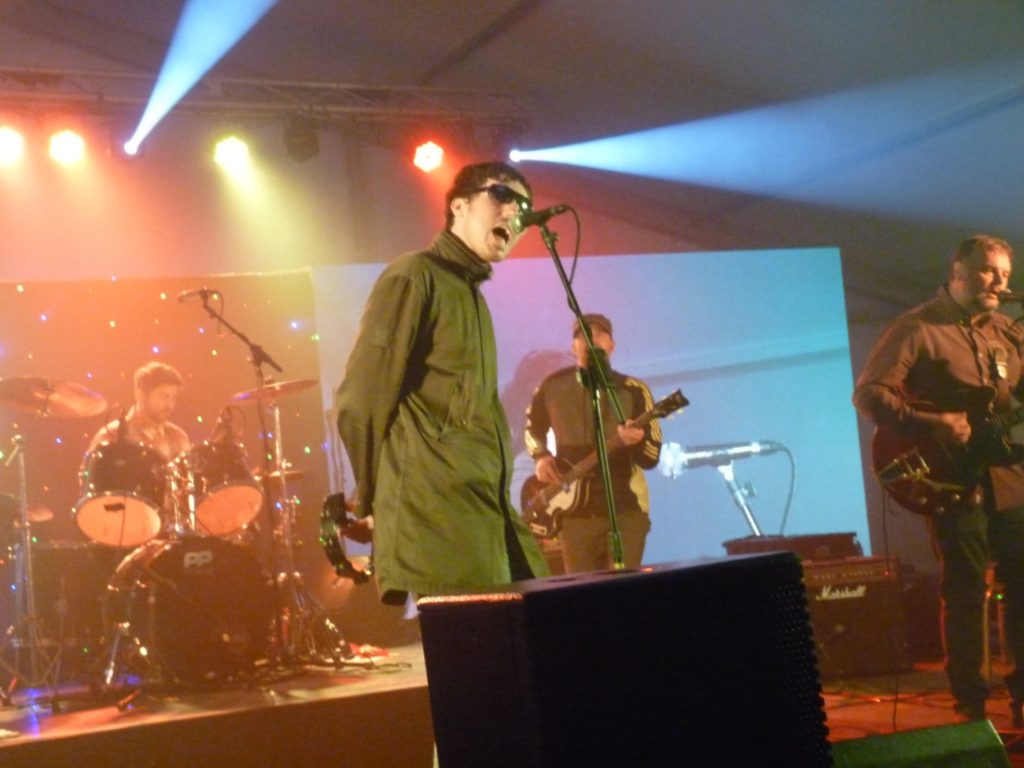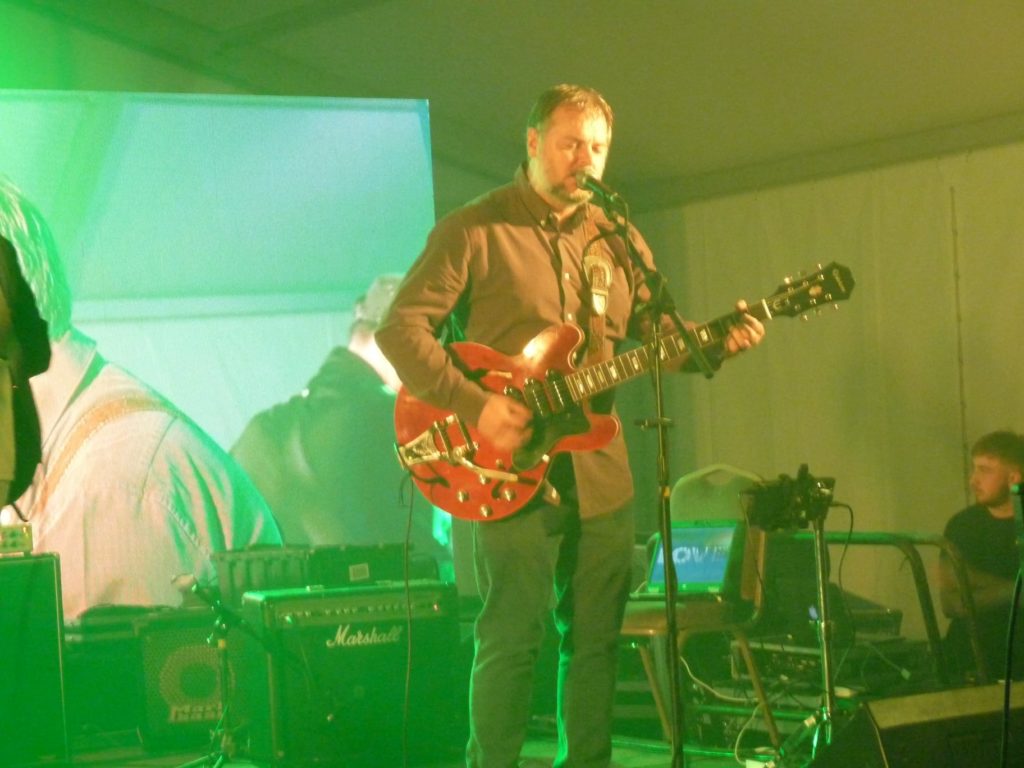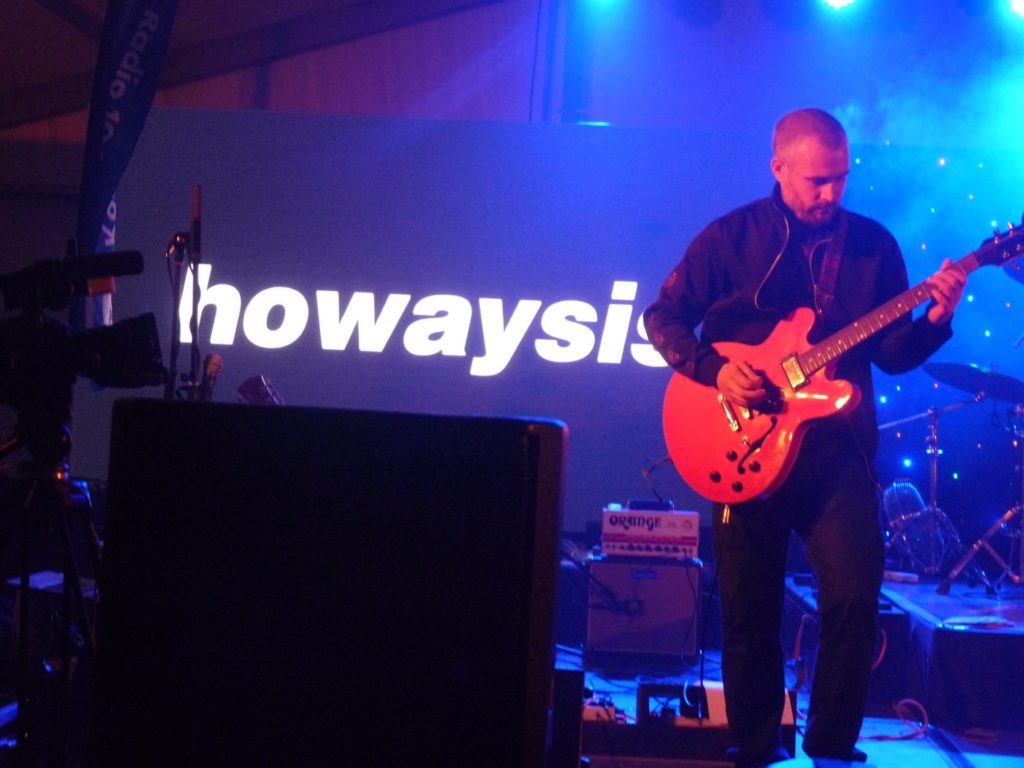 FU Fighters followed on in the Marquee to keep the crowd singing and jumping to every hit with Dave Grohl and co. belting out "Best Of You" "Monkey Wrench" "All My Life" "The Pretender" and "Everlong", whilst Fatboy Slima brought the dance moves out from the crowd at the Outdoor stage to round off a fantastic Friday at Party in The Park.
Super Saturday:
The following day we got a full English and refreshed then got back on it in time for Wayne 'Scoops' Grassie to get the crowd going with an array of tunes on the Outdoor stage as people glugged their first few cans of the day. Loaded – 90's band performed their first of two gigs that day as they appeared in the Marquee at 2pm to take us back to our youth for 45 minutes. With The Stone Roses band unable to make it, Loaded were given a headlining slot later on the Saturday on the Outdoor stage at 8.30pm where they certainly entertained a bigger crowd in the darkness with the lights shining brightly on the Geri Halliwell Union Jack dress!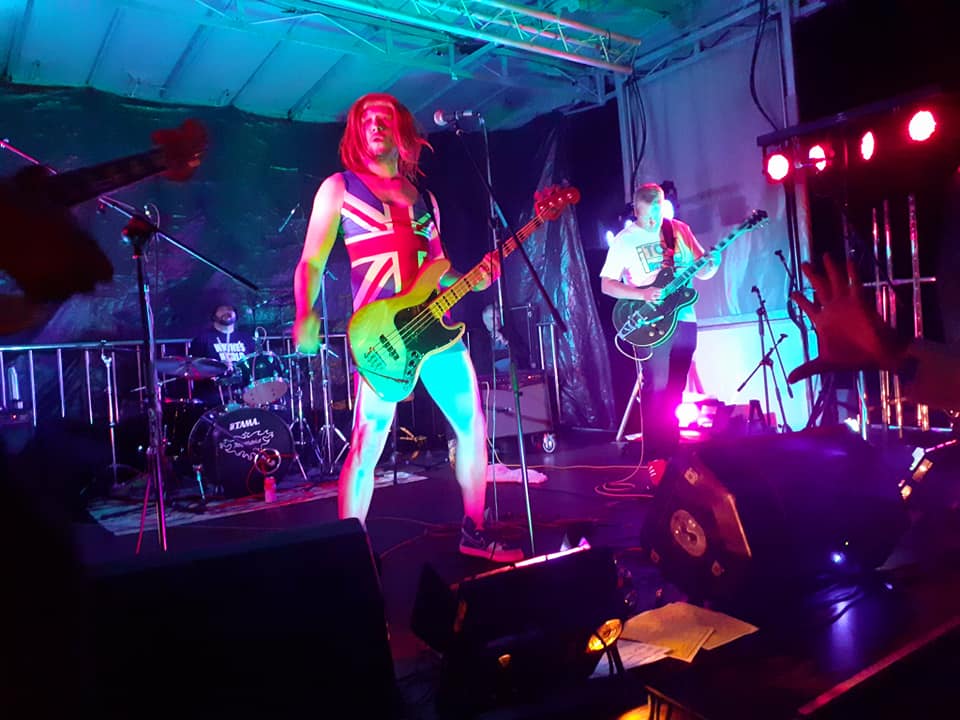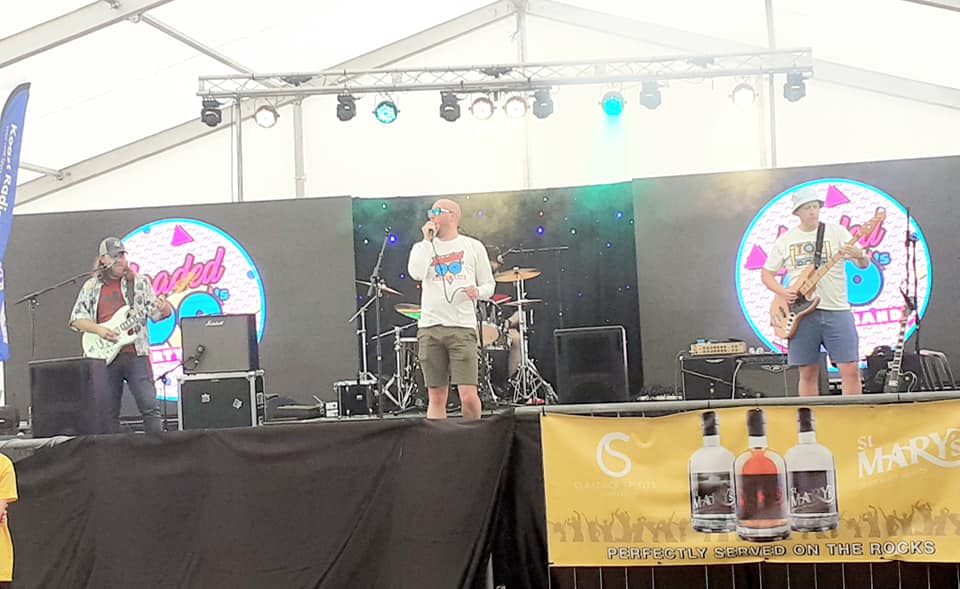 The Odels played their excellent array of Motown and Northern Soul tunes at 2.30pm on the Outdoor stage to the delight of the crowd and singer Deborah Butler told me: "What a fantastic weekend for The Odels playing Party in the Park…Vince and Andy surely know how to put on a party. We saw some tremendous bands and the people – well that's what made it great…big love…and here's to next year's event!"
Back in the Marquee we were blown away by Beyonce fierce tribute act who was full of energy and entertainment with her two backing dancers getting the fans dancing on the grass with plenty of smiles all over. She worked the crowd superbly with everyone replicating her dance manoeuvres to "Crazy In Love" "Single Ladies" "Halo" "Run The World" & "Bills, Bills, Bills" amongst many others.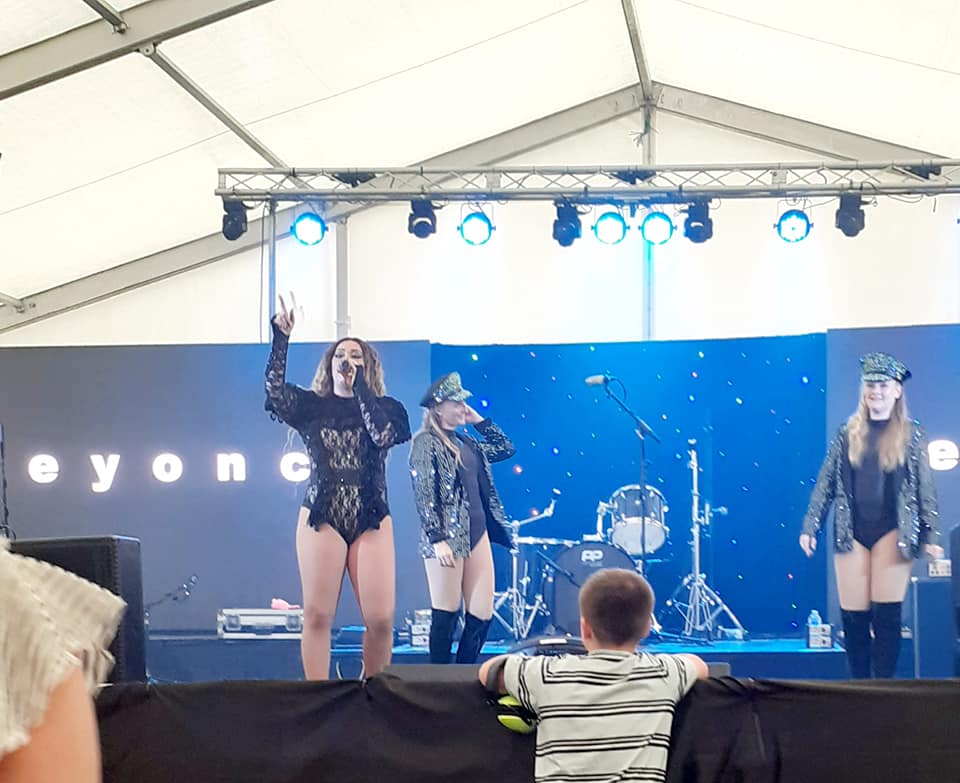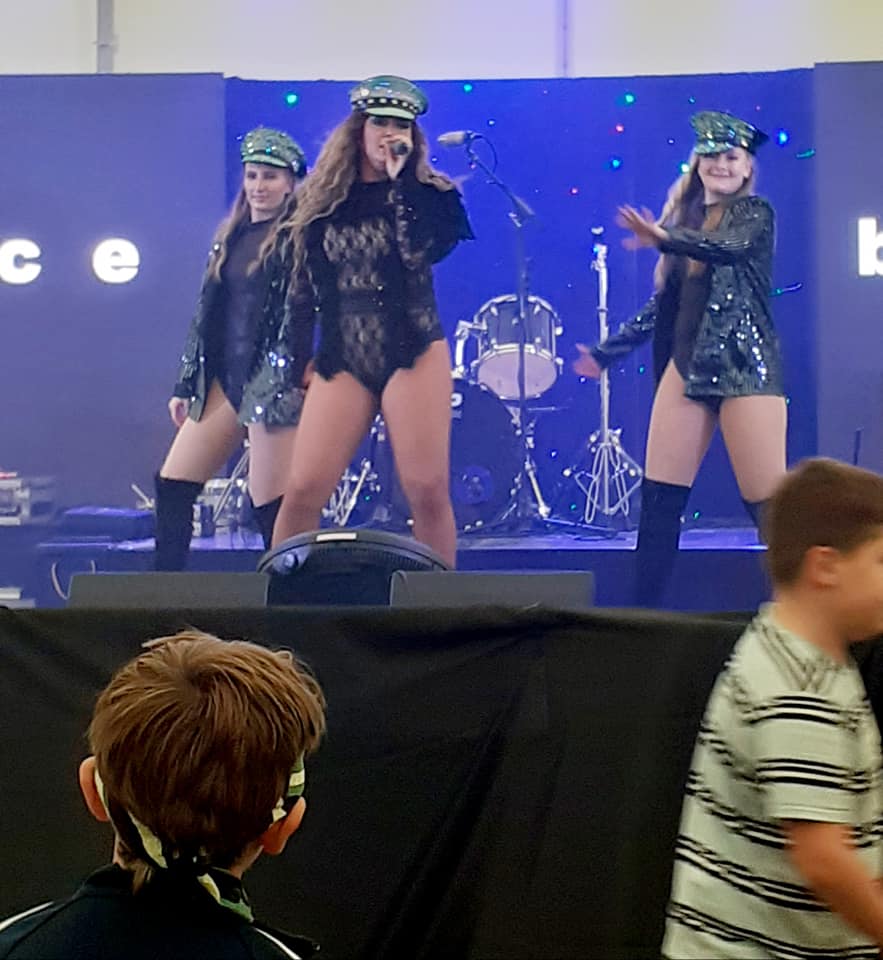 C-Collective followed with some superb dance covers including The Prodigy – which always brings out the fast footwork and a dance-off ensued with me and a few other Keith Flint/Leeroy wannabes. Including tunes by Kasabian, Faithless and Underworld, you'll need a rest after these lads have been on and it gets your hours worth of exercise in for the day for sure! C-Collective are certainly becoming a firm Festival favourite with many local music fans.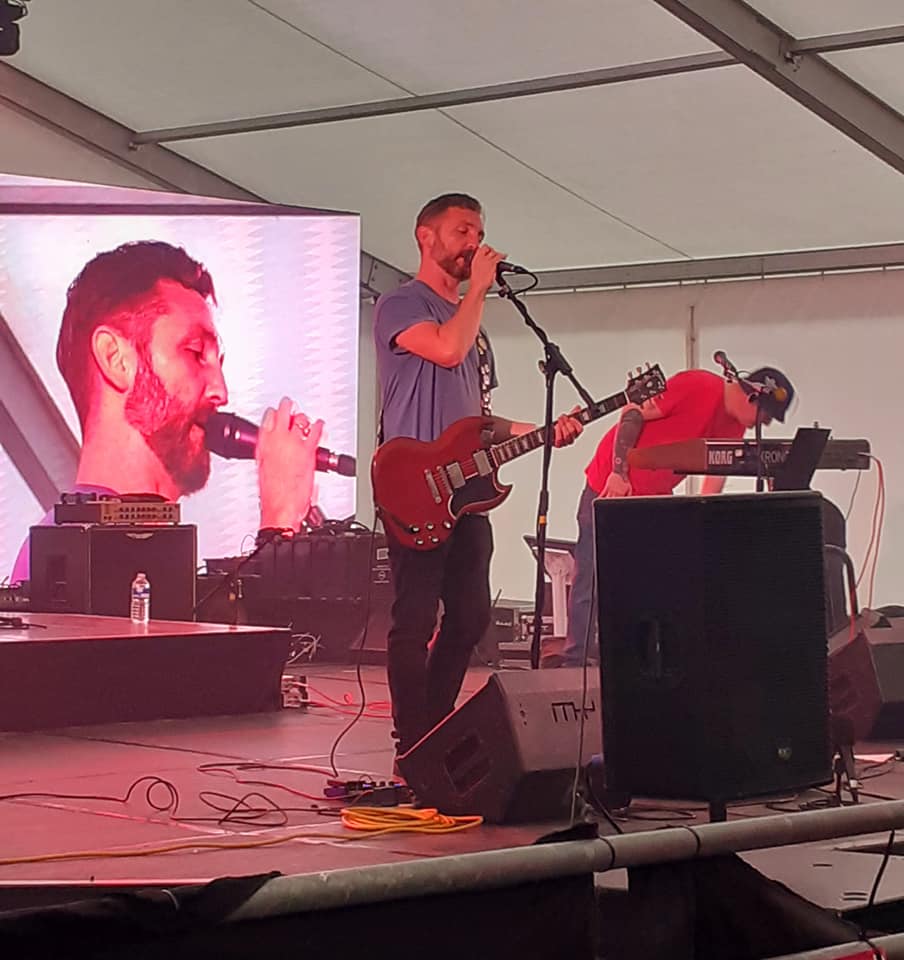 F.A.B brought The Beatles early era to the Outdoor stage with an hour of absolute timeless classic tunes by The Fab Four….Kris Fox (John Lennon) had this to say about the gig: "'Party in the park' just like 'Into The Fields' was filled with love… It marked the Swansong of a brilliant summer that saw the much needed return of these events… Every minute on stage was an absolute joy for us!"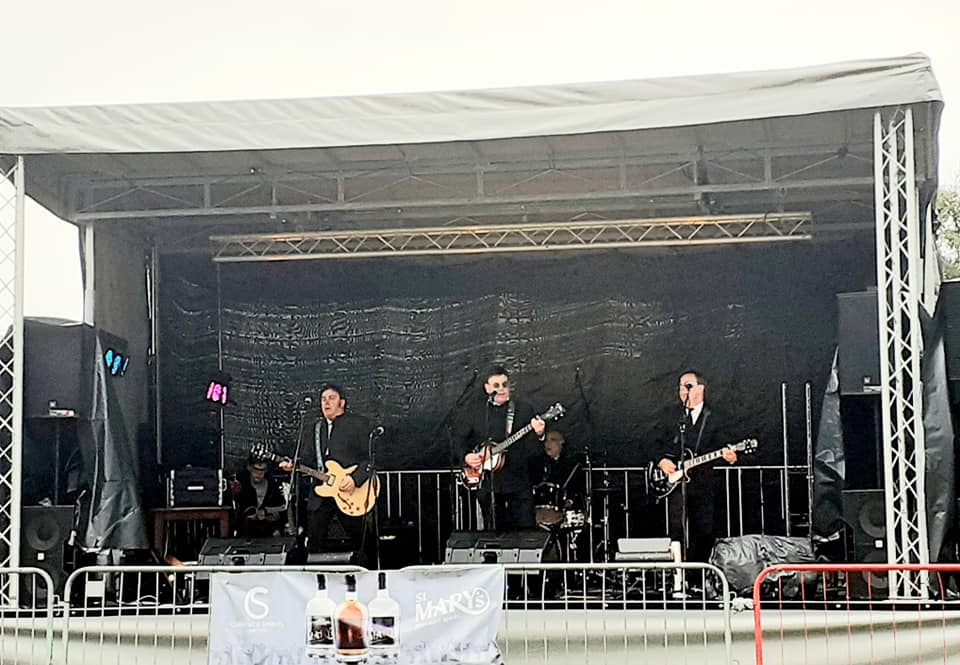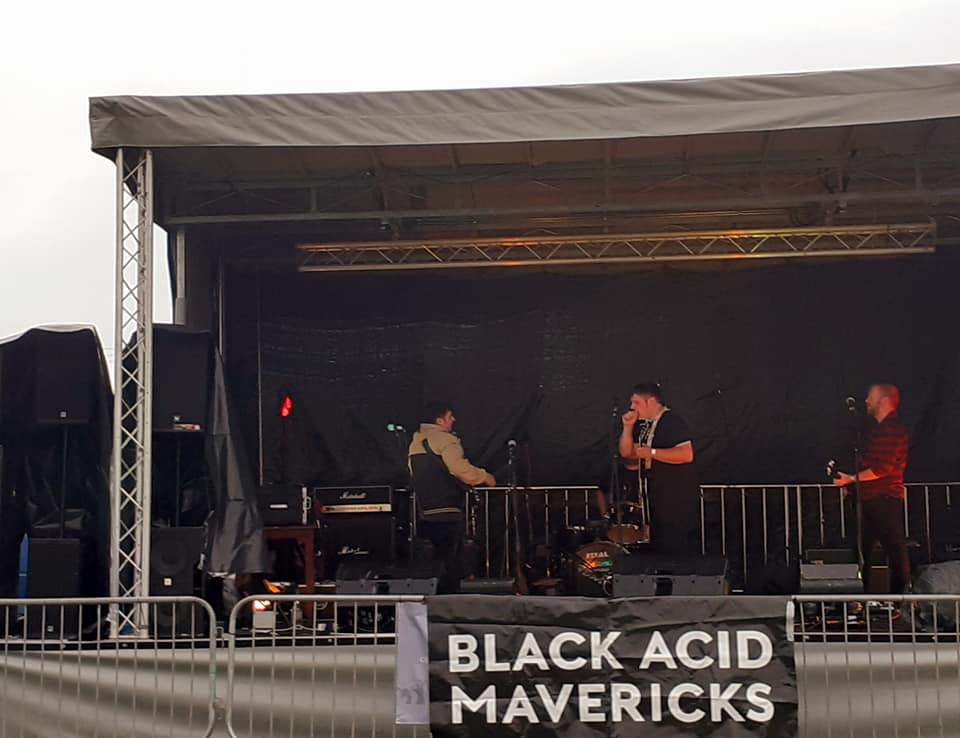 Back in The Marquee at 6.15pm it was time for an array of 80's hits performed by The Breakfast Club, who impressed everyone especially two blonde lasses down the front, who ended up on stage with them in the end! My personal highlight was the mass sing-along to 'Don't you forget about me' by Simple Minds…"Hey-hey-hey-hey!"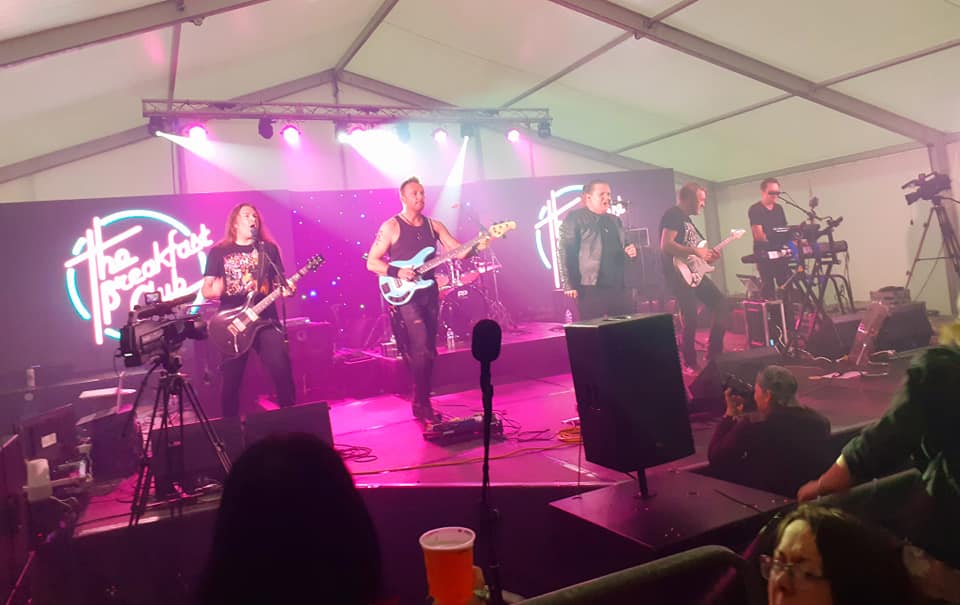 A quick jog with a can over to the Outdoor stage again next, as AC/DC were rocking the place to the rafters. Showcasing just how many tunes they have in their back catalogue, this was a masterclass in Rock & Roll. Down the front amongst the thick of the action, their were Angus Young dances, headbanging and air-guitaring by AC/DC fanatics as Thunderstruck, Back In Black, Hells Bells, Whole Lotta Rosie and T.N.T were belted out on stage and in the crowd in harmony.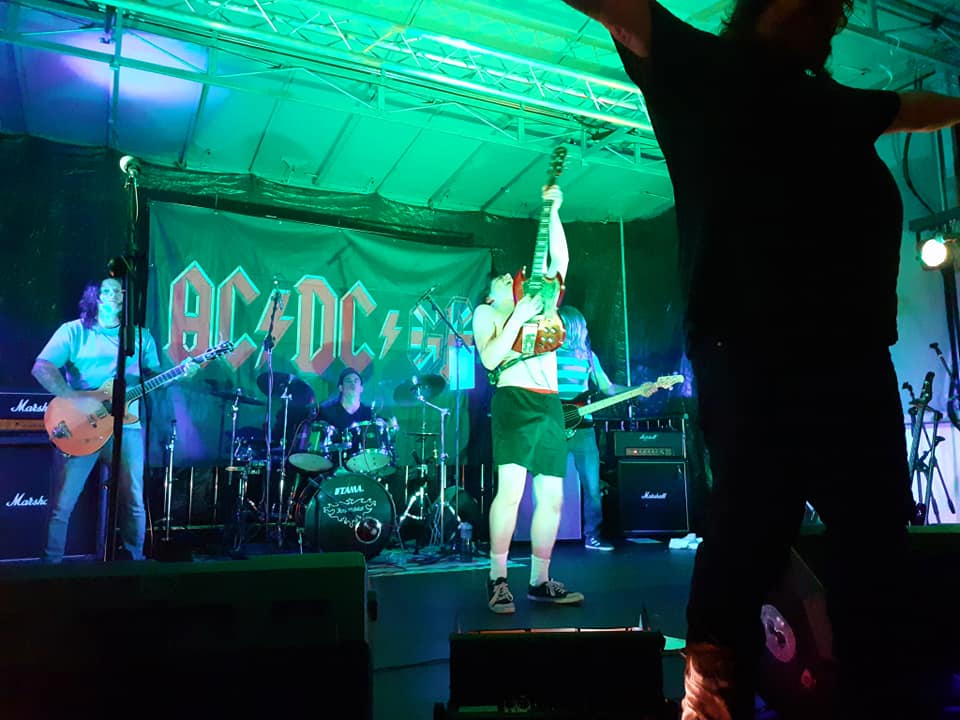 We Are Champion then packed out the Marquee Main Stage at 8pm on Saturday night with a very professional performance of Queen's variety of hits including 'Radio Ga-Ga' 'We Will Rock You' 'Fat Bottomed Girls' 'Don't Stop me Now' 'Under Pressure' 'We are the Champions' and the anthemic 'Bohemian Rhapsody'.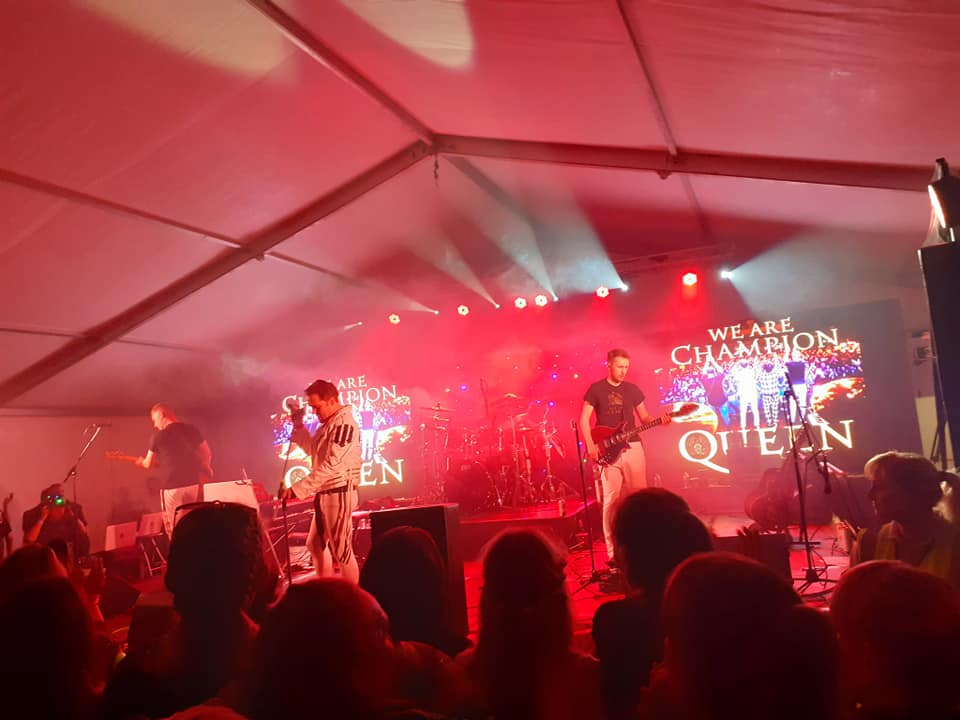 The Indie kids were in for a treat next as the Hacienda dance moves were about to come out with BEZ from Happy Mondays taking to the stage at 10pm to shown them how it's done. With tunes by Black Grape, Primal Scream, New Order, The Stone Roses, A Guy Called Gerald, 808 State, Kasabian and of course The Happy Mondays being played by his DJ son, as his Manc legend father shook his maracas and showed us how to dance… It was my Birthday this day and I almost got on stage for a dance-off but made do with a side of the stage position to get a few close up pics….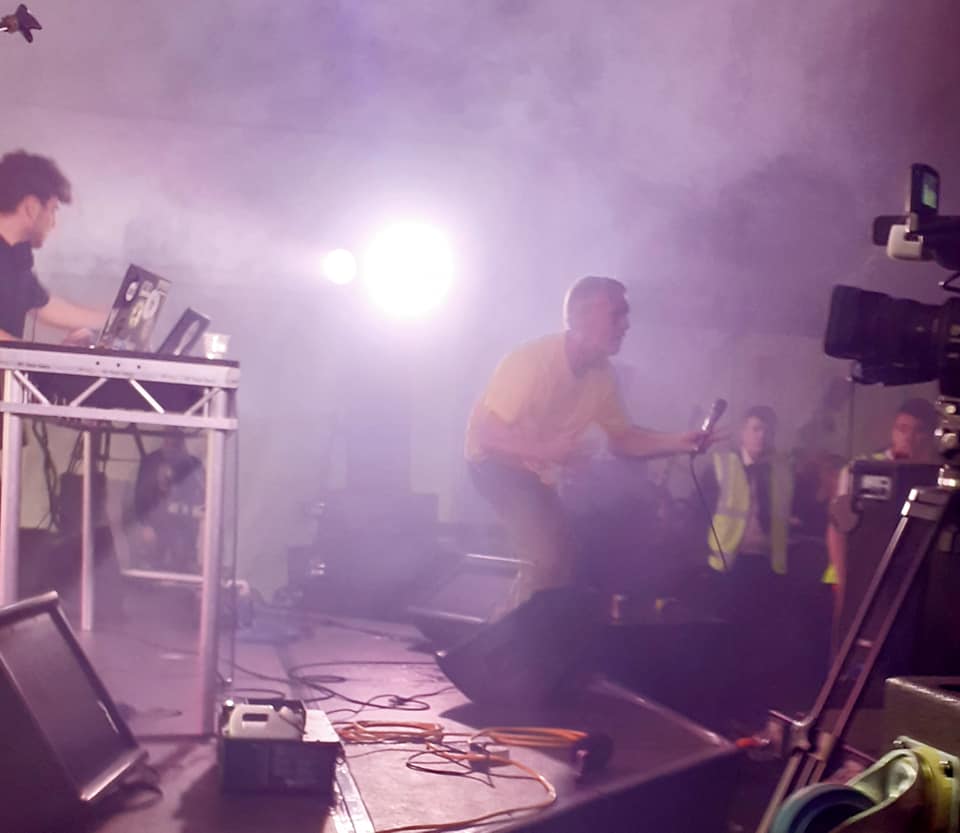 Festival-goer Lucylu Elphick said "Amazing weekend.. brilliant atmosphere with truly amazing talent and the ultimate Bez"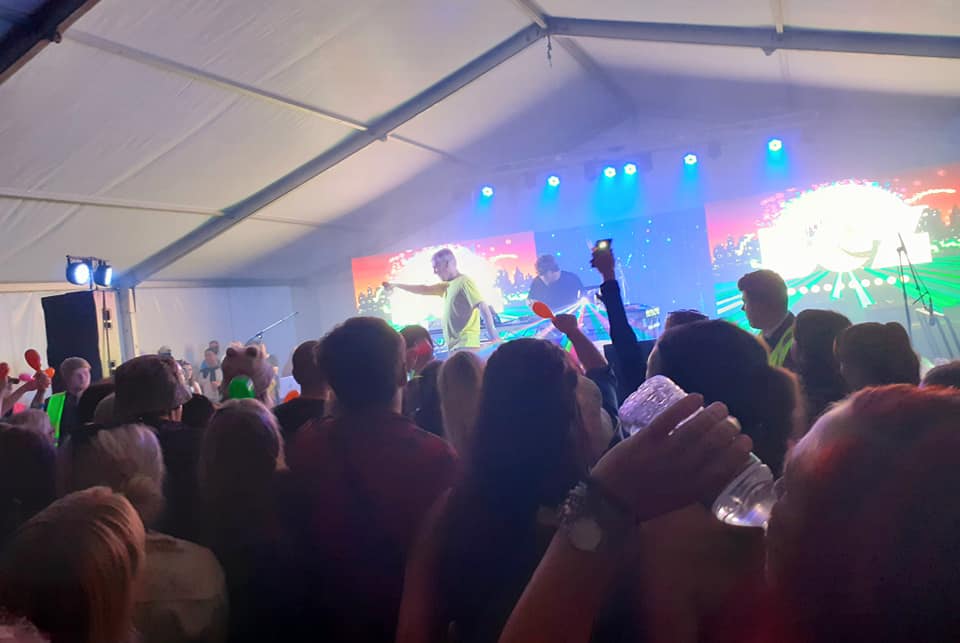 After Bez, we made our way into the VIP Tent to dance to the euphoric tunes being played by guest Dj Marc Moore who was the Superstar Dj each night for those with a golden wristband. Mixing in some Aretha Franklin classics with House, Dance and Electronic beats to get 'Roy-On-The Hoy' strutting his stuff on the dancefloor. A sublime after-show.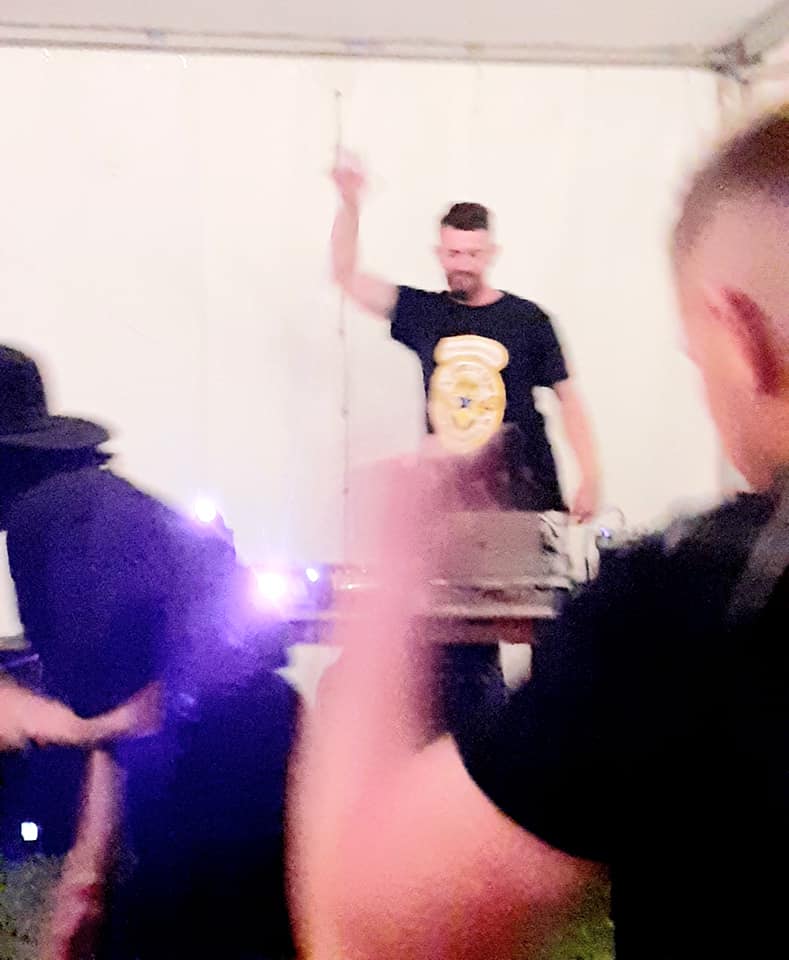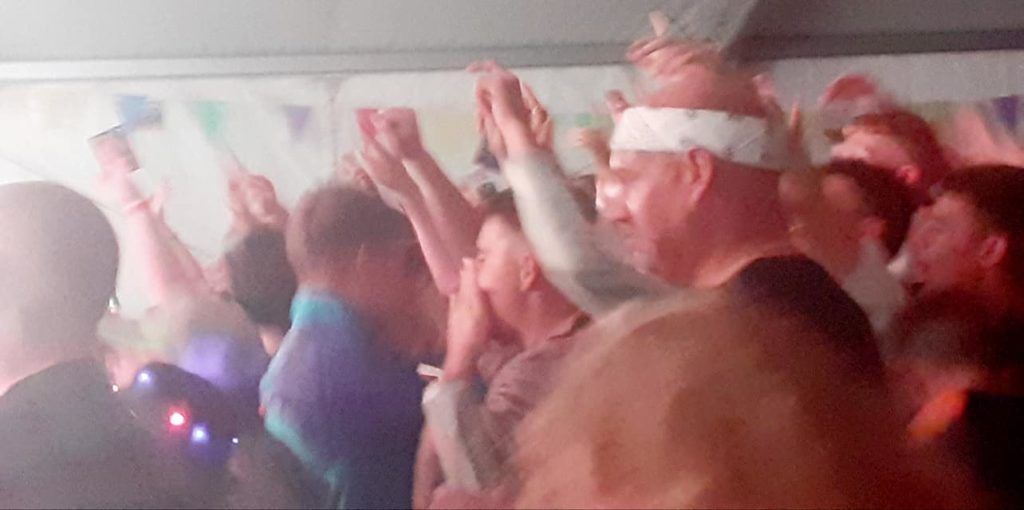 Sunny Sunday:
A most welcome surprise came on Sunday as the sunshine was absolutely blazing down on us from Midday after the initial showers as we were sitting around the tents laughing and reminiscing over the various funny moments from the nights prior and trying to work out if we really had just seen Mickey Mouse and Alice in Wonderland waving at us as we tucked into a sausage sarnie in The Terrace restaurant(?!)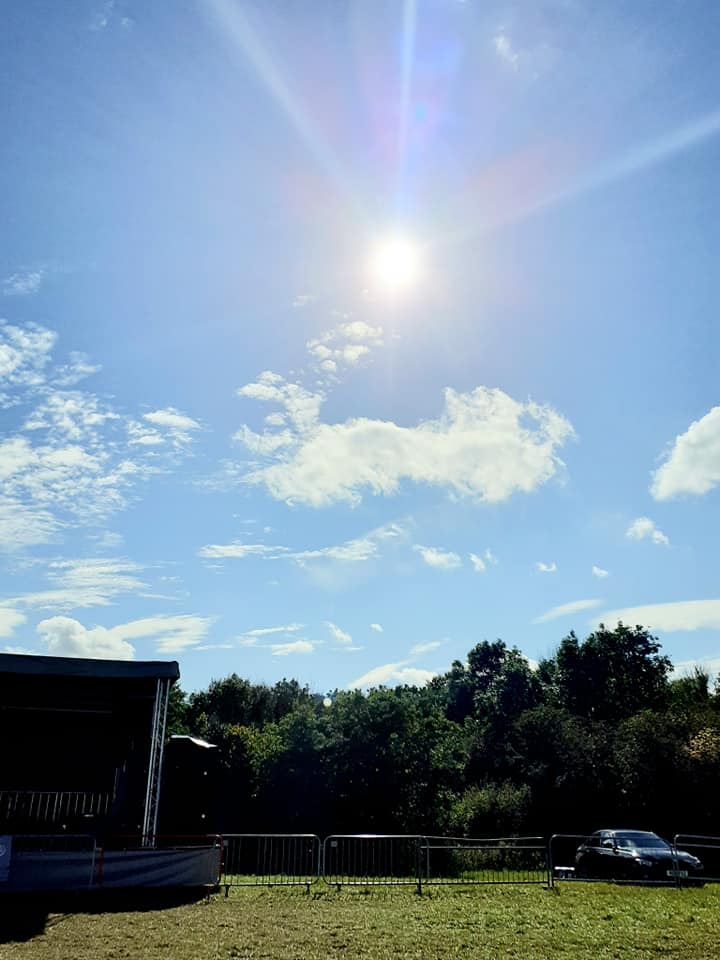 Trevor from The Longsands came on the Outdoor stage as the glorious Indian Summer sun shone brightly in the sky and the cold refreshing drinks started flowing once more for the third day in a row…With his family and friends watching/dancing as he performed some of The Longsands tunes along with Ocean Colour Scene and Oasis to finish, his son and daughter ended up popping up on stage having the time of their lives.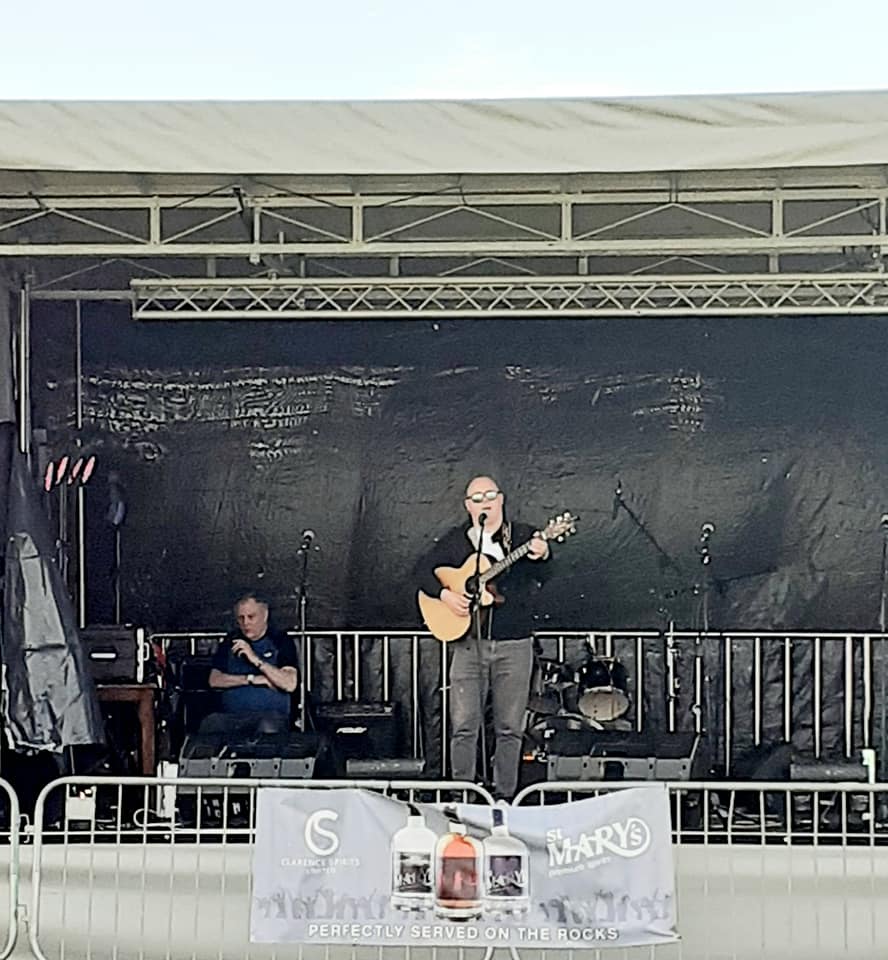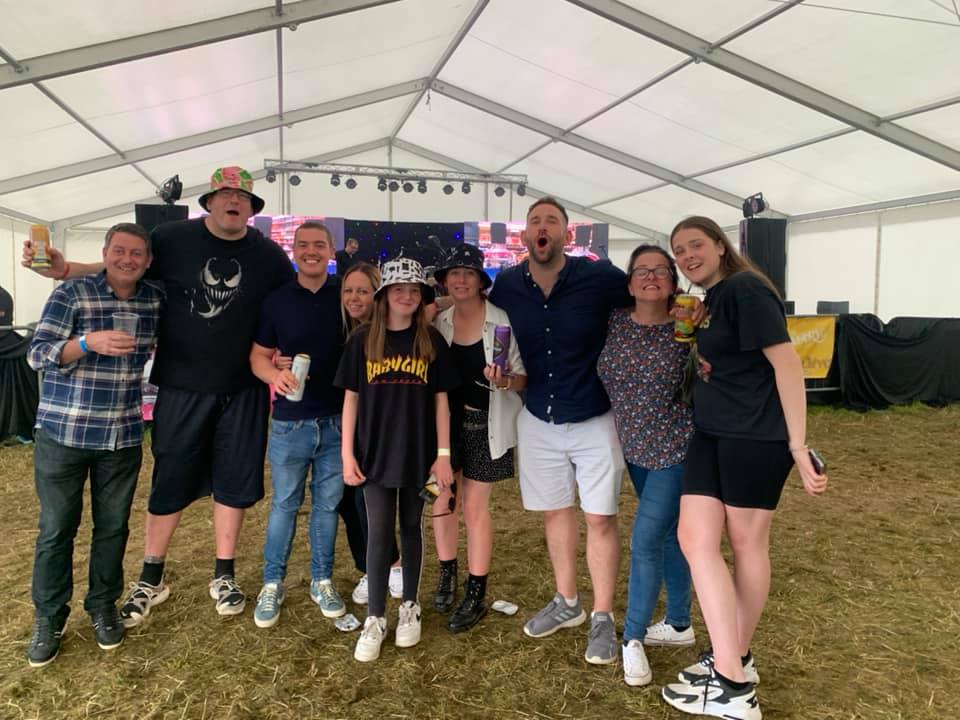 At 3pm Robbie Williams asked to let him entertain us in the Marquee Stage…..and boy-oh-boy he did! Looking almost identical to the real Robbie, he worked the crowd brilliantly for over an hour as he combined comedy with poignant tributes to the NHS and keyworkers and got everyone to sing along and wave their arms in the air. His hits including 'No Regrets' 'She's The One' 'Freedom' 'Let Me Entertain You' 'Millennium' 'Rock DJ' 'Angels' and Take That's 'Back For Good' all had the fans waving their imaginary lighters in the air and dancing like there was no Monday tomorrow. It's the first time most of the crowd had seen Tony as Robbie and they came away from that performance hugely impressed…..Tony as Robbie told me: "It was a hot one on stage but should have been expected as the North East and it's people always give the warmest welcome! It was quite fitting that I got to say goodbye to the festival season of 2021 with the hardcore, party people of Morpeth. I only hope to see everyone again soon!"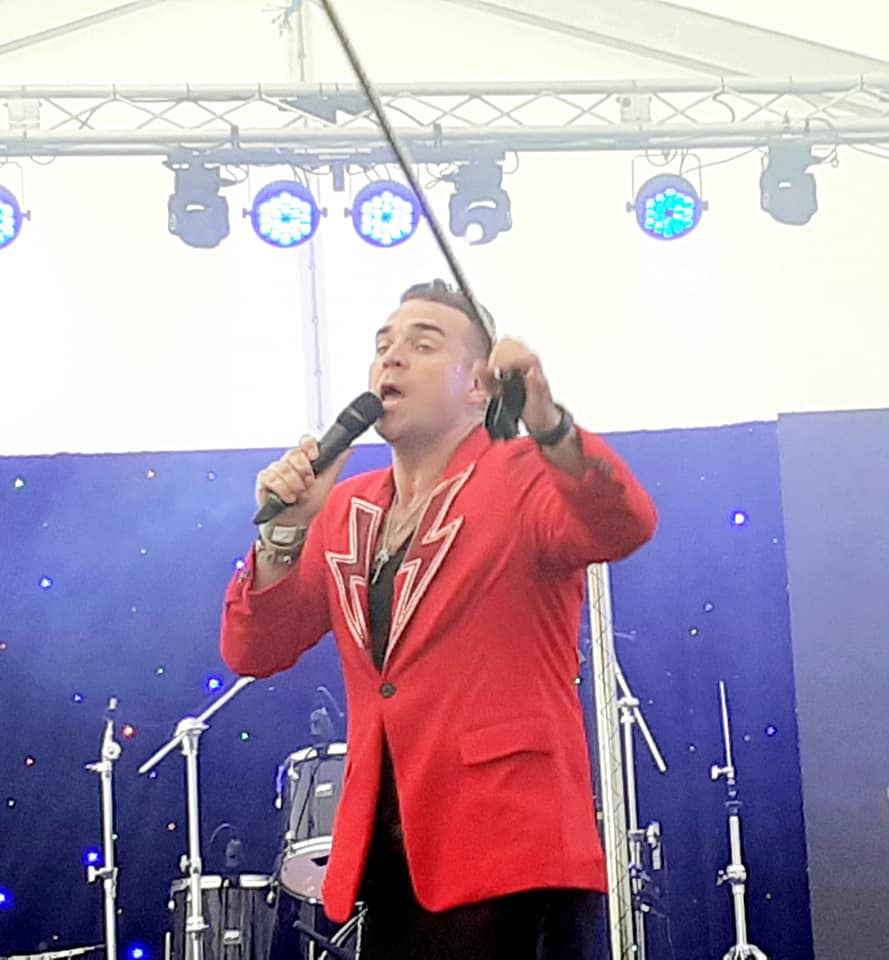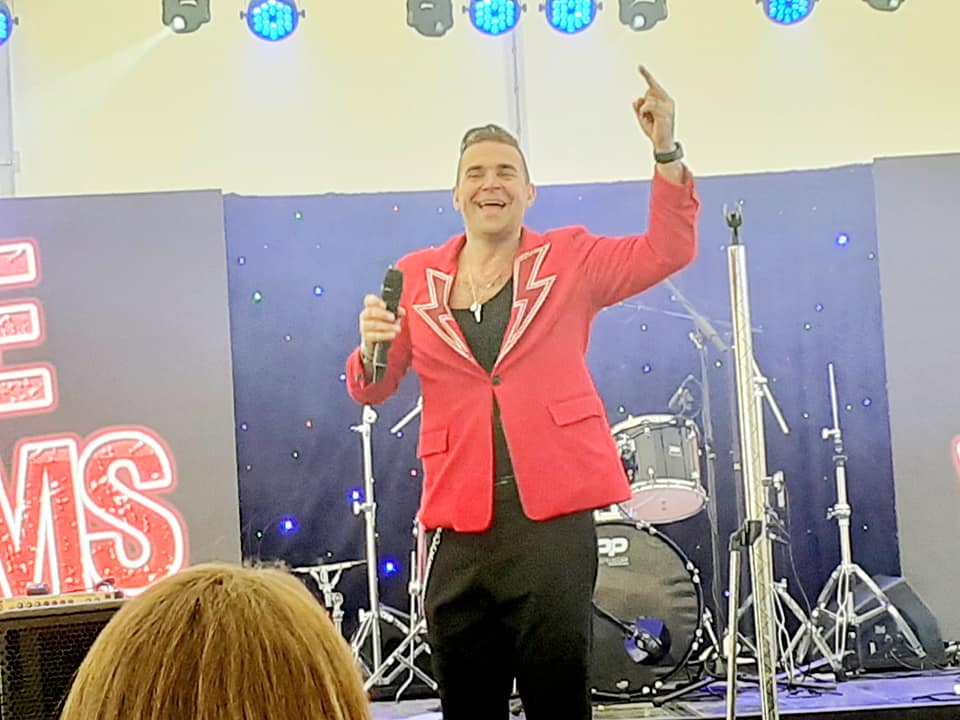 After Robbie it was time for Gary Cinnamon from Scotland to keep the Marquee hot and sweaty bouncing around to all of his Gerry bangers.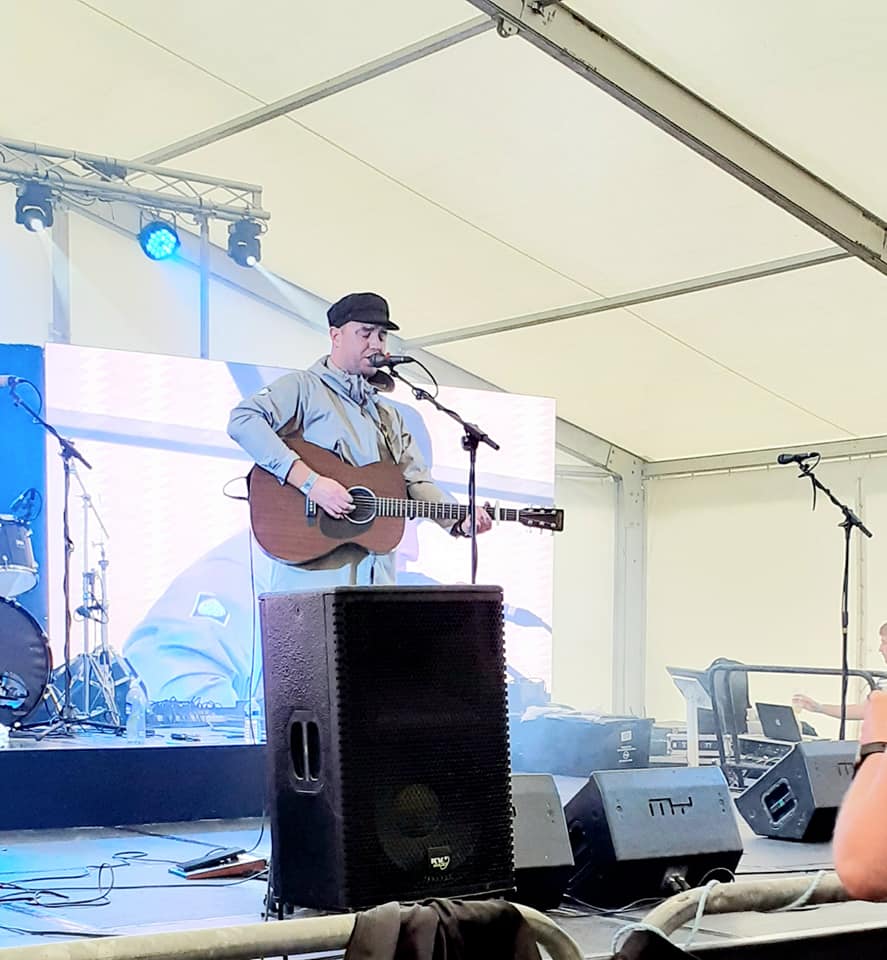 At 6pm in the Marquee were Discography with their 11-piece band playing an array of groovy soul-filled Disco hits from the 70's and 80's. The crowd were loving dancing and singing along to the likes of Chic, Stevie Wonder, The Communards, Donna Summer and Diana Ross.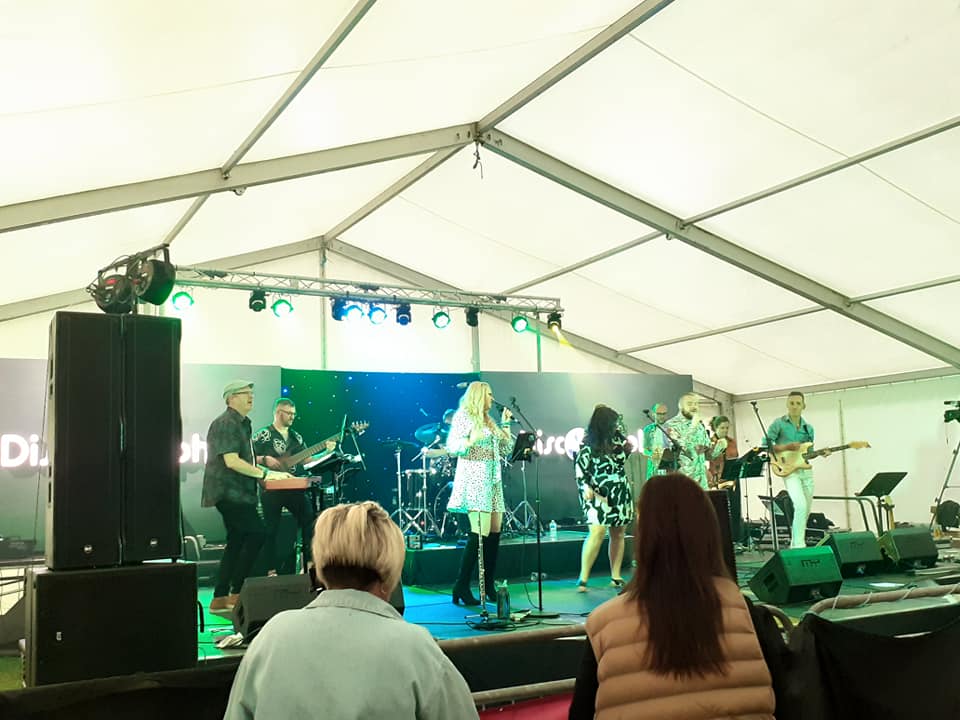 Discography Fan Sue Symes had this to say about the gig: "Discography were the perfect alternative to the usual festival vibe. This band certainly know how to serve up a veritable feast of live, retro, disco-dance music! With Kerry's powerhouse voice at the helm, and my word this lady can sing, the vocals were complimented by strong male and female singers resulting in stunning harmonies. The engine room of the band came in the form of a tight rhythm section blasting out funky bass, solid drums and percussion, tasty guitar riffs and sleek keyboards. Add to the mix a rousing horn section made up of sax, trumpet and trombone and your ears were in for a treat. This ensemble certainly entertained, belting out those familiar disco tunes such as Freak Out, Don't Leave me This Way, Relight my Fire and many more that had the crowd's dancing feet in overdrive."
If you want to catch this band in the North-East soon, they are playing at the brilliant venue Hoochie Coochie in Newcastle on Friday October 15th: https://www.skiddle.com/…/Hoochie…/Discography/35878987/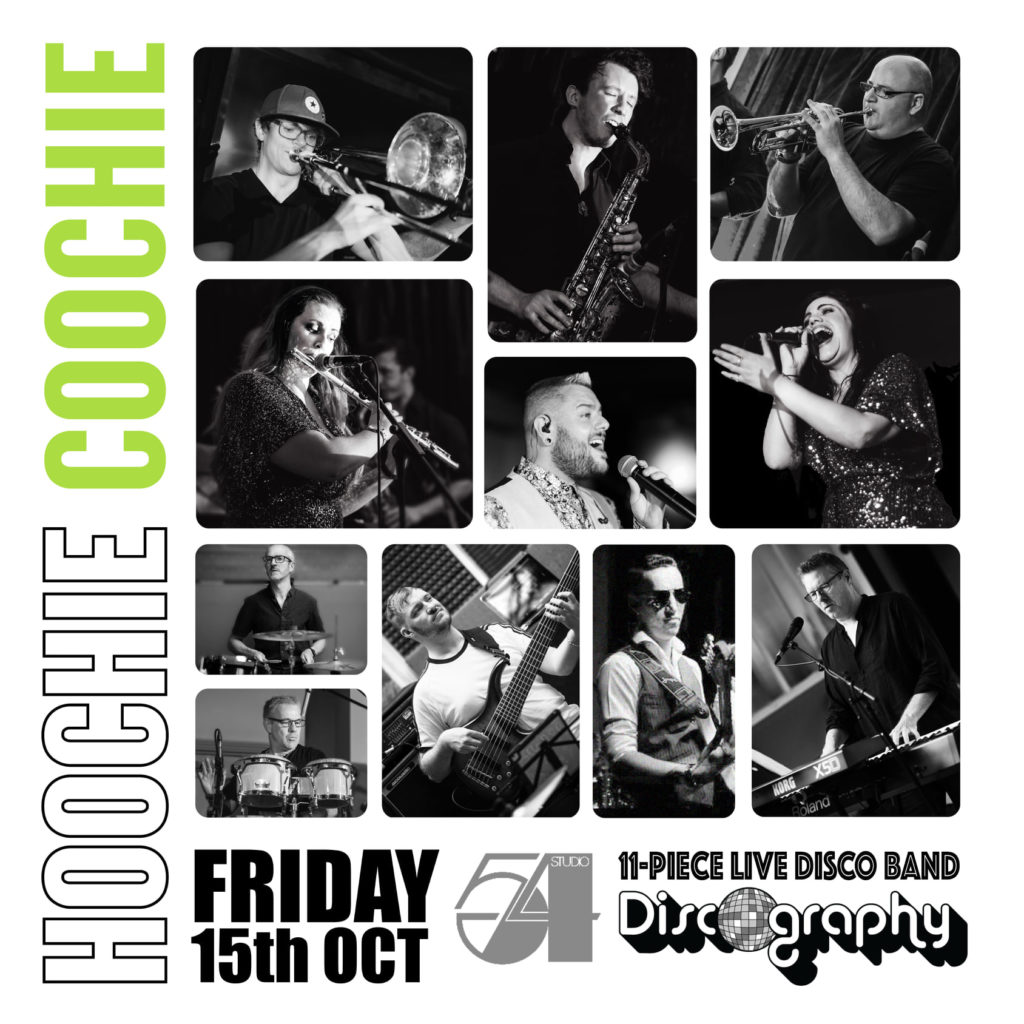 The Corporal Bones entertained on the Outdoor Stage at 5.30pm Sunday with their Rockabilly shenanigans and they had this to say prior to their gig:
"Howdy mate, we first met Party in The Park when it was a little fledgling festival in a field behind a pub just off the A1. Uncle Andy and Auntie Vince invited us along to spread some cheer and save a few souls along the way and by all accounts a great time was had by all… the vibe was just spot on… We've been fortunate enough to get asked back to play each year and watch as the stages get bigger, the line-ups get bigger and the choice of music gets more diverse. Add a cracking crowd , food, beer, good cheer and breakfast with Goofy to the mix and it has to be one of our highlights of the year. Despite growing up considerably it hasn't lost that vibe it started out with… Obviously 2020 was a difficult year for many and we like all other bands were restricted to singing in the bathtub, drinking beer at home (coffee in Wobbly's case) and pursuing other artistic endeavours such as perfecting consistently good poached eggs, taking a brief break to appear in a big red suit and fluffy beard, conducting a chorus of jingle bells played expertly by folks on their car horns and headlights at last year's Morpeth Christmas drive-in. Now as we begin to emerge from our cocoons and get back to knocking out some tunes.. it's great to see live music starting up again and a real hunger for folks to get out and enjoy themselves…and where better to do it than here. We'd like to welcome our new gut-slapper Matt to the fold (he insists that he doesn't sing, so please ask him to if you meet him… (he does however play pretty much any instrument you wish to throw his way) we may also be inviting some other wayward minstrels to join us on our travels… So go on brothers and sisters, raise your hands in the air, give us a "halle-goddam-lujah" and jump aboard the train to redemption and write that Monday morning sick note now because like L'Oreal, you're worth it !!! (other shampoos are available… just not with a suitable tag line) …we just hope that we can remember how the hell to do this!"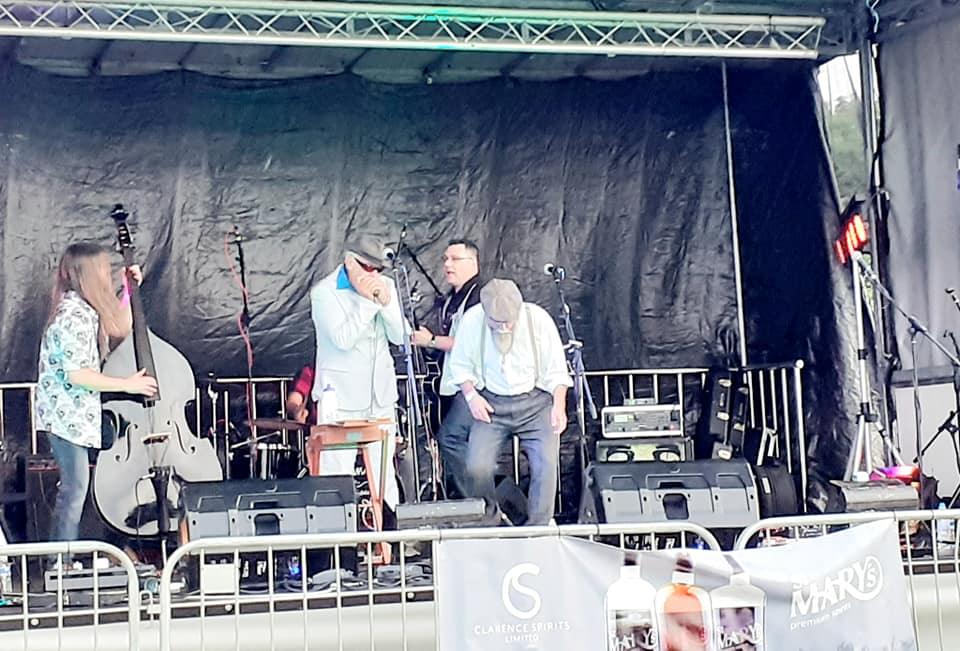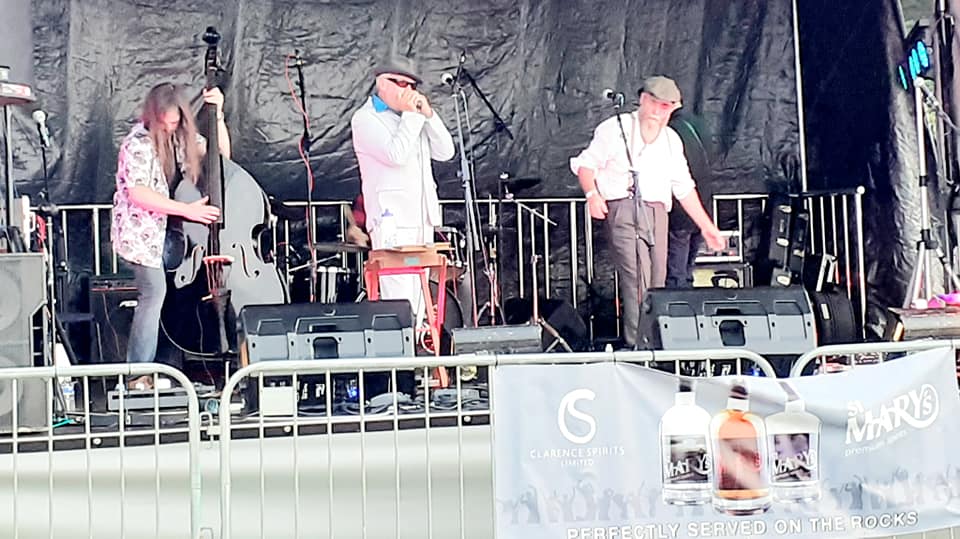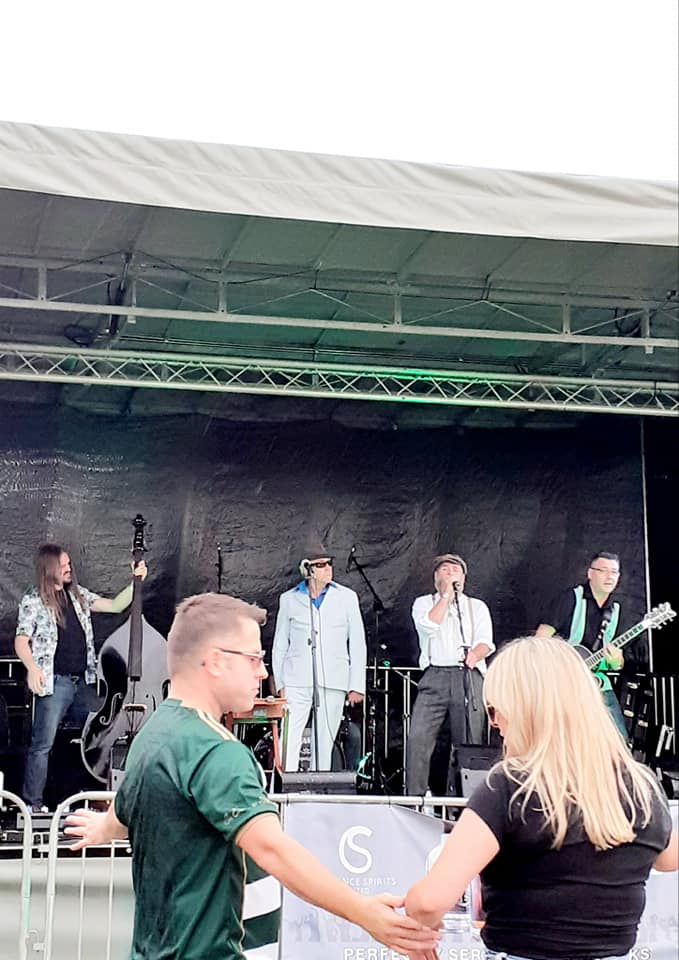 The Covasettes – on the cusp of greatness:
Original band The Covasettes from Manchester absolutely smashed it on the Outdoor Stage at 7pm as the sky went dark and the lights came on. It was a pleasure to see young fans singing every word from their tunes and new found fans commenting "How good are these lads" "What a tight band…these certainly know how to play!" After voting for them every week a few years ago at The tavern on Sundays Battle of The Bands it was great to see how far they have came since, with a UK Tour in the pipeline and bug things on the horizon. They are playing at Newcastle's Think Tank as part of their tour and lots of attendees of this gig were talking of going in the aftermath of this blistering setlist. They covered Foster The People's 'Pumped Up Kicks' along with 'Not Nineteen Forever' by The Courteeners as a nod to their Manchester roots. The crowd interaction was spot on and with dancing fire-eaters appearing to the side of the stage it felt like we could be at a huge gig at Glastonbury at times. I'm sure we will be seeing more of these lads in the future and they will be ones to watch at forthcoming festivals and National Tours.
Ticket link for The Covasettes at Think Tank, Newcastle on Wednesday 15th December:
https://www.seetickets.com/event/the-covasettes/think-tank-underground/1472081?aff=id1bandsintown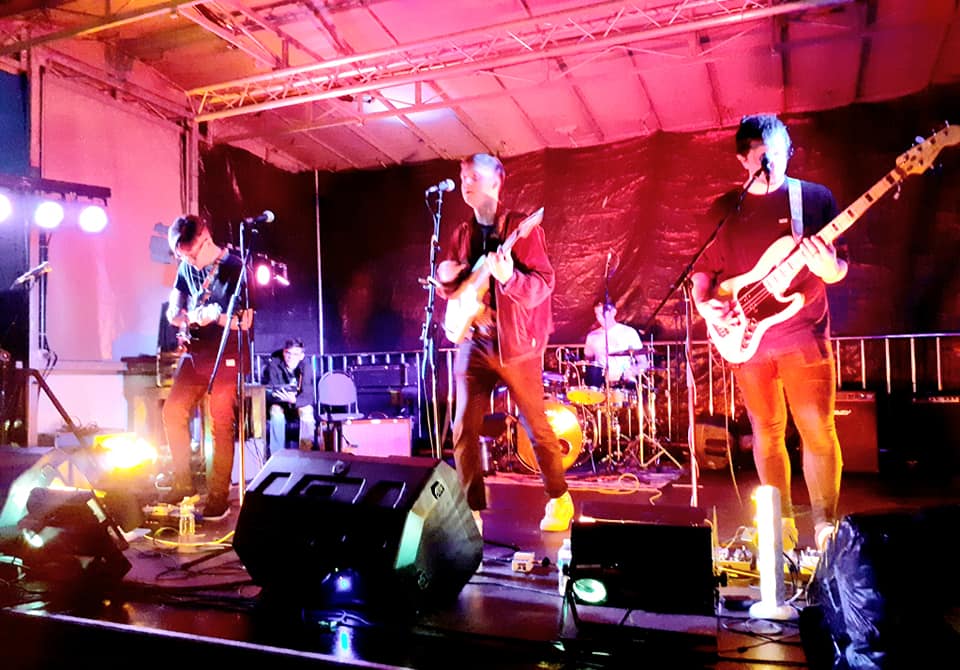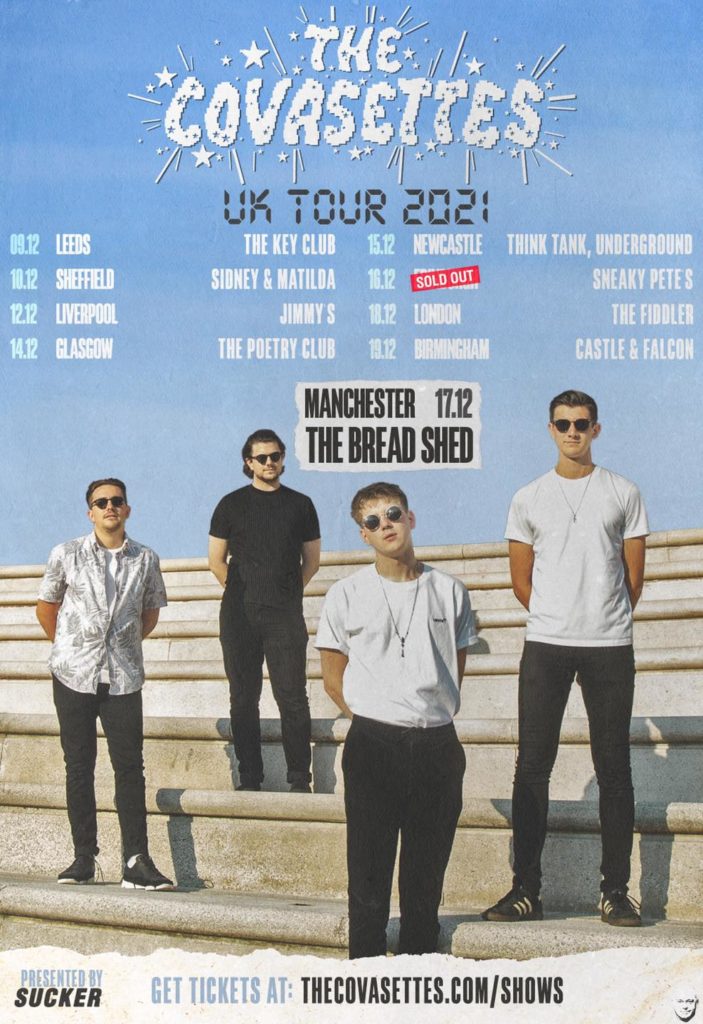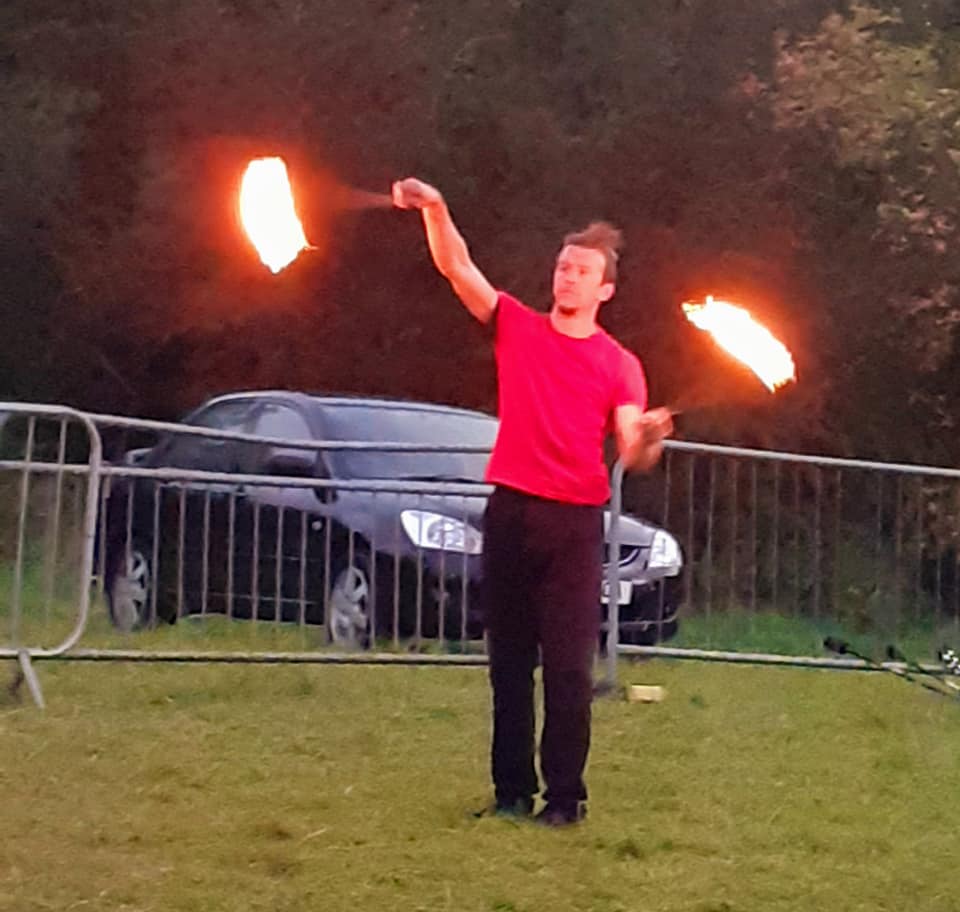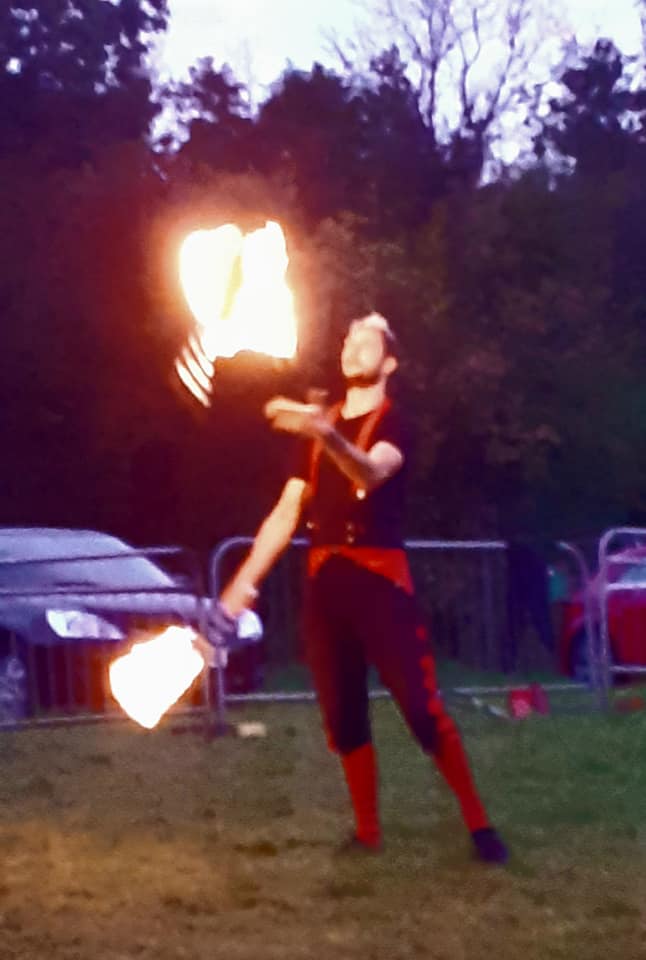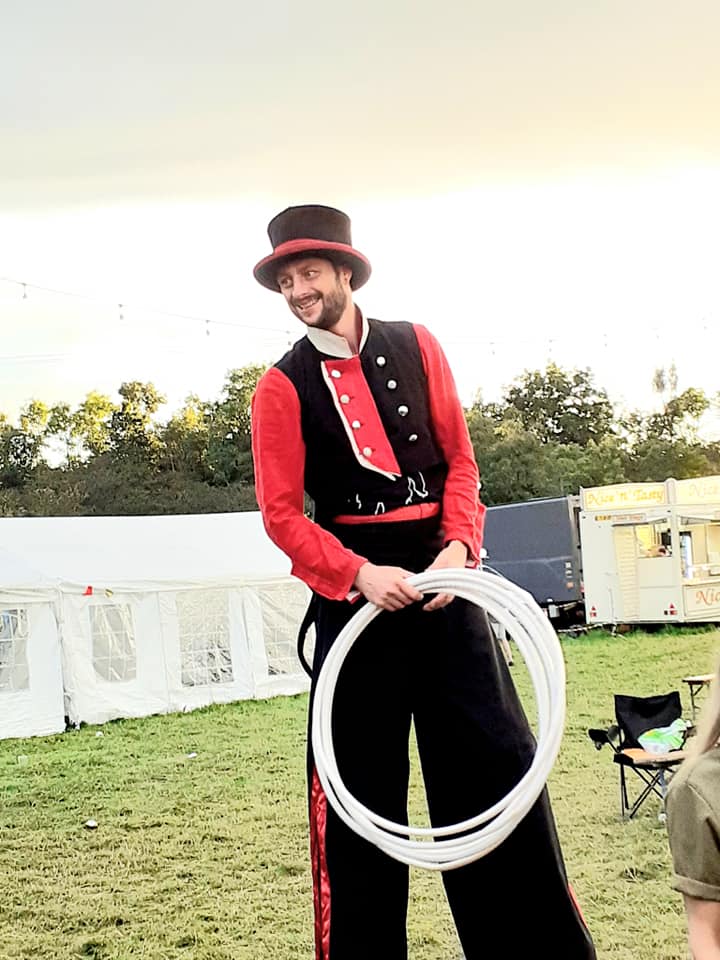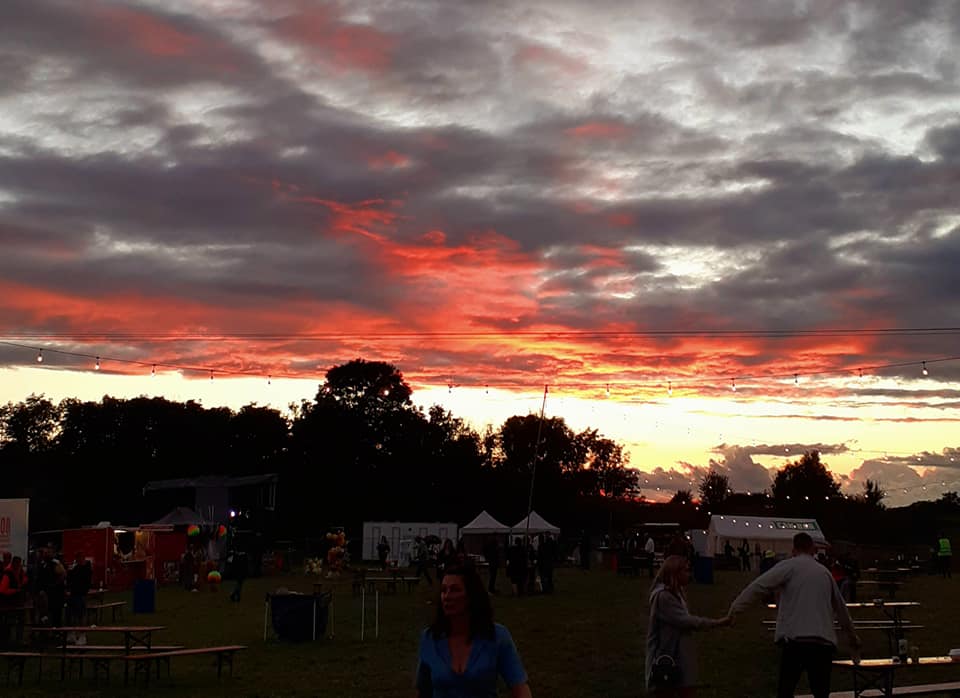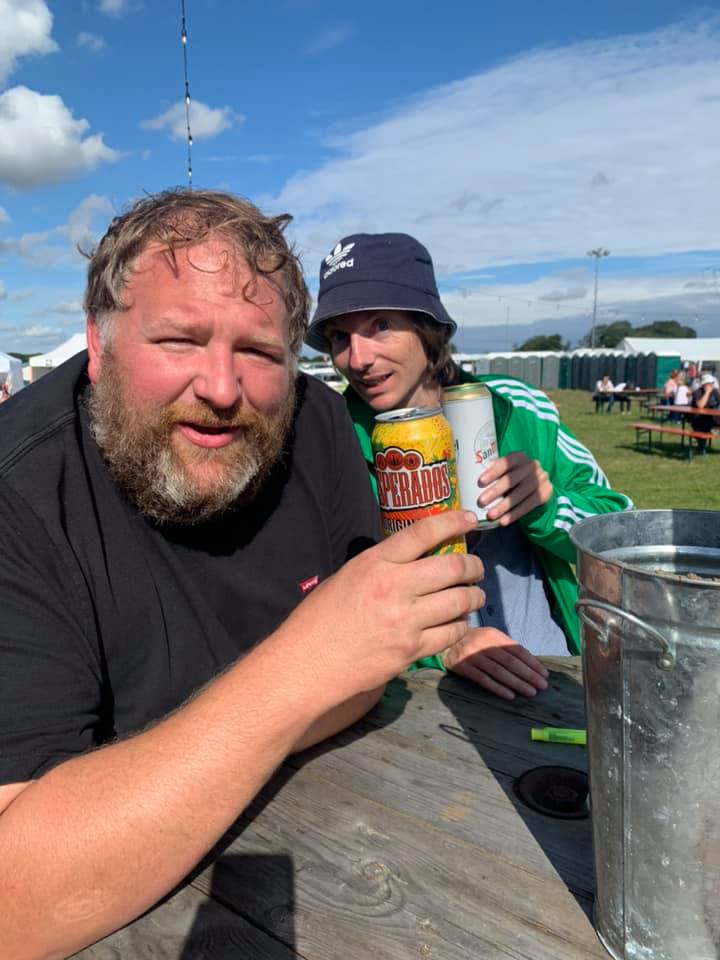 Hip Hop Hooray played to a packed out Marquee from 7.30pm and had the entire place bouncing as always with their unique take on Hip-Hop classics…..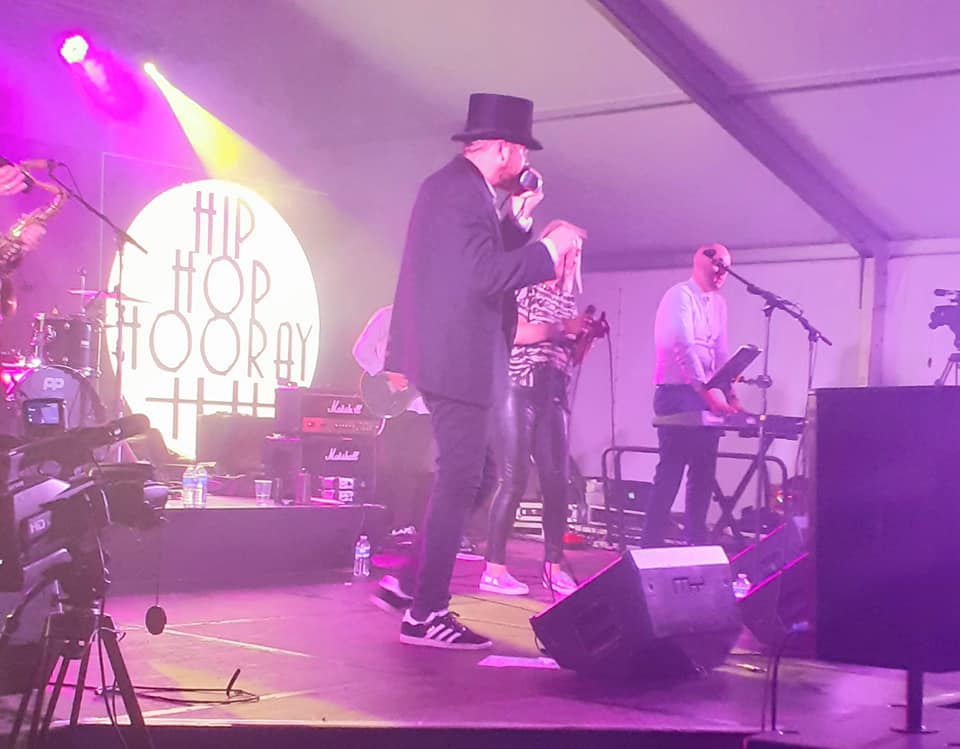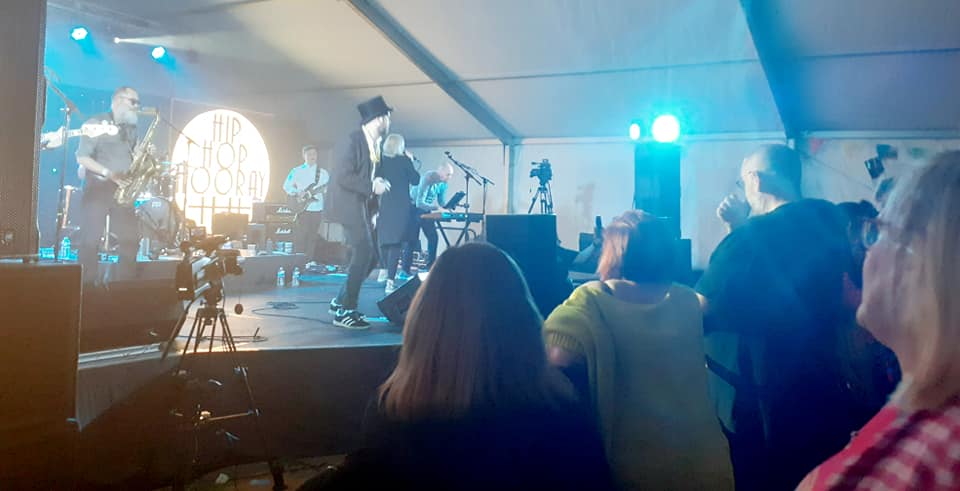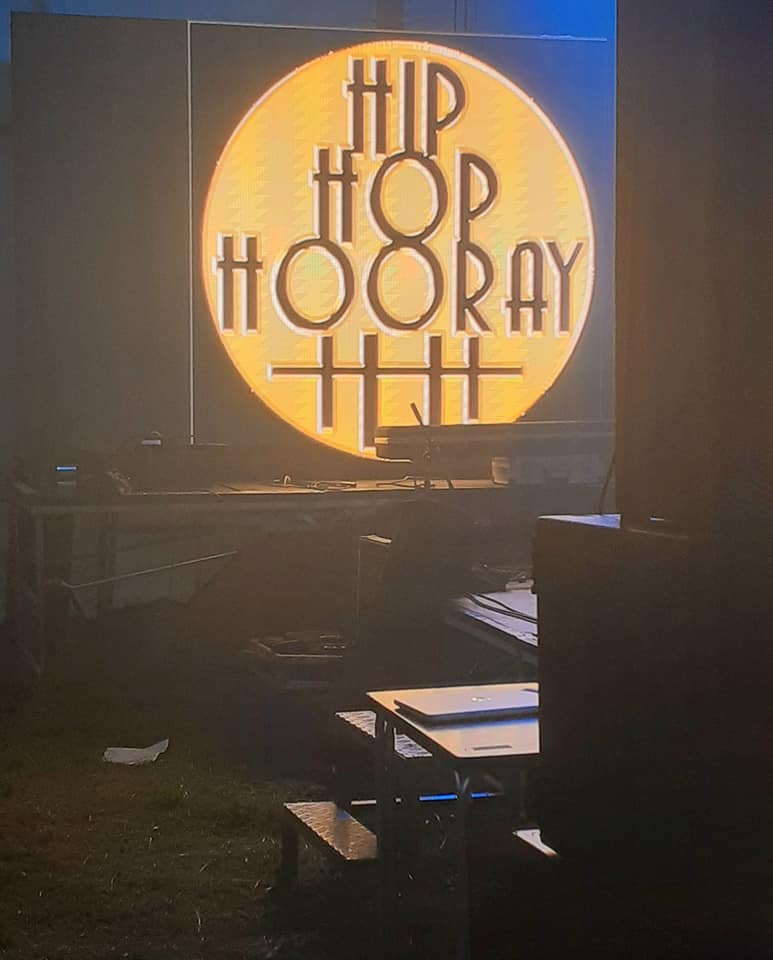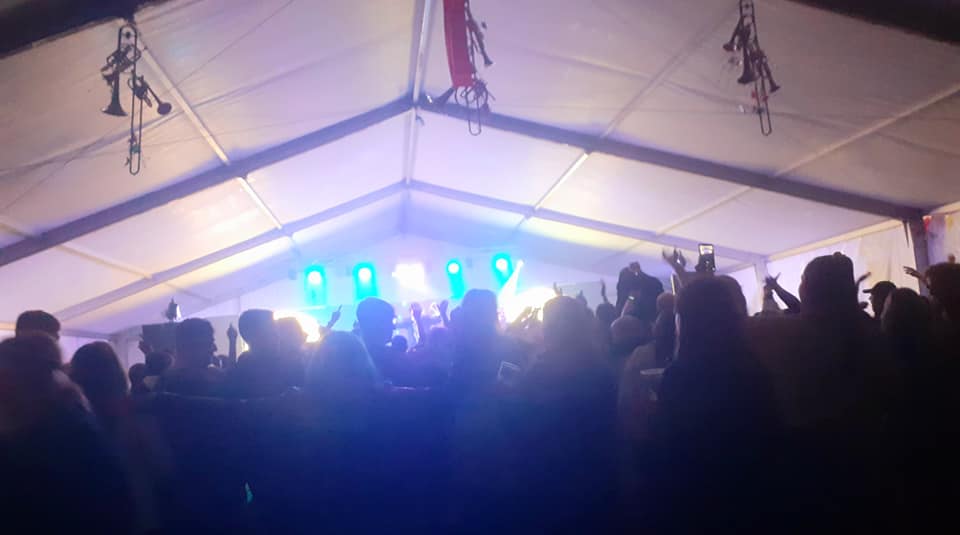 The Kopycat Killers ended the weekend on a high with a superb set of hits by The Killers including 'Jenny was a friend of mine' 'Glamorous Indie Rock & Roll' 'When you were young' 'Runaways' 'Smile like you mean it' 'Somebody Told Me' 'Human' 'Read My Mind' 'Mr.Brightside' and the anthemic 'All these things that I've done' which had the crowd belting out every word…they had this to say about the gig: "It felt brilliant to be playing to a local crowd, and was fantastic to see so many young people moshing and jumping to 2004 guitar music, it really is beginning to straddle the generations. The whole thing seemed like people had been having a wonderful time by the point we showed up on Sunday night, a great crowd for essentially a school night!"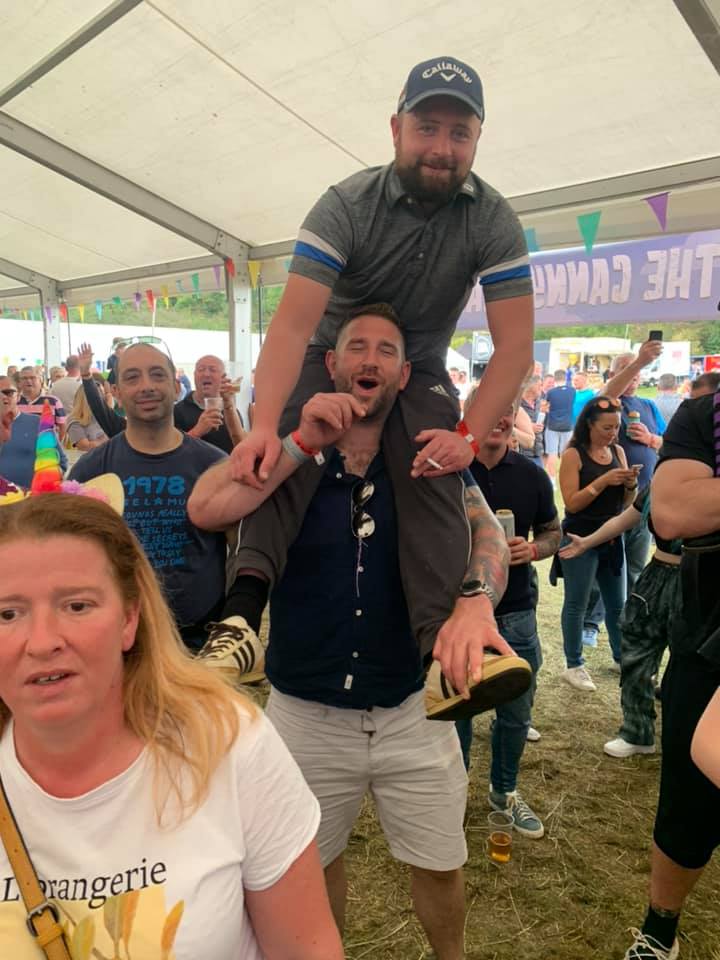 Music Superfan Gary Coe had these words to say about the weekend…. "Last camping festival of the year and great to meet up with all the old faces and lots of new friends. Andy & Vince put on another great weekend of fantastic bands. My highlights were Howaysis, Breakfast Club, Tony as Robbie Williams, Gary Cinnamon and stealing the show with their beautiful Pop-Indie were The Covasettes…Is it next summer yet?! 3 days of booze and no kip….. just what ya' Doctor doesn't order but what makes so many people so happy!"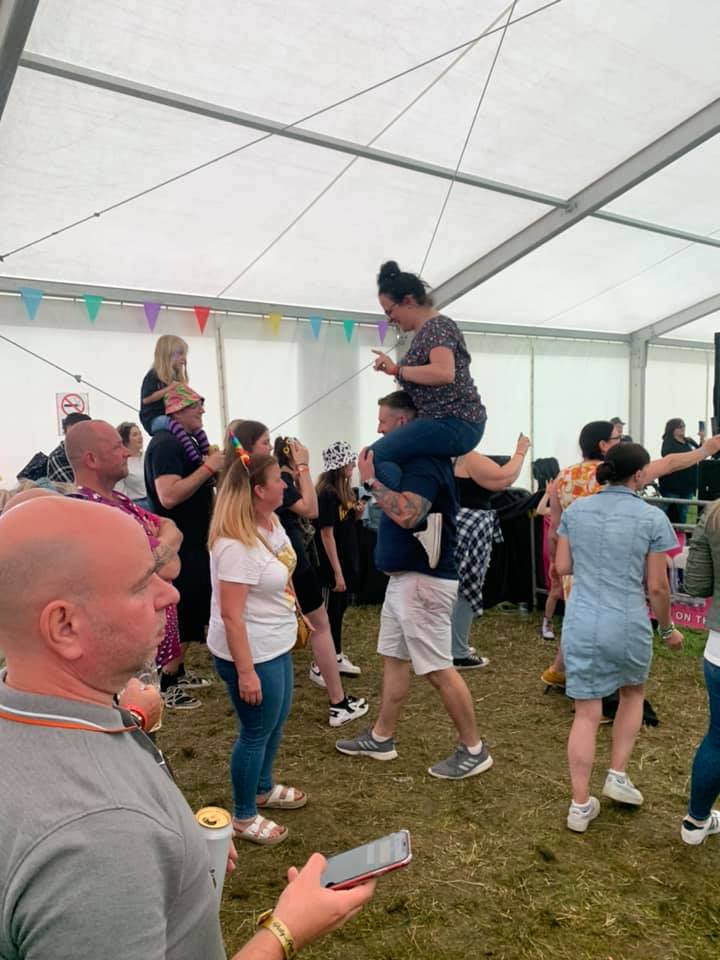 Next Summer:
If you enjoyed the weekend and want something to look forward to for next Summer, then there are already plans very much in place for another Into The Fields in Blyth on 2nd-4th June 2022 (Bank Holiday for the Queens Jubilee) and at Party In The Park in Morpeth again from August 26th-28th 2022…the initial line-up posters can be seen below…..
Crowdfunder Earlybird tickets for Into The Fields 2022 at Meggies Burn in Blyth on the June Bank Holiday are available here:
https://www.crowdfunder.co.uk/into-the-fields-2022?fbclid=IwAR0N4lV-vN2qCidLLrcC94UH4MEW3d_hPGDRXvmfbDHOW7XIFPAFOIzHaIg
Party In The Park in Morpeth 2022 Early Bird Ticket Link:
https://www.seetickets.com/event/pitp-2022-morpeth/farmers-field-adjacent-to-craik-park/2111432?fbclid=IwAR3dbfMk_gEu6gdR4M6YYi5Bv2OBQrQjNoCmJC7zeBYJ7Taaw3C02PhEyjw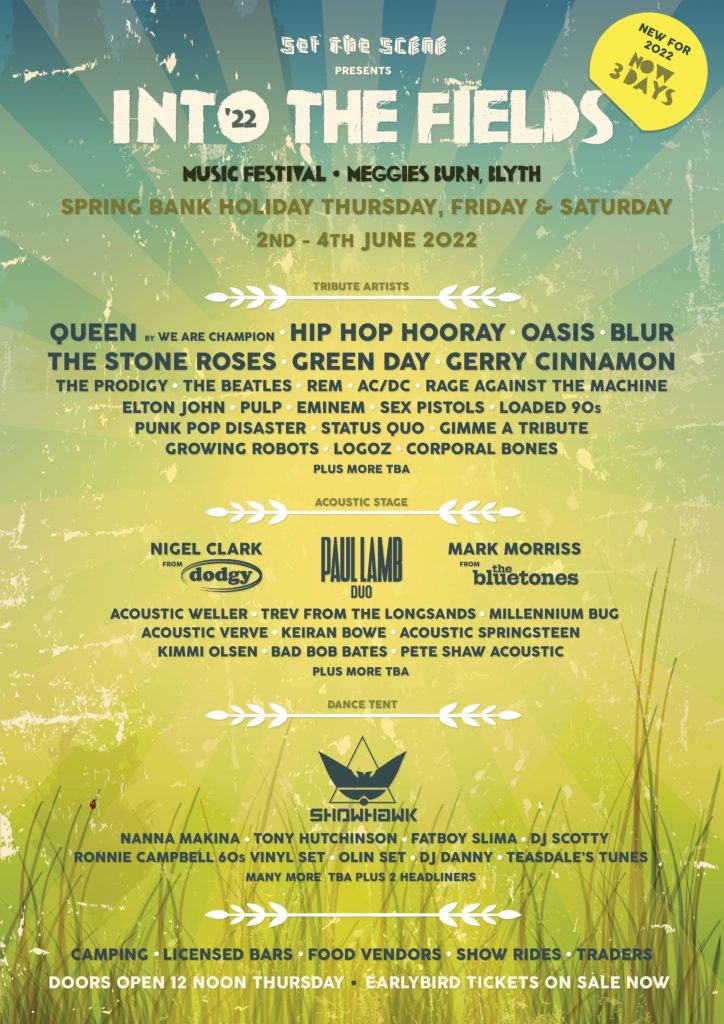 See you in the fields and down the front in the Summer of 2022!!!!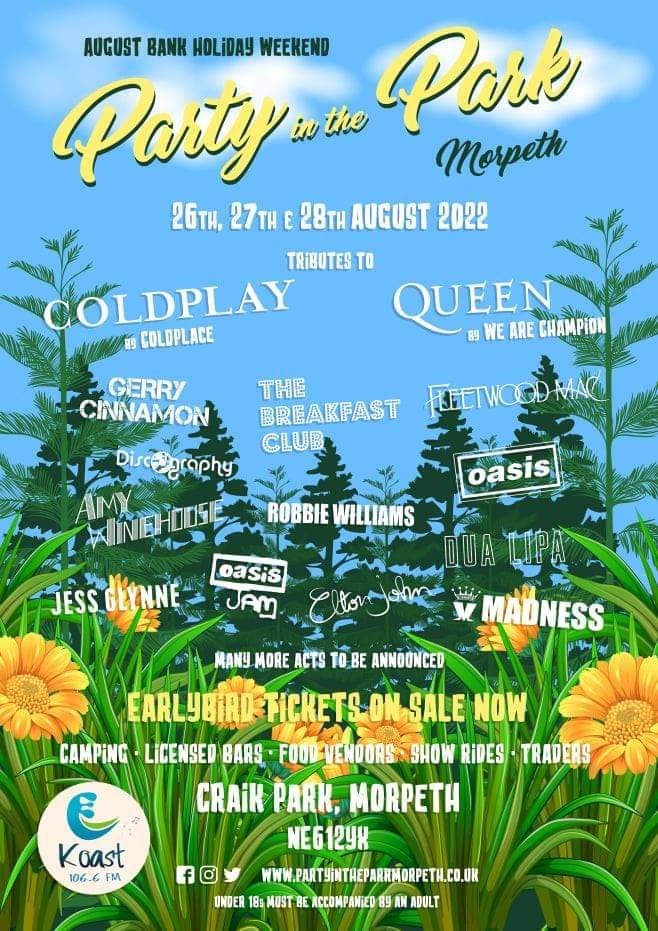 Party In The Park 2022 Facebook Group:
https://www.facebook.com/groups/661985717642713
Into The Fields Facebook Group:
https://www.facebook.com/groups/790330614653320
Band Facebook Page links:
The Covasettes Facebook Page: https://www.facebook.com/thecovasettes
Corporal Bones Facebook Page: https://www.facebook.com/rockabillyshenanigans
The Kopycat Killers Facebook Page: https://www.facebook.com/thekopycatkillers
Hip Hop Hooray Facebook Page: https://www.facebook.com/hiphophoorayuk
Discography Facebook Page: https://www.facebook.com/discographyband
Gary Cinnamon Facebook Page: https://www.facebook.com/garrycinnamon/
Tony as Robbie Williams Page: https://www.facebook.com/tonyasrobbie
Black Acid Mavericks Page: https://www.facebook.com/BlackAcidMavericks
F.A.B Beatles Page: https://www.facebook.com/FAB60s
The Odels Page: https://www.facebook.com/TheOdels
Wayne 'Scoop' Grassie Page: https://www.facebook.com/singerscoops
We Are Champion – Queen Tribute Facebook Page: https://www.facebook.com/wearechampionqueen
The Breakfast Club 80s Band page: https://www.facebook.com/Thebreakfastclub80sband
C-Collective Facebook Page: https://www.facebook.com/ccollectiveband
Loaded 90s Band Page: https://www.facebook.com/loaded90s
Fu Fighters Page: https://www.facebook.com/Fu.Fighters.Tribute
Howaysis Facebook Page: https://www.facebook.com/oasistributehowaysis
Discography Facebook Page: https://www.facebook.com/discographyband
Beyonce Fierce Page: https://www.facebook.com/beyoncefiercebeyoncetribute
Clippah Facebook Page: https://www.facebook.com/clippahuk