On Monday afternoon we decided to walk to the lovely destination of Blyth Pier, near the Royal Northumberland Yacht Club……as we approached our destination it was clear that dark skies were approaching from out in the North Sea and what followed turned out to be a case of "being in the right place at the right time" as the most wonderful bright double-Rainbow appeared for around 10 minutes or so before the heavens opened and icy horizontal rain soaked us wet through.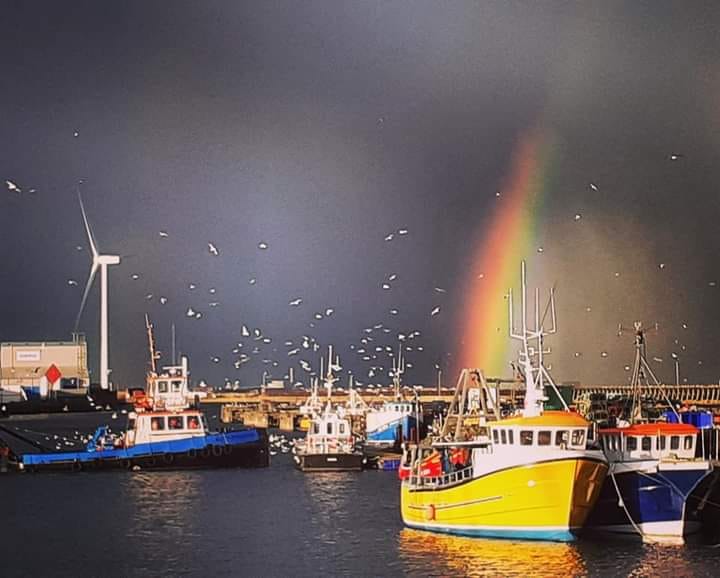 All of the dog walkers, joggers and fishermen were all focussed towards the rainbow with camera-phones poised ready for capturing this magical moment…..As I stood hanging onto the railings on the Pier as the winds started howling, there was definitely a sense of wonderment and awe by the people on the beach surrounding. After this past 9 months of Pandemic stress and anxiety, uncertainty over the future aspects in all of our lives, this rainbow symbolised a moment of hope that there are better times on the horizon, with Vaccines ready to be distributed in the next few months. Nature giving a sign towards all of the wonderful Nurses, Doctors and Carers out there who have worked tirelessly throughout this scary unprecedented time, with the rainbow being the symbol that has cropped up in peoples windows as kids have put their paintings in the window, people knitting rainbow garments and fences being painted with the iconic bright image throughout our town.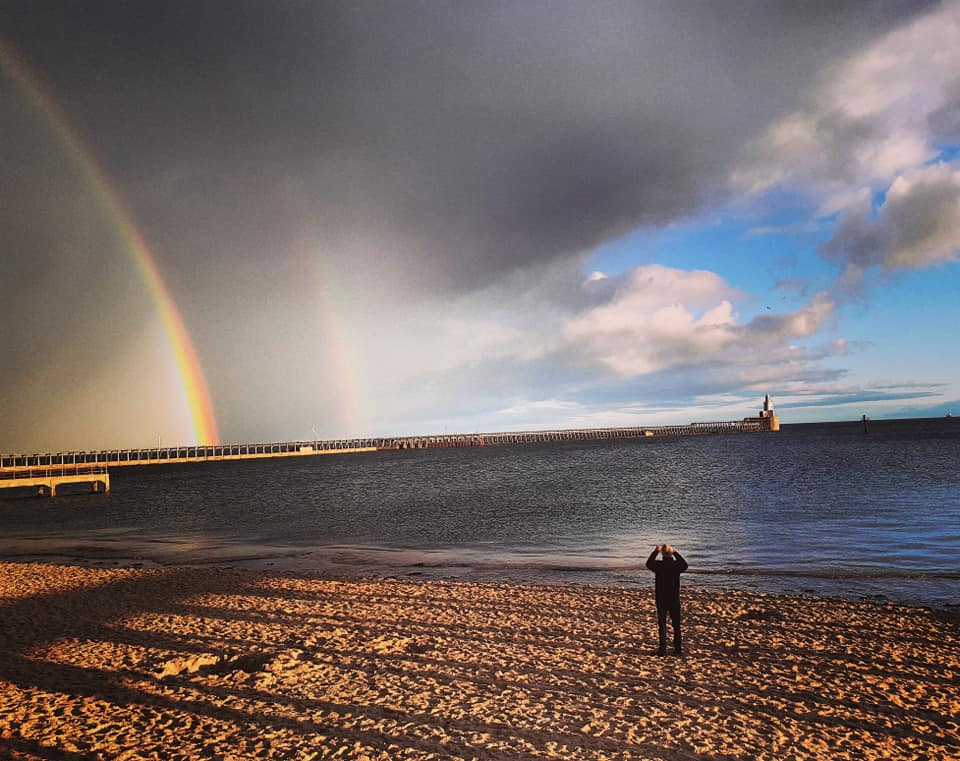 If you have never been to this part of Blyth on your daily exercise either walking, jogging or cycling, then it is definitely worth a trip to, often calming as you stand near the shoreline or viewing the latest big ship that is being worked on at Port Of Blyth, behind the Yachts and smaller boats that are moored there. The smell of the local fishery wafting as you approach the entrance onto the pier, explore below with driftwood washed up onto the sand for alternative photograph opportunities. The sense of perspective is great around this area and I love the shadows from the pier walls. Looking across to St.Mary's Island at Seaton Sluice with the various ships anchored up out in the North Sea, calmly awaiting their next venture. We love this place. We love rainbows. We love Blyth. Keep the faith as better times are coming.
RossyT: Blog attempt #1