Music lovers are all ready to get their Parkas, Ponchos, Kagools, bucket hats, aviators and face-paint out for a weekend of fun in a field at Meggies Burn, Blyth. Fans from as far as Scotland, Manchester and Norwich are descending upon the beautiful setting along with many local friends who haven't seen each other in a 'normal' festival environment for almost 2 years. The euphoric feeling and communal spirit that a crowd singing along to their favourite tunes brings has been sorely missed by many and a lot of people have suffered mentally due to this crazy confusing pandemic and various restrictions on their lives. Finally there seems to be a light at the end of the long dark tunnel and to quote a Primal Scream classic: "I'm moving on up now, getting out of the darkness…my light shines on, my lights shines on!"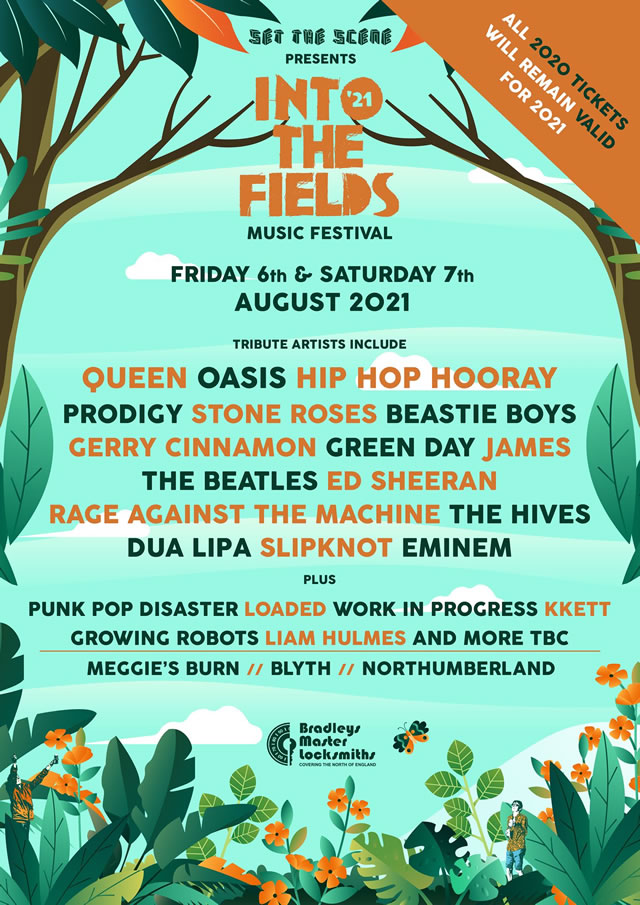 I have asked various band members and music fans what their thoughts, hopes and dreams are relating to this weekend and here is what they had to say….
Stephen Clark who is the drummer in Green Days, taking to the Marquee Tent stage at 7.15pm on Friday had these wonderful words to say: "It's been so long since the people of Blyth have had a chance to get together to dance and sing along to live music again. As a musician taking part in Into the Fields next week, I can't wait to perform in front of a great bunch of friends who I've not seen for months! There's nothing better than watching an audience enjoying themselves from behind a drum kit. It will be a huge success next weekend and I can say on behalf of the rest of the Green Days that we are ready and super excited to play for the people of Blyth and afar. Smiles, laughter, beers and banter whilst we enjoy a plethora of fantastic bands from the north east!"
Jordan Digby, the lead singer and one of the best Liam's around for the North-East Oasis tribute band superbly named 'Howaysis' is also looking forward to the festival…."He said it's about time! We are hoping the rain stays off and the Sun stays out shining brightly, with plenty of Champagne Supernova's in the sky"
Doug Mcquillan from Howaysis told me he can't wait for "everyone to feel the love, keep the spirit and celebrate being back together after the pandemic and to have a great time seeing the other bands too" The lads take to the stage in the Marquee Tent at 10.15pm as the Friday night headliners and I for one will be down the front singing my heart out.
Kris from F.A.B (Beatles tribute) had these words to say about playing again…. "This gig has been the best part of 2 years in the making and our thoughts and focus is on playing the music of the Beatles in a celebration of all that is great about British pop music in a (hopefully) post pandemic party that will bring everyone together in a positive and healthy way…Our dream is that this festival will act as a catalyst for the live music events of the future and our thoughts and prayers are with people affected by this horrible virus over the past 17 months" F.A.B will be belting out all of The Beatles classics from 4pm on Saturday in the Marquee.
Ben Townsend from Punk Pop Disaster who are playing the Outdoor Stage at 5.30pm Saturday said "Playing into the fields is like Keanu Reeves, We love Keanu Reeves and we love playing into the fields. The response is breath-taking. It's outta' this world that we have such a well organised, fantastic little festival on our doorstep. See you in the field!"
The members of OasisJam are also buzzing for the weekend, playing on the Marquee stage at 2.45pm on Saturday afternoon and had this to say: "Oasisjam aren't a tribute band in the sense that we don't try and look like the 2 bands. However what you get from Oasisjam are the greatest hits of both bands played accurately and with heart and soul. We've found this to be a winning formula and are regulars on the festival scene. Once again we will treat Into The Fields to an all killer no filler set! Mad fer' it our kid"
The Stone Roses Experience will be gracing the Marquee Stage at 5.20pm Saturday teatime and the Ian Brown of the band, Gavin had these words to say: "For The Stone Roses Experience, who formed in 2019, lockdown was particularly tough. Thankfully the band are now back on the road and are very excited to be in playing to the Into The Field crowd. Behind the scenes they have been striving hard to deliver note-perfect renditions of their hero's repertoire. Their set charts the Roses' meteoric rise from cult Manchester upstarts to the seminal debut album and beyond. It's been a tough eighteen months, but the band are more determined than ever to take you back to '89 and the second summer of love."
James tribute band Laid will have the crowd singing along to an array of tunes on Saturday night from 8.30pm. The singer and Tim Booth of the band Michael Hadfield has these emotional words to say: "Like all performing bands out there, Laid have felt the frustrations of lockdowns, social-distancing and everything in between over the last year. In what has been a very fast and steep trajectory to our current standing in the tribute scene, Laid are ready and keen to move out of the security of our North West territory and make our mark elsewhere. The North East is well known for hosting a great party so Into the Fields in Blyth has been on our radar for a while, and with such an amazing line up this year we are proud and excited to be included. Like everyone, we expect to experience the whole spectrum of emotions on the day. There's bound to be some trepidation so soon after the lifting of Covid-19 restrictions but we are in no doubt that the event organisers, bands and of course the crowd, will support each other to make for a gloriously fantastic celebration of life, love and friendships and all our favourite music that cements all that together."
Slipknowt are headlining the Outdoor Stage on Saturday night and the '6' from the band had this to say about the gig: "We are all really excited to be part of this year's festival. Vince put on our first ever gig back in 2014 (I think) in a hot and sweaty Nikhs bar and we've never looked back, so to be back In Blyth after all these years feels like we're coming back home. Obviously this year will be special for everyone given the 18 months we have all just been through we are keen to get back to doing what we love. After the tragic passing of Joey Jordison this week I expect the appetite to hear classic slipknot will be greater than ever and we are looking forward to paying a fitting tribute to his memory."
I've been speaking to various local music fanatics too and here are some of their thoughts on the event: Chris Tulip, local guitarist had this to say: "The band I play in, The Final PoutDown, were due to play Into the Fields in 2020, however for obvious reasons this fell through. This booking rolled over to 2021 but unfortunately we were unable to honour the new date, as one of the lads is at a Wedding. This however, gives me to opportunity to attend as a punter and not a musician. I can enjoy the weekend with no gigging commitment, and I won't have to drive! On Friday, I'm going with my family. My 2 girls, aged 8 and 5, love Dua Lupa, so we're looking forward to seeing Pure Lipa. Jodie is a fantastic performer so she'll definitely do Dua justice! Also looking forward to seeing Green Days and Hip Hop Hooray, if we stay that late! On Saturday, there are so many bands I want to see. Some clash, so I'll have decisions to make! I've never seen Fab, so I'll check those out, as everyone likes a sing-a-long to The Beatles. Pop Punk Disaster. Renegades. Then I'll probably wander between the stages to check out We Are Champion and Slipknowt. Looking forward to the food vendors too. I'm hoping that Fat Hippo and Zapatista will be there!"
Music fan and festival-goer Chris Clark from Blyth says "I'm looking forward to spending quality time with friends, singing and dancing. After the last 18 months it'll be good to get back to socialising. I'm taking my Caravan down and staying over for a proper festival experience. Looking forward to seeing Hip Hop Hooray, Eminem and Queen. Also Loaded, the 90s tribute band were good last time so will be going to watch them again too"
The man – the legend Gary Gaz Coe can't wait for it either…"Get drunk watching bands!! Meet friends and act normal for first time in almost 18months. Remembering all the great moments and memories when hearing certain tunes."
Jade Wilkinson is ready for the weekend too: "I just hope the weather stays good to us and we will have a great time regardless. The normality we've all been hoping for for so long. I just want a pint out of a plastic beaker and some greasy chips from the food vendors and as long as there's no spoil sports causing trouble it will be amazing"
Jamie McClay the drummer from local band Lazy Baker said: "It will be cool to see some smiling happy faces once again"
Music superfan Aimee Louise says: "Looking forward to listening to live music surrounded by music lovers. Seeing the joy in others as they enjoy the festival atmosphere. I will be there with my family and friends so hoping that the kids will be entertained enough that I can listen to the music knowing that they're also enjoying themselves and safe. Also of course hoping for sunshine and conversation with friends old and new!"
Whatever the weather, come rain or shine, we will do our upmost to have a good time and I'm sure we will. It's events like this that keep peoples spirits up and benefits peoples well-being and mental health enormously. Stay safe, wear sunscreen. Bring it on! See you down the front.
Here are the links to the Into The Fields Tickets site and Facebook pages:
Tickets: https://www.seetickets.com/event/into-the-fields-2021/meggies-burn/1437961
https://www.facebook.com/events/461061585240382
https://www.facebook.com/groups/790330614653320
Here are links to the Facebook group pages of several of the bands playing at Into The Fields this weekend….
https://www.facebook.com/wearechampionqueen
https://www.facebook.com/stonerosesexperience
https://www.facebook.com/jamestributeband
https://www.facebook.com/oasistributehowaysis
https://www.facebook.com/101ne
https://www.facebook.com/greendaysuk
https://www.facebook.com/Slipknowt
https://www.facebook.com/TheNationalAnthemsOfficial
https://www.facebook.com/loaded90s
https://www.facebook.com/ukchilipeppers
https://www.facebook.com/Punkpopdisaster
https://www.facebook.com/beastdecoys
https://www.facebook.com/hiphophoorayuk
https://www.facebook.com/FAB60s
https://www.facebook.com/GerryCinnamonTribute
https://www.facebook.com/ccollectiveband
https://www.facebook.com/groups/27055537554
https://www.facebook.com/growingrobots
https://www.facebook.com/millenniumbugduo
https://www.facebook.com/dualipatributeband