Vote for Online Communities - BRIC
06 November 2014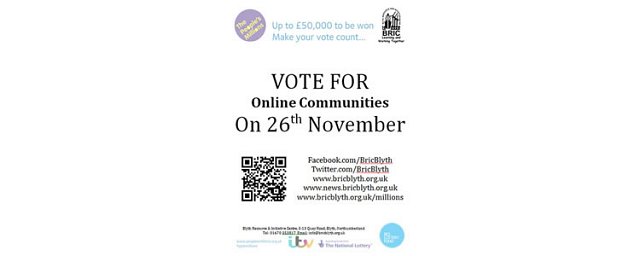 Blyth Resource & Initiative Centre (BRIC) has recently found out that we have reached the final six in the People's Millions and could potentially win £50,000 to support people to get online in South East Northumberland. This is absolutely fantastic news for our centre and we need your help.
The voting day is 26th November when our project will be televised on ITV and you will have two telephone numbers to vote for our project.. Each phone can vote 10 times per number, and there are two different numbers to call, meaning one phone can provide 20 votes! Each vote is at least 15p, and if you know another four people, that could be 100 votes! You truly have the power to help our community. Between now and the 26th, you can go and show your support by visiting this website and clicking support.
This project (Online Communities) will provide weekly one hour training workshops in 20 community venues across South East Northumberland to introduce digitally illiterate people into the benefits of being online. The project will engage 20 digital champions who will be trained to support people in their communities to continue to access the internet and digital resources beyond the life of the project.
We are also looking for volunteers in and around Northumberland to help get the word out there and tell as many people as possible that Online Communities exists, and its here to help everyone! If you would like to get involved, please contact us at info@bricblyth.org.uk or call us on 01670 353817 and ask for Steven or Daniel.
Please support us, print out the poster and display it and also share this email with your friends, family and colleagues and help BRIC to continue helping the people who need it the most.