Blyth Stroke Survivor and Wife Receive Regional Recognition
16 July 2014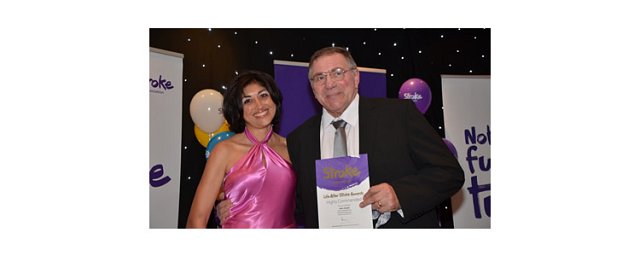 A Blyth stroke survivor and his wife have each been awarded a Highly Commended Life After Stroke certificate from the Stroke Association.
Alan Bolton had a stroke in February 2007 which changed his life completely. He was told he would never walk again and would require 24-hour care. After five months in hospital, Alan managed to leave using aided assistance to walk and now walks with a stick.
After his stroke, Alan enrolled on a computer course and set himself the target of writing a story. The story became a book about his life, My Story. Two more books followed, which Alan decided to sell to raise money for the Stroke Association, and to date he has raised more than £3,700 through the proceeds.
His wife Joan, who was among those who nominated Alan for the Creative Arts and Adult Courage awards, said: "The books were originally meant just for family and close friends, but Alan set himself a target of raising money for the Stroke Association. Alan's persistence in hugely difficult circumstances is an exceptional achievement. He is inspirational to others with his positive attitude and determination."
Joan was also recognised with a Highly Commended Life After Stroke certificate, after Alan nominated her for the Carer Award. He said: "Joan has cared for me since I had my stroke. I was kept in hospital for five months and Joan came to visit me every day whilst holding down a full time job as a manager of a children's home. During the darkest times she continued to hold our family together with her love and support. I can't express my gratitude enough for the care she has given me."
Alan and Joan each received their Highly Commended certificate from Dr Satinder Sanghera, GP partner at Weardale Practice. Dr Sanghera had a stroke at the age of 20, which affected her right side and caused expressive dysphasia. The presentation took place at the Marriott Hotel in Gateshead on Wednesday 25 June.
Peter Moore, Regional Head of Operations for the Stroke Association in the North East, continued: "A stroke happens in an instant and often changes lives forever. We were thrilled that so many of our community in the North East were nominated to receive a Life After Stroke Award. Our regional event highlights the tremendous courage people have shown in rebuilding their lives after a stroke, or in helping others to do the same."
The Stroke Association's Life After Stroke Awards recognise the courage shown by stroke survivors and carers as well as the great work and commitment shown by health professionals, groups and supporter organisations. For more information visit www.stroke.org.uk/LifeAfterStrokeAwards
For more information about stroke, ring the Helpline on 0303 30 33 100 or visit www.stroke.org.uk.