Sir Bradley Wiggins to race Tour of Britain which will arrive in Blyth on Wed 9th
26 August 2015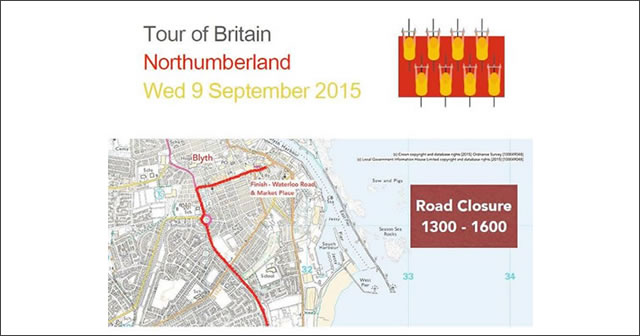 Stage 4 of the race will end in Blyth on Wednesday, September 9 and included in the riders will be Sir Bradley Wiggins of the Team Wiggins and Team Sky will also be racing, along with 18 other teams from across the globe.

There will be a big screen in the market place providing live coverage of the race fed by ITV 4 as it winds its way through the Northumberland countryside from 1pm.
Travel:
Waterloo Road and the Keelrow car park will be closed from midnight Wednesday 9th September until later that evening.

Buses will still run from the bus station, but, some stops may be moved further up Waterloo Road. For more information call 01670 352656.
Timetable:
10am: street velodrome starts

12 noon: recreational ride starts

1pm race circuits start

3pm congregate for riders finishing

3.30pm finish
Grant Davey, leader of Northumberland County Council, said: "The race will be a celebration of Northumberland which is a fabulous place to live in, visit and to cycle in. It will showcase our communities, heritage and iconic landmarks and it is a chance for us all to enjoy a wonderful international sporting spectacle."

Mick Bennett, race director of the Aviva Tour of Britain said: "We are delighted to be bringing the Aviva Tour of Britain back to the North East and hosting both a start and finish in Northumberland for the first time.

"Stages Four and Five both travel through some fantastic scenery that we look forward to showcasing with the race and hope to see big crowds lining the roadside this September."

David Hall, head of leisure, strategy and transformation at Northumbrian Water said: "Northumbrian Water works hard to support events that benefit the economy of the North East and as the Tour of Britain passes through what we consider one of the best cycling counties in the UK, it will help to boost regional tourism and showcase Northumberland to the rest of the world.

"As a business, we have a long association with cycling, both in terms of supporting races and providing opportunities for leisure cycling at our sites and we're delighted to be able to help bring this elite sporting event right here to our region."