Sharing Tour of Britain via Social Media
04 September 2015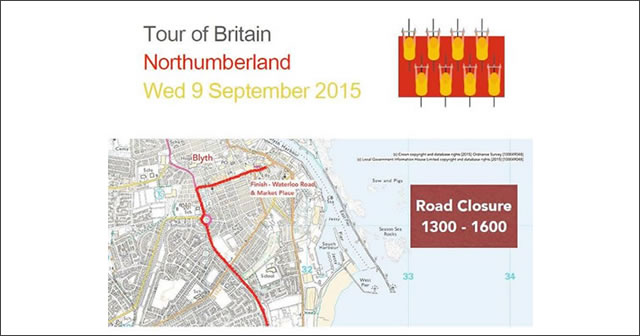 Organisers of the largest bike race in Britain are pushing the people of Northumberland to share their thoughts and comments of the event which visits the county via social media. Using the hashtag #NlandTOB on Twitter will promote and advertise the race on a global scale.
The finish line of the Borders and Northumberland section of the race is based on Blyth's Waterloo Road, where the bikers are expected to cross at 3:30pm on Wednesday 9th September. The route that the bikes will be taking through Blyth is shown on the map below.
Road closure of Waterloo Road will be from Midnight of Wednesday 9th September until later into the evening. Other roads in Blyth which hosts the route for the riders will be closed between 13:00 to 16:00. Organisers are stating that people who wish to get through the designated route must be there at least one hour before the closures are in place to avoid being caught.
Closed Roads - Wednesday 9th September 2015
(as of 00:00 - Full Day) Waterloo Road & Keel Row Car Park
(as of 13:00-16:00): Links Road, Rotary Way, Broadway & Renwick Road