SENRUG public meeting in Newsham
17 April 2016

SENRUG is the voluntary group that has been leading the campaign to re-open the Ashington Blyth & Town railway line which will include stations at Newsham and Bebside serving Blyth. The meeting will cover both this and SENRUG's other campaigns and give an updated on the progress being made.
NOTICE OF SENRUG
PUBLIC MEETING AT NEWSHAM
St Bede's Parish Centre (entrance at the rear of the Centre) Newcastle Rd, Blyth NE24 4AS
THURSDAY 21st APRIL 2016 at 7.30 pm
BETTER RAIL SERVICES FOR SOUTH EAST NORTHUMBERLAND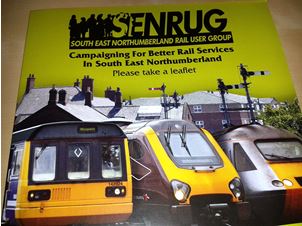 The South East Northumberland Rail User Group is a voluntary organisation that promotes rail travel and campaigns for better rail services in, within, to, from and through South East Northumberland, representing the interests of both existing and potential rail travellers in this area. Come and find out about what we are doing to get better rail services, and what you can do to help.
Admission Free. * All Welcome. * Refreshments.
SENRUG – THE SOUTH EAST NORTHUMBERLAND RAIL USER GROUP
www.senrug.co.uk - www.facebook.com/SENRUG