Royal date for Royal Northumberland Yacht Club volunteer
03 December 2019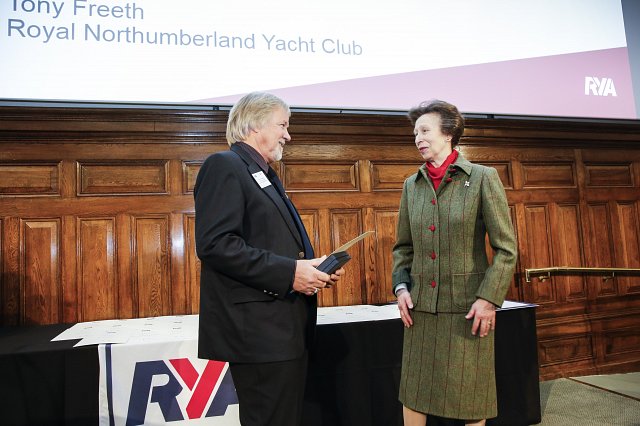 Tony Freeth, of The Royal Northumberland Yacht Club, has been presented with a special award in recognition of his services to sailing by HRH The Princess Royal, President of the Royal Yachting Association.
The sailor from Whitley Bay, Tyne & Wear, was among some 47 volunteers recognised for their exceptional dedication to boating at an awards ceremony held at One Great George Street, Westminster, on Friday 22 November.
Nominated for an RYA Volunteer Award for Lifetime Commitment by his club, and selected by the RYA Honours and Awards Panel, Tony's boundless energy and enthusiasm has helped to make activities more vibrant for members both on shore and on the water, including revitalising club racing on the North Sea.
Tony said: "HRH The Princess Royal was very down to earth and congratulated each of us on our award. It was a grand day out!"
RYA Chief Executive Sarah Treseder said those honoured in this year's RYA Volunteer Awards were creating a lasting legacy for the sport, adding: "The generosity and dedication of this year's RYA Volunteer Award winners is simply astounding."
The Royal Northumberland Yacht Club is always keen to welcome new members. To find out more about the club visit https://rnyc.org.uk/ or to discover how you can get started in sailing go to www.rya.org.uk/go/StartBoating
Photo credit: Paul Wyeth, RYA