Percy and the Piglets prepare for massive free festival by performing impromptu gig down on a farm…
21 June 2016

A South-East Northumberland trio prepared for one of their biggest ever gigs by getting down with nature…on a FARM.

On Saturday June 25th, rockabillies 'Percy and the Piglets' will be opening Northumberland Live 2016 at Blyth Beach. The region's biggest free festival that is being headlined this year by BRIT Award winning chart-toppers, Scouting For Girls.

Northumberland Live 2016 is being supported by Blyth Town Council in association with Northumberland County Council and BBC Newcastle 95.4FM Digital.

Percy and the Piglets are made up of double bass player, Paul Percy, aged 51 of Ashington – who works as a maintenance officer; drummer, Lee Davis - aged 50, a sales engineer of Blyth; and singer Brian "Hoss" Patterson – aged 54 of Newbiggin-by-the-Sea – who is a semi-retired engineer.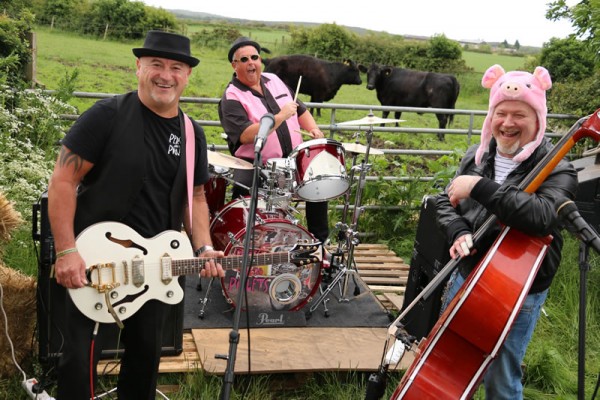 Percy and the Piglets geared up for their home county 'gig-of-a-lifetime' by fine tuning their songs at Stickley Farm on the outskirts of Blyth. The lads sang a few tunes to a couple of their newest groupies, Leanne and Wendy (two lovely cows!) – "Piggy Swing" seemed to go down particularly well. The ladies found the serenading a moo-ving experience!

Stickley Farm is farmed by Chris Hogg, and has been in his family for 170-years. The farm is mainly used to grow cereal, such as, wheat, barley, oats and oilseed that are used to produce the Hogg's 'Wild Bird Foods' products. The Hoggs also farm at Laverock Hall Farm in Blyth, where they have their farm shop which is a pet supplies business.

Northumberland Live will be a landmark show for the local trio as it will be their 50th gig playing together; with 2016 being quite a big year for them as in a few months' time, they will be supporting the legendary "Dr Feelgood" on their current UK tour.

Lee Davis talks about Northumberland Live 2016. He said: "We feel very proud to be given this chance, and are really looking forward to playing in front of our home crowd."

Lee has always loved music; everything from the sounds of The Glen Miller Big Band through to modern day grooves but he always has a place in his heart for Rock & Roll. He first started learning how to play the drums back in the early 70s, by performing in CIU clubs and on the school bands circuit, where people were playing all different styles of music but Lee always came back to the rockabilly sound.

Lee has lived in Blyth all of his life, a part from two-years spent working in Holland and a further year in Spain. He continues: "It just shows you the difference 12-months can make, as last year, I was standing in the audience at Northumberland Live watching some amazing music, and one year later we are opening the whole Festival and supporting a BRIT Award winning band [Scouting For Girls].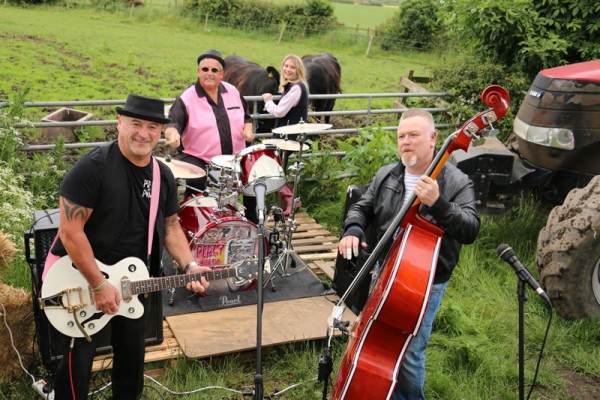 "Hopefully our appearance will inspire other artists and musicians to set their sights on performing at events like Northumberland Live, as these types of Festivals are a brilliant way to showcase local music and at the same time to help promote lovely parts of the world like Blyth.

"You've heard of Henman Hill at Wimbledon, well our friends, family and followers of the band will be naming part of Blyth Beach, Piglet Hill – as they cheer us on this coming Saturday!"

Meanwhile down on the farm - Chris [Hogg] lives with his wife, Valdine and their three children, George (aged 23) who works on the farm after just finishing studying Agriculture at the Royal Agricultural University in Cirencester; Lydia (aged 20) who is a trainee accountant; and Robyn (aged 18) who is currently completing her A-Levels at Westfield School in Gosforth.

The kind of music that can usually be heard echoing around the farm are from the likes of The Jam, Madness, Siouxsie and The Banshees and a variety of 80s music. Valdine comments: "We think that free music events are a great idea, and the fact they are local is even better!"

Councillor Kath Nisbet, Chair of Blyth Town Council Events Committee, said: "Northumberland Live has really captured the imagination of the local community with bands, musicians, residents and businesses all getting behind our free festival; and helping to raise the profile of the region.

"This is Northumberland Live's third year, and each time it seems to come back bigger and better. We hope people will come out in force again to ensure this lively event sticks around for years to come!"

Percy and the Piglets will be joined on the bill of Northumberland Live by Scouting For Girls and other local bands and singers such as Cortney Dixon (South Shields); David Neil (Whitby); Shields (Cramlington); Dust Town Dogs (Durham); Sarah Holmes (Ashington); Just so (Newcastle/ Blyth / Morpeth); and Hayley McKay (Hartlepool).
On Saturday June 25th, Northumberland Live located at Blyth Beach will start at 11am and runs through until 9pm….did we mention it was free!

A free bus shuttle will also be making regular journeys throughout the day from Blyth Town Centre to the beach front. The pickup points will be outside of the Blyth Library building and from Meggies Burn (acting as the over-flow car park). The Festival will be sign posted from the A193, A1061 and B1329; drivers coming along the A189 are advised to follow the signs for Blyth Beach.

On the day, there will be a selection of sporting showcases, street theatre and locally sourced arts, crafts and food stalls.

For more information about Northumberland Live 2016 please visit our Facebook @NorthumberlandLiveFestival and Twitter pages @NlandLiveFest, and for further details about the work of Blyth Town Council please click on www.blythtowncouncil.org.uk
The images show rockabilly trio "Percy and the Piglets" playing on Stickley Farm to an audience of Leanne and Wendy (cows) ahead of their big gig at free festival 'Northumberland Live 2016' at Blyth Beach (Saturday 25th June) supporting BRIT Award winners 'Scouting For Girls'.
Brian "Hoss" Patterson (vocal/lead guitar); Lee Davis (drums); and Paul Percy (double bass).
Photo credit: Jason Thompson