Neurosurgen is Winning Role for Blyth School
02 June 2014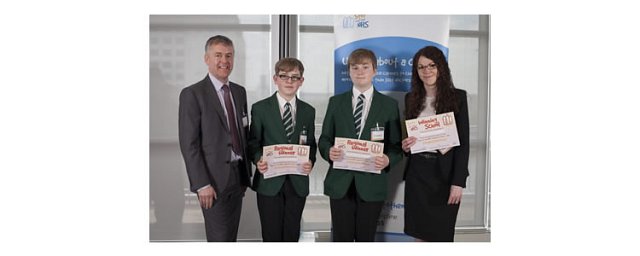 Health Education North-East and NHS Careers are delighted to announce that students from Bede Academy in Blyth are the North East regional winners of the Step into the NHS national schools' competition.
Thomas Brown and Alexander Dodds impressed the judges with their entry to promote the role of neurosurgeon to their peer group. The boys' entry included a fictional BBC radio interview with a neurosurgeon. Click here to listen to the winning advert.
In its sixth year, the competition attracted 1,075 entries from up and down the country and more than 2,486 students got involved. The competition aims to promote the 350 plus careers available in the NHS in England and students were tasked with designing an advertisement and job description for their chosen role. They could work individually or in groups of up to four.

Gwyneth Evans, principal at Bede Academy, said: "This has been a very worthwhile exercise for our students and we are thrilled that their work has been selected as the winning effort for the region. This competition has proven to be a valuable experience, engaging students with the workings of the health service and the different career options available to them. The hard work and effort invested in their project reflects their commitment and dedication."
Thomas and Alexander added: "We really enjoyed taking part in the competition and are now more aware of the jobs available in the NHS. We looked at a neurosurgeon for our entry, as we wanted to learn more about the role and how they help people get better.
"We have learnt a lot about the day-to-day work of a neurosurgeon and are now seriously considering a job in the NHS when we finish school."
"Within the NHS there are 350 different careers to choose from and jobs, ranging from community matron, dietitian or public health analyst to a finance manager or web developer. Initiatives such as the schools competition really help to raise awareness of this."