Mayor and Council Leader launches local radio for Blyth!
01 February 2016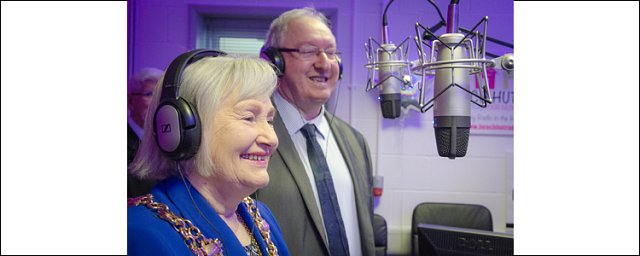 Mayor of Blyth, Cllr Margaret Parker and Northumberland County Council Leader, Grant Davey were the first guests on Blyths' very own local radio station, Beach Hut Radio which launched on Sunday 31st January.
Beach Hut Radio is a new online community radio station based in Blyth, Northumberland and part of the Beach Hut Media Group. A not-for-profit company established with the aim of engaging the community in the medium of radio through training and experience.
Following on from it's open day a coupe of weeks ago, the station now has a team of 15 volunteers, presenting and producing shows throughout the day.
Avid listeners can listen online through the Beach Hut Radio website, www.beachhutradio.com and through the TuneIn app, which means people can join in the fun on their laptop, PC and on the move through their mobile and tablet devices. They use the striking landmark Blyth beach huts as their station logo.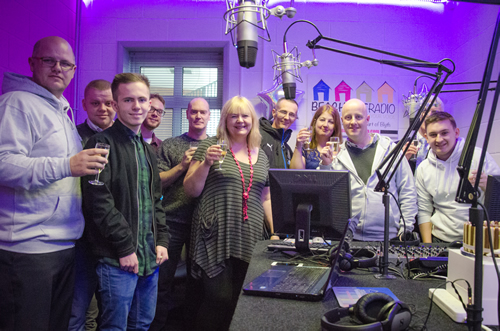 Based at Blyth Community Enterprise Centre, the team, made up entirely of volunteers, provides experience and training in broadcast and media skills. The aim is to promote education, pathways, employment opportunities and inter-personal skills such as confidence, team building and motivational skills.
The project looks to work closely with a wide selection of the local community including unemployed individuals, lone parents, people with disabilities, faith groups, vulnerable adults, schools, local businesses and start up companies, charities and social interest groups.
Director of Beach Hut Radio, Richie Ross, said: "The launch was excellent. There was a great buzz of excitement in the studio and Facebook was going mad with hype about this new community venture."
"Beach Hut Radio is radio produced by local people for local people; and for anybody interested in listening to good music, stories and news from in and around South East Northumberland. We want people to get in touch with ideas for shows and to give their feedback about the station, as we plan to start as we mean to go on and that's to provide an amazing service for our audience.
"The station will be an outlet for entertainment, education and energy we urge you to get involved today!"
As a community enterprise the station will rely solely on the support of volunteers to keep the station live and active, and are constantly looking for people to join in all aspects of the radio station. As well as "on air" roles there will be many other areas to get involved with including marketing, live events, technical and fundraising.
Address: Blyth Community Enterprise Centre, Ridley Street, Blyth, Northumberland, NE24 3AG