Fight for Kian - Punch Drunk Comedy Event
29 January 2016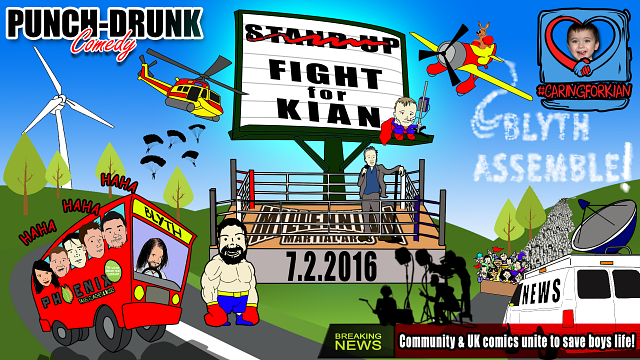 Punch Drunk Comedy is hosting its biggest event so far which will the first of its kind in the UK - 20 top comics competing amateur boxing bouts hosted with the fantastic and talented Rhod Gilbert.
On 7th February over 800 people will be present at Blyth Sports Centre to see an event that has been set up to raise money for Kian Musgrove.
Kian from Newcastle is in need of pioneering treatment that is his last chance of conquering an extremely aggressive form of childhood cancer. The Blyth based group Punch Drunk Comedy is now looking to raise funds to add to the £500,000 that is needed to help the little boy.
This event, a first in the UK is a step towards reaching the target and with the Punch Drunk Comedy team having successfully ran a number of comedy events across South East Northumberland we're sure you'll want to be there to support a very admirable cause.
For more information including where to get tickets please go here - Fight for Kian