EDF ENERGY RENEWABLES TO HOST PUBLIC EVENTS ON BLYTH OFFSHORE WIND FARM
14 June 2017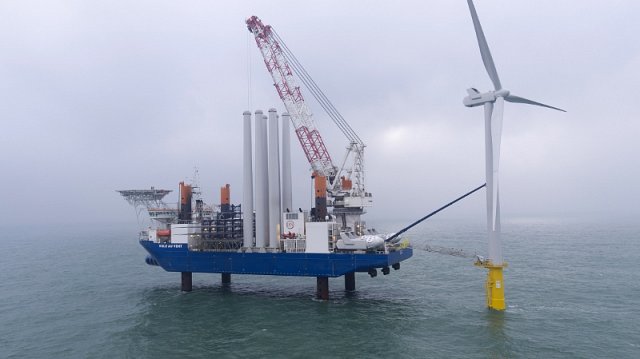 Local residents are being given the opportunity to attend a series of public events to find out the latest information on the Blyth Offshore Demonstrator Wind Farm project.
EDF Energy Renewables is currently building the project after taking over responsibility for the scheme from Narec (now ORE Catapult) in October 2014.
The project will see five wind turbines with a total generating capacity of 41.5MW installed around 6.5km off the coast of Blyth. Once operational, they will generate enough low carbon electricity to power around 34,000 homes.*
With the main installation works starting offshore in July and continuing over the summer months, a series of events will be held to provide more information on the programme.
Presentations and Q&A sessions will take place on Tuesday, June 20 and Thursday, June 29 at Blyth Workspace at Commissioners Quay, and also on Tuesday, June 27 at ORE Catapult in Albert Street.
All three sessions will be held between 5.00pm and 6.30pm and, with capacity limited, interested parties are advised to call 0191 233 1300 or e-mail enquiries@mhwpr.co.uk to book their place in advance.
A public information and exhibition display will also be on show at Blyth Town Centre Library and the Dave Stephens Centre at Blyth Beach from June 19 until July 7.
Project director Marcel Sunier said: "These events are an opportunity for people to find out how the project is progressing. At the presentation and Q&A sessions, project representatives will be on hand to answer any queries and feedback forms will be available in venues where the public information displays will be held.
"This is a ground-breaking scheme that will benefit the North East of England and help the UK to meet its future low carbon electricity needs."
Wholly owned by EDF Energies Nouvelles, the Blyth Offshore Demonstrator project is being built by EDF Energy Renewables, a 50-50 UK joint venture between EDF Energies Nouvelles and EDF Energy. The wind farm will be EDF Energy Renewables' second offshore wind farm construction following the Teesside wind farm off the North East coast at Redcar.