CT Furniture - Blyth Store Now Open - 0800 9174397
26 October 2018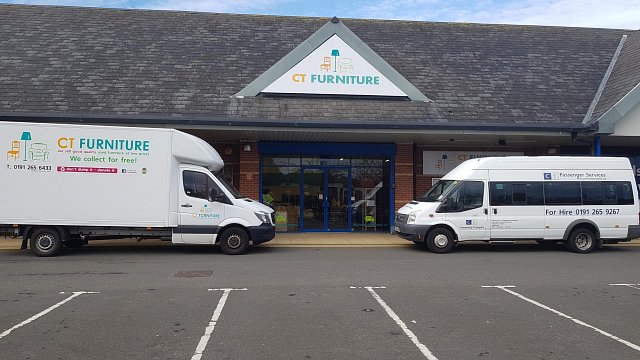 CT Furniture, part of the charity Community Transport is delighted to confirm the opening of our new retail outlet, CT Furniture Blyth, which is on the Albion Retail Park, Cowpen Road, Blyth and will officially open at 9am on Monday 15 October 2018. CT Furniture Blyth will sell pre-owned quality household furniture, electricals and office furniture at affordable prices to residents of Blyth and Northumberland areas.
We offer full or part house clearances and the free collection of good quality re-usable household furniture, electricals and collections of items from businesses. This helps the environment by reusing items that may go for disposal and end up in landfill. In the last year our other CT Furniture stores collected 498 tonnes of unwanted furniture and electrical items from households and businesses. We can be contacted on 0800 9174397 to arrange your free collection.
CT Furniture Blyth will soon be Joined by our CT Passenger Services, our wheel chair accessible minibuses that transport local people with mobility or other health problems to the much needed services that they need to access in the area.
CT Furniture Blyth will provide employment opportunities as well as creating volunteering and work placement roles for unemployed people to help them gain new skills and develop confidence to help them get back into work. We are working closely with Jobcentre plus, local training providers and other organisations in the Northumberland area to fill the roles we have available.
CALL: 0800 9174397