Classic Clapton - 30th Anniversary Tour - The Phoenix Theatre
20 March 2015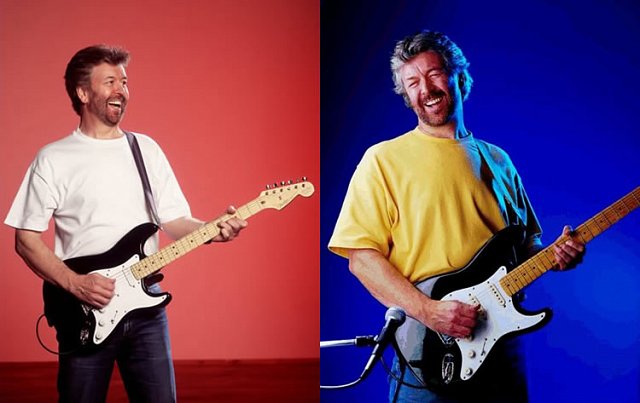 CLASSIC CLAPTON
30th Anniversary Tour
The Phoenix Theatre, Blyth
Friday 20th March
8pm
Tickets: £15 (concessions £12.50)
Box Office: 01670 367228
--------------------
"This gig is being staged 10-days short of Eric Clapton's 70th birthday..."
--------------------
CLASSIC CLAPTON the World's No. #1 Eric Clapton Tribute Band featuring front-man Mike Hall will be making a welcome return to The Phoenix Theatre, Blyth in March as part of their 30th Anniversary Tour.
They will perform all of Eric Clapton's classic songs including 'Wonderful Tonight', 'Tears in Heaven', 'Crossroads', 'I Shot The Sheriff', 'Cocaine', 'Lay Down Sally' and of course 'Layla'. There will even be an "UNPLUGGED" segment.
This totals to nearly two hours of Classic Clapton!
--------------------
The band was formed in Newcastle in 1985, long before the term "tribute band" was ever invented and named themselves ''After Midnight'' after Eric Clapton's first solo hit. Over the past 30 years they have become one of the the North East's best-loved bands.
In guitar/vocalist Mike Hall, the band possesses a front man who not only looks like Eric, he sings and plays guitar like him too!
In 1999, he won a national look-alike competition held at Madam Tussauds. Mike has met Clapton on two occasions, and even received a message of encouragement from the guitar maestro (written on a Concorde menu).
--------------------
In 2001 they embarked on an extensive tour of UK theatres.
They called the tribute show "CLASSIC CLAPTON". Since then, they have continued to perform throughout the UK including concerts at The Royal Festival Hall, London and a triumphant appearance at Glastonbury Festival in 2002.
In the past few years they have performed numerous concerts in Europe including Ireland, Spain, Estonia, Holland and France. In 2009 they appeared at St. Andrews Auditorium in Mumbai, India performing to over 800 people. A 10,000 mile round-trip for one show but it was a great experience.
Last August, the whole band played at a wedding in The Dordogne, France alongside "No Stiletto Shoes" featuring Andy Fairweather Low, Gary Brooker (Procul Harum) & Dave Bronze (bass). They are all former or current members of Eric Clapton's backing band.
--------------------
Classic Clapton comprises of four excellent musicians:
Mike Hall (lead vocals/guitar) & Paul Warren (keyboards/ backing vocals).
Since their last appearance in 2009 they have been re-joined by Danny Davison (drums) and Dave Robson (bass guitar /backing vocals). Dave is a former member of chart band Geordie. In fact he was with them at the time Brian Johnson left to join AC/DC. Mike, Dave & Danny are all original members of CLASSIC CLAPTON. Paul joined in 2007.
--------------------
Eric Clapton has been a major international star since the mid 1960's, when he revolutionised electric guitar playing, with his virtuoso performances in John Mayall's 'Bluesbreakers'. He has won an incredible 19 Grammys and is the only triple inductee into The Rock & Roll Hall of Fame (as a member of The Yardbirds, Cream and as a solo artist).
Clapton's recent tours unfortunately have visited only a limited number of large UK arenas.
If fans want to hear all of his hits performed in more intimate surroundings, they really should attend a Classic Clapton concert. The whole of Clapton's illustrious career will be covered including Cream, John Mayall's Bluesbreakers, The Yardbirds, Blind Faith, Derek & The Dominos and the solo years.
On 30th March, Eric celebrates his 70th Birthday. Although Mike is not quite as old as that, he is thinking of retiring or at least taking a long break after 2015, so if their fans definitely want to see Classic Clapton at least one more time.
We recommend that they get tickets for one of their 2015 shows.
This could be the last time they play at The Phoenix Theatre, Blyth.
--------------------
Classic Clapton have released three albums.
Firstly "The Music of Eric Clapton" that contains brilliant cover-versions of 17 Clapton Classics. Their second is a live double CD ''Classic Clapton Unplugged'' recorded at Belfast Waterfront Hall. In 2005 they released their third album "Classic Cream" – featuring 20 songs made famous by the sixties super-group.
All three albums will be available to buy at The Phoenix Theatre, Blyth.
'Classic Clapton' will be performing at The Phoenix Theatre, Blyth (37 Beaconsfield Street, Blyth) on Friday 20th March at 8pm.
Tickets priced at £15 (concessions £12.50) are available from the venue by telephoning 01670 367 228. The box office is open Mon–Fri 10am and 12.30pm and Sat 10am and 2pm. Tickets can also be purchased from the venue's website www.thephoenixtheatre.org.uk
This will be Classic Clapton's fifth appearance at The Phoenix Theatre, Blyth but they have not played there since 2009. Most of their previous visits have sold out, so fans are advised to book early.
This time it is part of their 30th Anniversary Tour. The tour will culminate with a very special 30th Anniversary Concert at The Sage Gateshead on Saturday 5 December which is exactly 30 years since their first ever gig.
People can also learn more about 'Classic Clapton' by visiting www.classic-clapton.com