Blyth's Indian Restaurant Shine at the Curry Life Business Awards
17 June 2015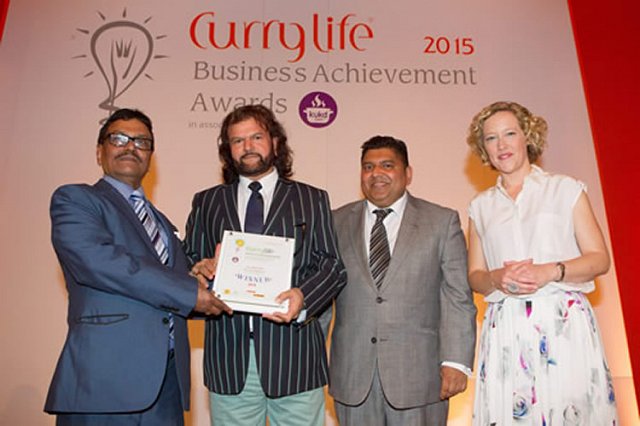 One of Blyth's most popular Indian restaurant, shone in the 2015 Curry Life Business Achievement Awards for being one of the best achiever in the country.
The Pan Ahar Restaurant, 6 Elliott Street, Blyth NE24 4NR, which is owned by Mr Labas Miah, has been given this top recognition in a glittering ceremony in London on Sunday, 7th June 2015.
The London based Curry Life Magazine known for promoting entrepreneurs in the Curry Houses nationally is behind this glamorous event, where 600 people celebrated the cream of the British Asian businesses.
Awards were given to 16 top Asian entrepreneurs from businesses across the UK, including Mr Miah from Pan Ahar at the ceremony held at the Park Plaza Riverbank London Hotel.
Amongst the VIP guests at the ceremony was Dame Tessa Jowell DBE, Armed Forces Minister, Penny Mordaunt MP, Home Office Minister, Lord Ahmad, Paralympic Gold Medalist, Lord Chris Holmes, Deputy Leader of the House of Commons, Dr. Therese Coffey MP and MP for Leicester East, Keith Vaz.
Dame Tessa Jowell DBE, former Olympic minister, paid tribute to the invaluable contribution to the economy and amazing resilience of the Asian community, despite challenging times in Britain.
Mr Miah, Owner of Pan Ahar Restaurant, said: "It was fantastic to be awarded in best achieving restaurant category. We were absolutely overjoyed to be named the best achiever in Restaurant Business alongside 16 businesses in the country.
"I'd like to thank all our loyal customers who is coming through our doors and to our team at Pan Ahar, because it's been a real team effort."
Syed Belal Ahmed, Editor of Curry Life Magazine said: "The Business Achievement Awards provides the opportunity to recognise businesses in our community who demonstrate an excellent business approach and stand out in their field.
"Winning the award is not just about success in business. It is as much about the way that person has built their business into a success, and how they have translated their personal success to benefit society as a whole."
Star singer from Bollywood, Ustad Rafaqat Ali Khan and Shiamak Dance Group provided excellent entertainment between award presentations.