Blyth Spartans 5-0 Stocksbridge Park Steels
21 August 2012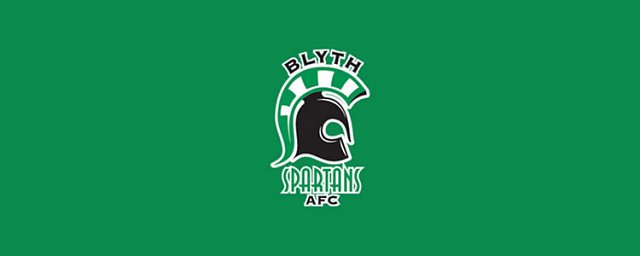 After a disappointing result only 3-days earlier away to Witton Albion, where a last minute penalty denied Blyth a point, this was a chance to bounce back for the Spartans in-front of their home fans for the first time this season. Oh boy oh boy, did they show some 'bounce-backability' with this performance, although it wasn't all plain-sailing. Mercurial talisman Robbie Dale showed his intent to wreak havoc on the 8th minute, by gliding past 2 opposing midfielders, before being scythed down just outside the box to roars of discontent from the Blyth faithful. Shouts of 'get him in the book!' were ignored by the Ref, as the big number 8 for Stocksbridge got away with a warning. .....Only 2-minutes later, former Newcastle Reserve striker Phil Airey was denied his first League Goal for Spartans, by being adjudged as offside. Then just 5 minutes later, another Blyth goal was ruled out, as Kendricks shot from 20-yards rolled into the far corner, but the Assistant Referee had his flag up, presumably due to one of the forwards being near to their Keeper, much to the bewilderment of many of the Green Army.

Stocksbridge did create chances, with a few headers not being accurate enough & ending up sailing over the bar or into the spare grass behind the Kingsway stand. Good defensive covering play by both the experienced Joe Kendrick at left-back and also Shaun Utterson in his more natural right-back position, denied possible other shots-on-goal by the opposition. On the half-hour mark, Robbie Dale went down the left wing, with a couple of 'lollipop stepovers' & shimmies, resulting in a cross to Striker Craig Farrell, who laid it off neatly to his strike partner Phil Airey, but the keeper denied him from breaking the deadlock. The tenacious terrier-like central midfielder Tom Berj was deemed over-zealous on 37mins. & he was shown a yellow card, after a bloke almost twice his size was rolling around in 'agony' for a minute or so. Another yellow card was shown just before half-time, this time to Robbie Dale who went into a 50/50 challenge with the same big midfielder & even though it was his first offence, the Spartans crowd favourite was put in the Ref's Black Book.

2nd-Half:

A remarkable second-half display was started off only 1 minute in, as a short free-kick to Joe Kendrick was then clipped to the far post by his trusty left-foot, leading to centre-half Jordan Mellish powering a header home, much to the relief & joy of the home fans. Not long after, a long free-kick by Goalkeeper Conor Grant direct to Dale, who seemed to have plenty of space as he back-headed the ball over the Stocksbridge keeper, making it 2-0 & leaving any fans left supping their half-time Pint wishing they'd only ordered a half a lager! That was Robbie Dale's 101st goal for Spartans after returning to Croft Park from a season at Whitley Bay. Robbie produced more trickery on 60mins, leading to another foul by their defender & another opportunity from a free-kick. Stocksbridge were still providing a threat, with another header going over the crossbar on 70mins., then another good save by Conor Grant only 2 minutes later........The goal that killed off the game came on around 80minutes, as Craig Farrell was played in by a sublime through-ball by Robbie Dale into the channel, with a defender on his heels & the keeper rushing at him, he calmly & cooly took a touch and then slotted it past the keeper into the bottom corner. A real true strikers finish, reminiscent of a young Alan Shearer or Kevin Phillips (for any Sunderland fans out there). Only 9 minutes later, Farrell got his 2nd of the night to continue his impressive goal-tally from Pre-season matches......this time he charged down the on-coming keeper, getting his just rewards as the ball bounced into his path & even with 2 defenders breathing down his neck, he calmly headed it first time into the inside of the post. Then, the 5th goal came a minute later in injury-time, as Craig Farrell hit the corner of the post/crossbar with a curling effort from the right-hand side and the rebound fell to Dale, who curled his effort back over into the opposite corner, resulting in his 102nd Goal for Spartans.

There have not been many occasions in recent times when Blyth fans have witnessed a 5-0 victory, so as 'Moving On Up' played over the speaker system as the players saluted the crowd before heading for the tunnel - the roars of delight & appreciation from the passionate Blyth fans could be heard for a good 5 minutes. It's still a learning curve in this lower League & no doubt there will be tougher nights to come both home and away, but if the locals continue with raw passionate support, then it can help to make Croft Park into a fortress which no side will think of as an easy fixture. Blyth Spartans are at home again on Saturday to Hednesford Town, with a traditional 3pm kick-off.

Attendance: 351.
M.O.M: Robbie Dale
(Match Report by Ross Teasdale)