Blyth Spartans 3 -3 Marine
05 September 2012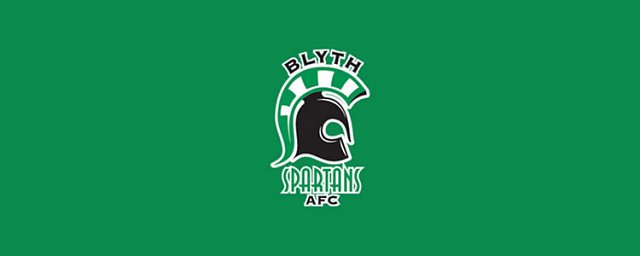 1st Sept 2012 - Croft Park
Following a late victory down the coast in Whitby on Bank-Holiday Monday, Blyth fans were well aware that this fixture against the joint-top League promotion favourites would be a tough task. Marine from Liverpool, had won all of their opening 4 League fixtures, so for Blyth to get any points from this game, it would take a good performance. As the September sun shone brightly, a very warm applause greeted the announcement that the Marine Supporters Club Chairmen Peter McCormack had cycled all the way to Blyth from Liverpool, in-aid of the Marine's stadium improvement programme. Another applause went up for the 'Callum's Wish' bucket collection, which raised over £300 last week at Croft Park. ........There was an equally warm applause for the presentation of the Player of The Month award for August, which went to the Club's talismanic wing-wizard, Robbie Dale.
The action got underway, with much-maligned Official Mr.Hudson taking charge at the Ground where the most blatant forearm clearance was un-punished by his ineptitude against Droylsden, with a Youtube Video showing his error to over 500,000 people around the world. The crowd did not let him forget his wrong-doing & the classic comments started flowing as soon as the Whistle blew for kick-off. .......The first attempt by Blyth came on the 3rd minute as Lee Mason hit a long-range effort wide, following a nice lay-off by former Newcastle Reserve striker Phil Airey. Only 4 minutes later, a quick thinking free-kick by Joe Kendrick played in Robbie Dale inside the box on the left-hand side.......Dale then flicked the ball over the on-coming full-back's legs and then drew the foul in, resulting in a clear penalty. Joe Kendrick then calmly placed his shot into the bottom corner, putting Blyth on the early ascendancy.
The lead didn't last long, as a Penalty was awarded to Marine on 24 minutes, after contact was made & the attacker did an over-the-top diving action, much in the vein of Didier Drogba. The penalty was scored by Thomas Moore, although Conor Grant almost kept it out at the left-hand post. Blyth made one of the best passing moves of the half on 37 minutes, as Vipond, Craig Farrell and Shaun Utterson linked up well, but the shot was blocked by an on-rushing defender. Just before half-time, Craig Farrell had a go from a free-kick, but it took a slight deflection and just sailed a yard wide of the Marine goalpost, leaving it at 1 Penalty each as the half-time whistle blew.
Marine took the lead on 58 minutes as Andy Fowler hit a good hard low shot into the corner, leaving the Blyth players needing to show more bounce-backability in the final half-an-hour. It only took 6 minutes for Spartans to equalise & what a way to get back in the game! An truly top-class Free-kick by the left-back Joe Kendrick, who has made scoring free-kicks his trademark in a green & white shirt. Standing centrally 28-yards out, Kendrick's trusty left-peg hit an absolute gem, curling over the wall & dipping just inside the far right corner, in off the inside of the post........a 'Worldy': a 'pearler' a 'peach of a goal'! right into the 'postage stamp' is as best as I could describe it.......probably the best free-kick goal I have seen in 22-years at Croft Park.
Blyth had a chance to take the lead not long after, as Farrell played in his strike partner Phil Airey, but the Marine keeper Callum Williams made a strong save. Another chance fell to Airey again being played in by Farrell, and he forced the keeper into conceding a dangerous throw-in as he came charging out to clear with a mis-kick. Spartans did take the lead on 77, as Craig Farrell pounced like a Puma to get to the ball before both the keeper & the chasing defender & he cooly finished into the bottom corner, just like a true natural goalscorer which he is proving to be. Many Blyth faithful commented that we were lacking that sort of Striker's instinct last season and they hope his goals can put us into a healthy position come May. ........With on 2 minutes of the 90 remaining, Blyth's hopes of a very good 3-points were dashed, as Substitute Karl Noon managed a close-range equaliser, after Shaun Utterson had blocked a shot off the line, but his valiant efforts couldn't keep out the rebound. It felt like 2-points lost in a way, as conceding late on is never a nice feeling to end on, but if you were to ask Blyth fans if they'd have taken a 3-3 draw against a team who previously had a 100% record with 4 wins, then the majority would have said 'aye'. Blyth travel to Sheffield on Tuesday evening, where they play Stocksbridge Park Steels, whom they beat 5-0 at home just a few weeks ago.
The Sponsors M.O.M for Blyth went to double goal hero Joe Kendrick & I went for number 11 'Michael Ordish' for Marine.
Attendance: 367
Next Home Fixture: Saturday 8th Sept, in the FA Cup 1st Qualifying Round against Garforth Town.
(Match Report by Ross Teasdale)