Ashington Blyth & Tyne Line re-opening takes another step forward
19 October 2015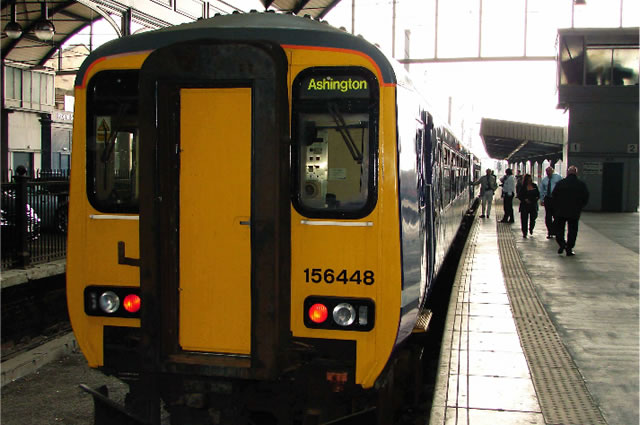 Northumberland County Council working in partnership with Network Rail, has initiated a detailed feasibility study into the Ashington, Blyth and Tyne Line scheme which will establish what's needed to bring the proposed rail link up to national standards and provide a detailed estimate of the overall cost and programme.
The line was last used for passenger services in 1964 and campaigners such as SENRUG – The South East Northumberland Rail User Group has lobbied for the reinstatement of the service for a number of years.
Through consultation work the Council has already established that to make the scheme attractive to potential users and support regeneration it will need to run trains seven days a week, twice an hour at peak times with a journey time between Ashington and central Newcastle of just over 30 minutes.
The link would need to connect towns in south east Northumberland with the Tyne and Wear Metro system and on to Newcastle city centre through a number of refurbished or new stations providing safe and secure waiting facilities, car parking and connections with local bus services, the cycle network and walking routes.
The council has committed around £5m for detailed development work to be carried out on the scheme, with this latest phase costing around £850,000.
Called a 'GRIP 2 Feasibility Study', the Network Rail study will focus on:
– Establishing route capacity for the extra services given the existing/planned freight operation on this stretch of line and the East Coast Main Line. – Assessing the condition of the existing track and the work needed to upgrade the network for more frequent faster trains going in both directions. – Assessing the condition of the existing signalling and control systems and any necessary changes. – Assessing the suitability of proposed station locations and the infrastructure improvements needed on a station by station basis to meet passenger requirements. – Assessing the work and changes in operating procedures necessary to ensure the safe operation of level crossings on the route.
Grant Davey, leader of Northumberland County Council, welcomed the start of the next stage.
He said: "It is a long-held ambition of this council to reintroduce a modern passenger service between south east Northumberland and Tyneside and I'm delighted the North East Combined Authority also supports this initiative.
"This line would have numerous benefits for the county and the wider region, it will be an added incentive for potential employers to relocate to the area, as well as improving transport links to employment for residents.
"But to be effective it must offer good value for money and modern, clean trains that will transport people between the towns of south east Northumberland and central Newcastle in about half an hour.
"We see Ashington Blyth and Tyne as a Flagship project for Northumberland and this new study will tell us exactly what will need to be done to deliver the scheme and at what cost."
Councillor Allan Hepple, Cabinet member for Economic Growth, added: "This is an exciting new phase of the project.
"The line is key to unlocking more investment growth in South East Northumberland, a critical element of our county-wide Economic Strategy.
"It will also boost opportunities for developing jobs across Tyne and Wear by providing improved access to labour supply and improve the skills, qualifications and therefore employability of the local population by offering greater access to training and education opportunities."
Stephen Hind, route enhancements manager for Network Rail said: "We are delighted to be working with the council on this exciting project.
"Rail is a massive success story and demand for services continues to grow across the north. This study will help to us establish what would need to be done to allow services to resume on this line."
The GRIP 2 study is likely to be complete by summer 2016.