Blyth art project helps residents achieve wellbeing
09 March 2020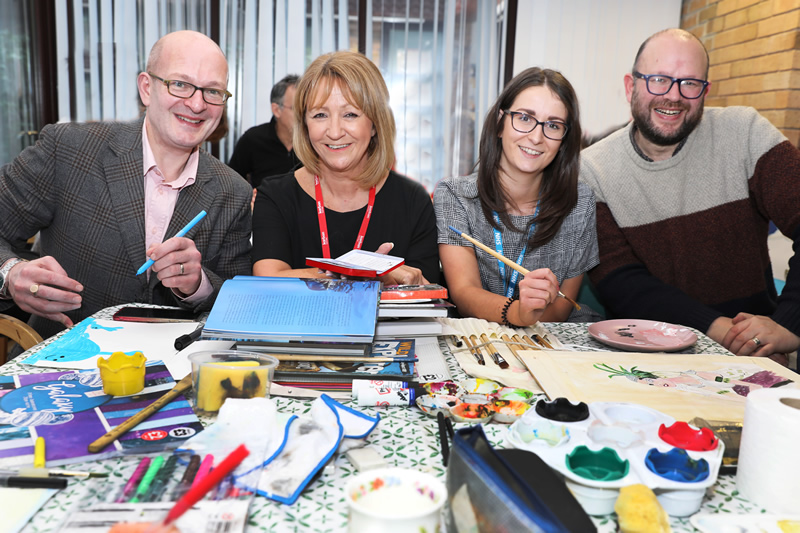 A flagship project aimed at improving health and well-being and reducing social isolation is celebrating the success of its first months in operation.
The Creating Blyth project, which started in October 2019, uses art activities as a means of helping people get more socially and creatively involved in their local community.
After securing over £4,000 worth of funding from North East housing association, Karbon Homes, the project, which is the first of its kind in the region, hopes its success will encourage more healthcare trusts to adopt similar models in the future.
Steve Lancaster, Creating Blyth project worker, said: "The project was designed to provide members of the community with a place they can come to unleash their creativity, which in turn can help them process feelings, reduce stress and anxiety, and increase their self-esteem.
"So far the project has been a real success. Attendance is constantly on the rise, and from the feedback we've received it's clear that there has been a demand for a group like this for some time.
"The demographic of those who attend is quite mixed. It caters for several audiences in the town and it's really wonderful to see people of all different ages and backgrounds share their experience and enjoy art together."
The weekly sessions, which run at the Railway Medical Group in Blyth, are the product of a partnership between Unisus, a social enterprise company which supports communities to reach their potential, and GPs at the medical group.
Ian Dougall, Director of Innovation and Business Development at Unisus Group Limited said: "A big part of the programme's success is the direct link it has with both the medical group GPs and the Blyth Primary Care Network's social prescribers.
"Both parties were concerned by the number of patients they were seeing whose mental health was deteriorating due to high levels of social isolation and low levels of wellbeing. The project aims to help alleviate these numbers by providing patients with an alternative to clinical intervention.
"Thanks to the grant from Karbon, which will fund us for the initial 12 months, we can make a real impact with this project. I would love to see Creating Blyth become a permanent fixture at the centre, and to roll it out to further locations across both Blyth and the wider region."
Karbon Homes has over 200 properties in Blyth, catering for a mix of both general needs and retirement living residents.
Mary Ormston, Karbon Homes' Community Connector for East Northumberland, said: "As an organisation which aims to create places that promote health, happiness and wellbeing, the Creating Blyth Project is a perfect partner for Karbon to have in the Blyth area.
"Social isolation and low levels of wellbeing are both major issues in the town, and this project provides those taking part with a fantastic opportunity to combat them both. I look forward to working with Unisus over the next 12 months and witnessing participants grow in confidence and skill."
The Creating Blyth project still has spaces on its Thursday afternoon session which runs from 1pm-3pm. To find out more about the project and how you can get involved, contact the Blyth Health Centre on 01670 396 460.